Let's Go Shroomin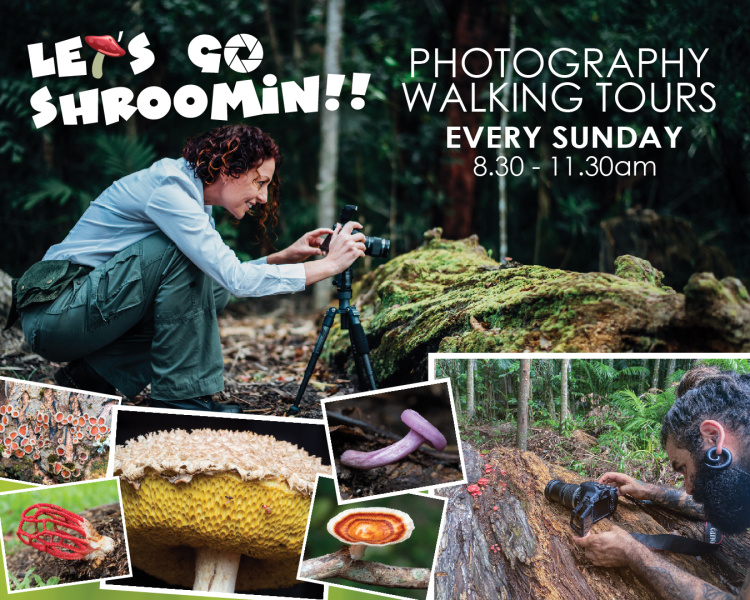 From AUD
$60.00
For the love of mushrooms… Let's Go Shroomin gives the nature enthusiast a tour with a difference.
EVERY SUNDAY!
From the brains behind many much-loved images on Aussie Macro Photos, Cairns photographer Bridgette Gower has created the first of its kind tour in Cairns offering something for everyone from curious kids to professional photographers.
"I've spent over a thousand hours in last few years finding and photographing fungi in the Cairns Botanic Gardens. There is an overwhelming amount of species, colours and formations right here on our doorstep." Says tour creator Bridgette Gower.
"The tour is a welcome addition for visitors to Cairns as well as something new for locals to experience."
The tour takes place in tropical paradise – Cairns Botanic Gardens, Bridgette will share with you several locations she has discovered that hides the most fascinating fungi!
The tour will be a leisurely stroll through the gardens taking time to see and photograph these beautiful lifeforms. Bridgette can help you with your photography and get the most out of your camera.
Tours run Sundays at 8.30am (bookings essential). Professional photography equipment is not required (however we do offer a hire service), and tour participants can capture amazing shots using a smart phone.
Learn the art of mushroom and macro photography or simply enjoy a guided tour. Bridgette has vast experience on where to find some incredible fungi and mushrooms in the Cairns Botanic Gardens. A magical world awaits when you join them for a personalised, highly specified tour of the gardens and the treasures waiting to be discovered.

$60 Per Adult
$52 Per Child Ages 8-16
Children must be accompanied by an adult
$172 Family
Includes two adults and two children
$29 Camera (Pre-book only, pay on arrival)
includes 16GB memory stick for you to keep

Cairns Locals discount available. Contact us for information.

Book ahead OR turn up on the day (pending availability) with EFTPOS card or cash.

info@aussiemacrophotos.com
Book now on https://aussiemacrophotos.com/book-a-tour_/ and uncover a world that only your imagination has thought of.