REDUCED - Pool Side Rooms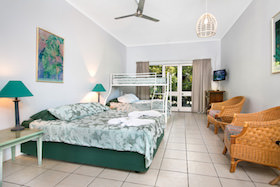 From AUD
$135.00
Save: $15.00
$135 night rate
All extra people $35 per night.
This discounted rate is non-cancellable.

Views of Rainforest, Zoo park and garden.
Continental breakfast included
Upgrade to full cooked breakfast - $15 per Adult, $5 per child

Daintree Wild Bed and Breakfast offers visitors to Tropical North Queensland the truly unique holiday experience of staying within an Australian wildlife zoo.

Guests receive 1/2 price unlimited entry to the zoo for the duration of their stay giving them with plenty of great photo opportunities as well getting to see our nocturnal animals when they are most active.