Opal Reef - Calypso Snorkelling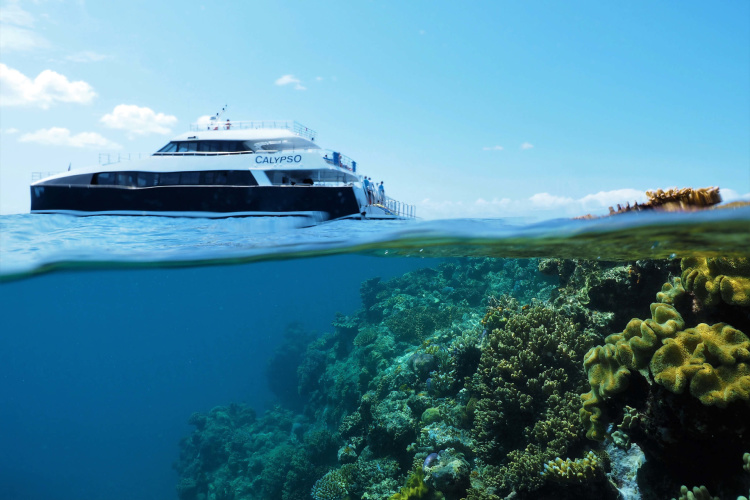 From AUD
$249.00
Enjoy the peace and serenity of the Great Barrier Reef with Calypso Snorkel, a dedicated snorkelling vessel departing Port Douglas daily.
Snorkelling on the Great Barrier Reef is one of the most incredible experiences a person can enjoy. With much of the reef's colour and marine life visible within a couple of metres of the water's surface, snorkelling offers all swimmers, regardless of their skill level, the opportunity to see this diverse eco-system up close.
Float effortlessly over rich, colourful coral gardens teeming with life from the cute and playful clownfish to the graceful beauty of the green turtle. Giant clams, stingrays, maori wrasse, cods and colourful parrotfish, are just some of the hundreds of species you will encounter during your visit to Opal Reef with Calypso.
This 21-metre vessel offers comfortable day bed style seating, spacious decks and professional experienced crew ensuring a unique and personalised Great Barrier Reef experience for every guest.
COST: Adult $255.50, Child $185.50 (4-14yrs) (includes $6.50 Environmental Management Charge).
Valid to 31st March 2020.
Visiting 3 sites daily, leaving from Crystalbrook Marina, Port Douglas.
Departs 8.45 am
Returns 4.30 pm
BOOK ONLINE & SAVE!
Your day at Opal Reef includes:
All snorkelling equipment including lycra suits, wetsuits, prescription masks and flotation devices. Diving is additional and can include or exclude gear hire
Guided snorkel tours & an interpretive reef talk
Morning tea, lunch and afternoon tea
Tea, coffee and filtered water are available all day
Wide stern decks and submersible platforms provide easy access for getting in and out of the water
All seating, inside and out, is upholstered for your comfort
Four toilets onboard, each containing a fresh water shower