About Moreton Island Tours
Moreton Island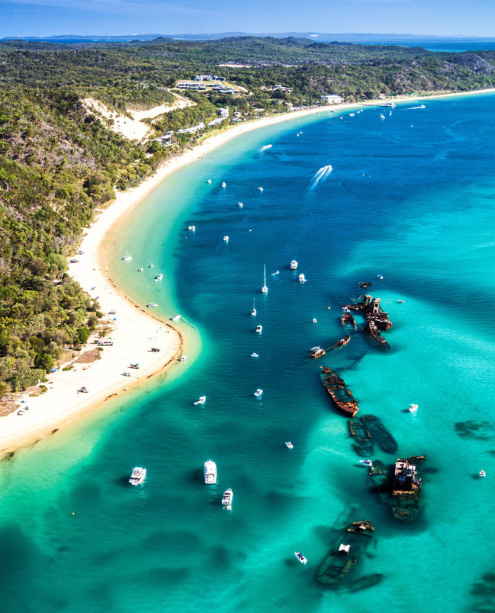 ​Moreton Island is the third largest sand island in the world and located only 40 kilometres north-east of Brisbane.
The Island offers visitors pristine beaches, crystal-clear waters, and diverse wildlife.
Moreton Island consists entirely of sand, apart from a small area of sandstone and rhyolite at Cape Moreton, which has built up over the past 400,000 years. It is also home to the highest coastal sand dune in the world, Mount Tempest, which at 285 metres provides 360 degrees of breath-taking views.
Tangalooma Island Resort: This is a popular resort on the island that offers a range of activities, including dolphin feeding, snorkelling, diving, kayaking, and more.
Cape Moreton Lighthouse: This lighthouse was built in 1857 and is one of the oldest lighthouses in Australia. It offers stunning views of the island and is a great spot for whale watching during the migration season.
Blue Lagoon: This is a freshwater lake located in the middle of the island. The lake is surrounded by white sandy beaches and is a popular spot for swimming, kayaking, and picnicking.
Champagne Pools: These are natural rock pools located on the eastern side of the island. The pools are filled with seawater, and as the waves crash over the rocks, they create a fizzy, champagne-like effect.
Honeymoon Bay: This secluded bay is located on the western side of the island and is a great spot for swimming, snorkelling, and fishing. It is also a popular spot for camping.
Sandboarding: Moreton Island is home to the highest coastal sand dunes in the world, and sandboarding is a popular activity for visitors.
Snorkelling and diving: The waters around Moreton Island are home to a variety of marine life, including dolphins, turtles, dugongs, and a range of colourful fish.
Overall, Moreton Island is a stunning destination with a range of activities and attractions to suit all interests.
---
Moreton Island Tours Reviews
---
Moreton Island Tours
Departure Point: 220 Holt St, Pinkenba, Brisbane. Tours depart at 7:00am or 10:00am. Please arrive 45 minutes prior to departure time. Return Details: Tour departs Tangalooma Island Resort at 4.00pm and returns back to Holt St Wharf at 5.15pm.
---