About The Babinda Quarters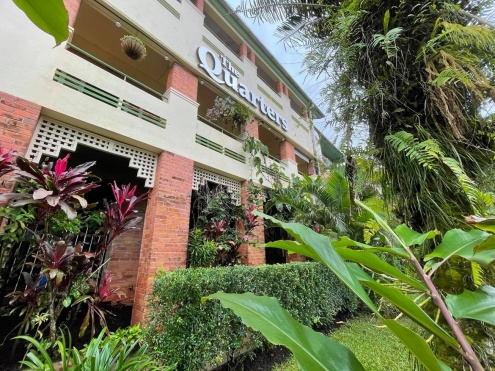 The Quarters is a beautifully restored classic Art Deco guesthouse, located in Babinda, Tropical North Queensland. Just a 40 minute drive south of Cairns.
This historic nurses home is a heritage icon and local landmark. Designed for overseas travelers and interstate guests visiting the coast and southern region of Cairns.
The Babinda Quarters has been thoughtfully renovated to become a fifteen room Art Deco Guest house with a 1930's feel. Its elevated position, expansive tropical surrounds and distinctive art deco architecture, make for a memorable holiday experience.
Features
Two communal kitchens
Picturesque lush tropical gardens surrounding the property
Coin Laundry
Street Parking
Location
The Babinda Quarters is a convenient 1-minute walk onto main street and a short drive to local attractions including Babinda Boulders, Devils Pool, Josephine Falls, Mt Bartle Frere
Places to eat nearby
Cool spot café
Babinda Bakery
Babinda Hotel
The Babinda Quarters Story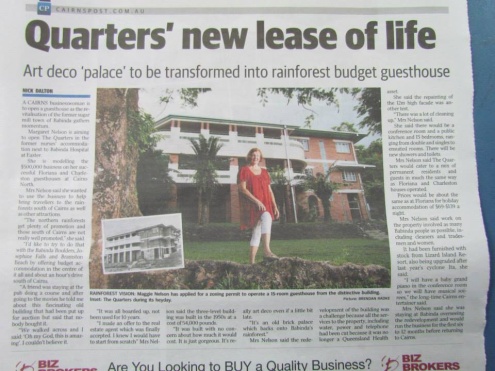 The Babinda Quarters Story.
By Margaret Nelson
Welcome to Babinda Quarters. This beautiful, architect designed, curved red brick building was lying idle in a jungle setting for almost 10 years until by chance one day Maggie saw it and knew it would make a perfect guest house. A peaceful haven where people can relax and enjoy the surroundings. Musicians are encouraged to stay and bring their instruments. Stay for a day or stay for a year.
I have been a business woman all my life and have enjoyed being self-employed. For the last 30 years I have owned and managed the beautiful Floriana Guest House on the Cairns Esplanade. I love to play piano and sing and you will be delighted with the Bernstein baby grand that sits in the main lounge at Babinda Quarters.
Babinda is well established small rainforest town growing mainly sugar cane and bananas. Regular requirements such as a Bank, Chemist, post office, supermarket, hospital, medical centre, picture theatre, heritage listed pub with Chinese restaurant, tavern with bistro and two very substantial cafes plus a second hand shop. Because we are Surrounded by the tallest mountains in Queensland sometimes it seems that we live in a cloud. There are wonderful walks, rock pools, waterfalls, and rainforest.
Babinda Township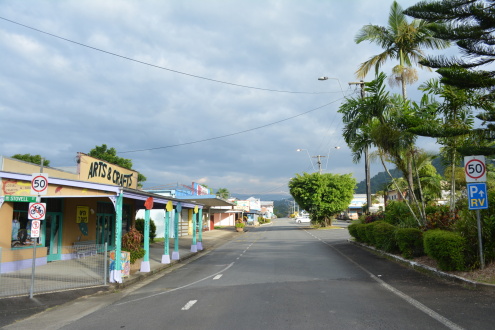 Babinda is a tropical Queensland town with a population of just 1,300 people. The main street offers quaint shopfronts and a misty rainforest mountain backdrop. This proud little gem has all of the facilities one would expect of a town much larger.
A tourist information centre, hospital, library, restored historic picture theatre showing the latest release films (opens on weekends), a public 50 metre pool (closed Sundays and Saturday afternoon), a rambling huge heritage-listed hotel & the Babinda Bakery famous for cream buns.
Babinda Attractions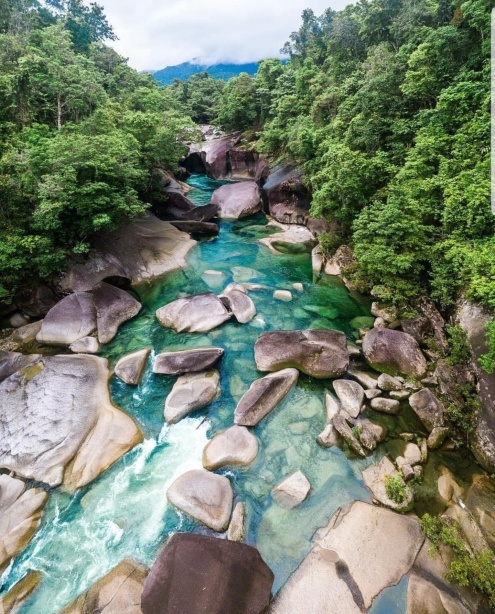 We have always loved visiting this area and have hiked the mountains as a family. Babinda Quarters is an excellent place to stay if you're intending to do a big challenging hike or enjoy the relaxed waterfalls.
Babinda Boulders
Babinda Boulders are a series of swimming holes where the water is cold year round. Only 6 kms from Babinda township with plenty of parking the swimming hole is a popular swimming hole with easy access into the creek via a platform. It is safe to swim here in the designated areas. There is seating, bridges, decks, grassy areas for picnics and viewing platforms.
Devils Pool
Devils Pool is also accessed from this carpark. It is a 1.3 km walk from Babinda Boulders and is for viewing only. Devils Pool is not a swimming spot but is impressive to view.
Josephine Falls is a scenic tiered cascade waterfall set within beautiful lush rainforest surrounds. There is a natural rock slide here, fed by rainfall from Queensland's highest peak, Mt Bartle Frere. This is part of the Wooroonooran National Park and is well managed with maintained forest trails, viewing platforms, and stair access. The walk in from the carpark is about 700 metres.
Mount Bartle Frere
Mount Bartle Frere looms over Babinda and it is possible to hike to the top of this mountain. The trailhead begins at the Josephine Falls carpark. It is a challenging hike, involves preparation and should only be undertaken by experienced bushwalkers. A one-day trip will take approximately 12 hours. There are two overnight campsites and permits are required before you depart. This hike is not for the faint hearted.
Broken Nose Walk
Broken Nose Walk is also accessed from Josephine Falls carpark. This 8 kilometre mountain rainforest trek is also extremely demanding. There is a campsite if you wish to camp and a permit is required. Adequate research and preparations are important for these walks.
---
Babinda declared the wettest town in Australia in 2019
By Babinda Quarters
10 Jan 2020
Every year the Queensland towns of Tully and Babinda compete for the coveted Golden Gumboot, signifying the countries highest rainfall.
Tully has an average rainfall exceeding 4 metres. They hold the record for the highest ever annual rainfall in a populated area of Australia (7.93 metres in 1950).
But the nearby town of Babinda has mould growing on the buildings from the constant wet, and the highest rainfall in the region for over ten years.
Babinda Locals Staring in New Samsung Ad
By Babinda Quarters
24 May 2017
News By Elisabeth Champion, The Cairns Post May 24, 2017 7:21am Babinda local Harry Anning will be gracing television screens in the coming months, along with 80 other Babinda and Tully residents. Korean tech company Samsung decided the Far North towns – age-old rivals for the Golden Gumboot "Australia's wettest town" award – were the perfect place to set an advertisement for the new water-resistant S8 Samsung Galaxy phone, and have been filming for the past week. Mr Anning was on set at the Deeral boat ramp on Monday, playing a fisherman. David Lamb, a traveler from Sydney, stars in the Samsung commercial, filmed at Deeral on Monday. PIC: Elisabeth Champion "It's hard work, but it wasn't bad," he said. "I had to pretend like I'd caught a fish and was taking a selfie." He is one of many locals to play a role in the ad. Even tourists got in on the action, including Sydney visitor David Lamb. "I was at Golden Hole, and they approached me and asked if I wanted to be in it," he said. "It'll be a good story to tell." David Lamb, a traveler from Sydney, stars in the Samsung commercial, filmed at Deeral on Monday. PIC: Elisabeth Champion Production teams wrapped up filming yesterday, with a local town meeting scene filmed in Babinda last night followed by a thank you dinner. Despite the battle for the "wettest place in Australia" title, crews had clear blue skies to contend with on Monday and reinforcements, in the form of a rain machine, had to be called in for filming. Samsung director of product marketing Hamid Fardoost said Tully and Babinda were the best places to film the ad. "The competition between the two is a famous, beautiful Australian story," he said. "It was a perfect fit to market the new Galaxy S8."
---
Babinda Quarters
The Quarters Guesthouse is located at 30 Knowles Street, Babinda.
---
Direct Contact Info
Hours: 7 Days
Address:
30 Knowles Street
Babinda
QLD 4861
Australia
---