About Coral Sands Beachfront Resort Trinity Beach
CORAL SANDS BEACHFRONT RESORT — TRINITY BEACH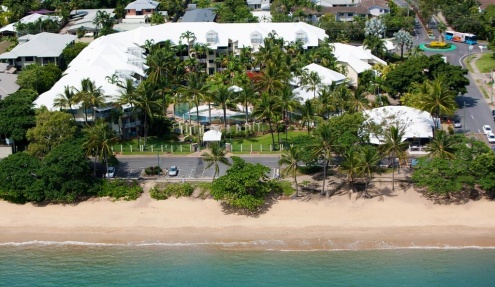 Forget the everyday hustle and bustle of home and enjoy a holiday experience that stands out from all the others.
Stretch, relax and breathe the warm sweet scents of Tropical North Queensland at Coral Sands Beachfront Resort where you will discover the very best of apartment style holiday accommodation in Trinity Beach, Cairns. An iconic landmark, Coral Sands Beachfront Resort offers you a never-to-be-forgotten tropical adventure to share with family and friends.
Coral Sands Beachfront Resort has a well-deserved international reputation drawing guests from across Europe, Asia and the Pacific.
Located in a prime position in Trinity Beach the resort sits at the heart of the Northern Beaches of Cairns. From there it is just a short 20 minute journey to the city where you can enjoy shopping, dining and a wide range of entertainment.
Using Coral Sands Beachfront Resort as your base, there's so much to do and experience within easy travelling distance in the greater Cairns region. Step aboard one of the cruise vessels to journey to the world famous Great Barrier Reef, or view its magnificent colours from up high in an exhilarating helicopter ride from Cairns.
Explore the Daintree or Port Douglas – wonderful day trips from Trinity Beach. Don't miss the chance to journey to Kuranda – the Village in the Rainforest; travel each way by Skyrail or Scenic Rail or both. For the adventurous, why not try Jungle Surfing in Cape Tribulation? There's horse riding, quad bike trails, skydiving and white water rafting just to mention a few of the myriad of attractions available in the Cairns region.
Whether your stay is a brief introduction to this wonderful area or a longer restorative time away, there's something for everyone every time you visit Coral Sands Beachfront Resort, Trinity Beach and Cairns City.
TRINITY BEACH HOLIDAY APARTMENTS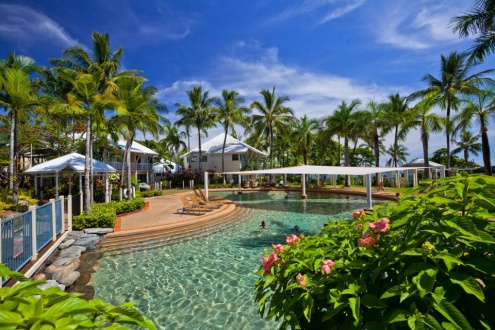 Wake up to a stunning sunrise over the ocean and start your tropical Cairns holiday from the luxury of your 1, 2 or 3 bedroom accommodation. The fully self-contained apartments are both modern and provide all the homely extras.
Prefer your own cooking? The kitchen in each apartment has all the appliances you might need to whip up a delicious feast. There is also a Nespresso coffee pod machine so that your day gets off to the right start.
Each apartment has a large, comfortable, well-furnished lounge and dining area. Share a quiet intimate breakfast or perhaps a self-catered dinner while enjoying all the privacy you might wish.
A flat screen TV, Austar cable and ipod docking system is also featured in each accommodation.
Features
Air conditioning and ceiling fans
Laundry facilities
Direct dial telephone
Internet access
Intercom security
Flat screen TV & Austar cable
Music centre
Enjoy the tropical sunrise and sunset and take in the wonderful views from the spacious fully furnished apartment and balcony.
One Bedroom Apartment
Two Bedroom Apartment
Three Bedroom Apartment
Nearby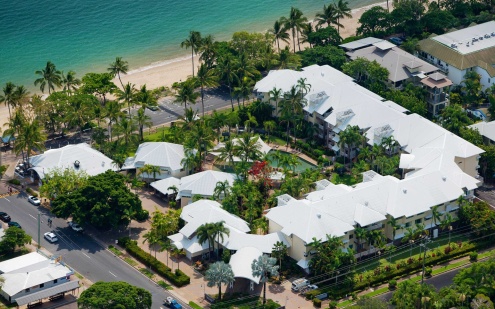 Coral Sands Resort truly is a tropical dream located along Vasey Esplanade in Trinity Beach with magnificent views of pristine white sand and the sparkle of the cobalt Coral Sea.
Explore and enjoy the esplanade lifestyle with a quiet stroll along the beach boardwalk or take advantage of the various water sports nearby. Flotation bikes and trampolines are available for those who like to play.
There is a host of great local eating options nearby where you can dine al fresco. A short stroll with take you to several high-quality restaurants and cafes. Try the casual but delicious Trinity Beach Bar & Grill, the Mediteranian flare of Fratelli, the Thai fusion of Bankok Rose, the fresh and local la carte style menu at the Lime Tree restaurant, and many more exciting food options.
Prefer to cook 'at home'? A local convenience store within easy reach will provide you with the basics for your home-cooked meal.
---
News By Coral Sands Beachfront Resort Trinity Beach
WEDDING AND EVENTS
By Coral Sands Beachfront Resort Trinity Beach
08 Mar 2013
Coralsands Beachfront Resort is now available for Weddings and Special Events for up to 60 guests.
Coral Sands Beachfront Resort has an exclusive function area, set within lush tropical gardens
facing the Coral Sea, which provides the perfect wedding backdrop for those special
photographs and memories that will last a lifetime. Our dedicated function area is ideally
located on the esplanade and can host up to 60 guests. We can offer group wedding
accommodation rates to make things easier for yourself with family and friends being
accommodated within the same complex. Whether your wedding is on the beach with the
sand between your toes or within the tropical flowering gardens with palm trees swaying in
the ocean breeze, we can assist in planning for this event.
PACKAGES STARTING FROM AUD2400.00
We held our wedding on the grounds of the Coral Sands Beachfront Resort in Trinity Beach in May of
2012. What a perfect location! From the garden area we were looking onto the beach with the pool and
gorgeous gardens behind us. We were given permission to erect a Marquee and to hold the ceremony
and reception in this location by the management which worked perfectly as most of the guests were staying in the
units. The accommodation was great value and all of the guests were really happy with the quality of the units. Merilyn
and Graeme were fantastic hosts and made our group feel extremely welcome. I highly recommend this
resort for not only weddings and functions, but also short getaways and I know that we will return.' I am
so grateful to you and Graeme for accommodating us… we had the best time!!' -
Julie Kemp
Christmas Parties
By Coral Sands Beachfront Resort Trinity Beach
23 Sep 2011
Why not have your work Christmas Party at Coralsands Beachfront Resort on Trinity Beach. Set on two acres of lawn & tropical gardens we have two barbecue areas which are perfect for your Christmas Party. Please contact us for accommodation specials.
---
Coral Sands Beachfront Resort Trinity Beach Reviews
---
Coral Sands Beachfront Resort Trinity Beach
Trinity Beach Rd & Moore St, Trinity Beach QLD 4879
---
Direct Contact Info
Hours: Please call for opening hours
Address:
Cnr Trinity Beach Road & Vasey Esplanade
Trinity Beach
QLD 4879
Australia
---