About Rainforestation Nature Park
Rainforestation Nature Park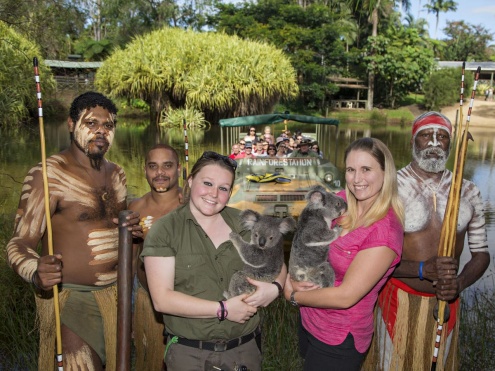 Rainforestation Nature Park is located in Far North Queensland, amidst the Kuranda rainforest.
Board an amphibious World War II Army Duck for a unique rainforest tour on both land and water, where your guide will identify and explain fascinating plants and wildlife as you pass by. Then meander through the Tropical Fruits Orchard, with over 40 different species of exotic tropical fruit trees.
Learn about indigenous culture with the interactive Pamagirri Aboriginal Experience. Join the Dreamtime Walk which includes boomerang throwing, spear-throwing and the didgeridoo.
The park contains many Australian species such as crocodiles, dingoes, snakes, lizards, cassowary and Tasmanian devils. Handfeed kangaroos and wallabies, or have your photo taken cuddling a cute koala or holding a small crocodile (optional extra cost).
Enjoy a fantastic buffet lunch or snack in the licensed Colonial or Outback restaurant with much variety of meals to choose from. There is the Tropical Treats Juice Bar for fruits, ice creams and fresh juices.
Opening Hours
Open 9.00am to 4pm daily except Christmas Day (25 December).
Children's prices apply if the child is between the ages of 4 to 14 years..
Entry includes access to all tours and presentations.
Rainforestation is wheelchair accessible.
Army Duck Rainforest Tours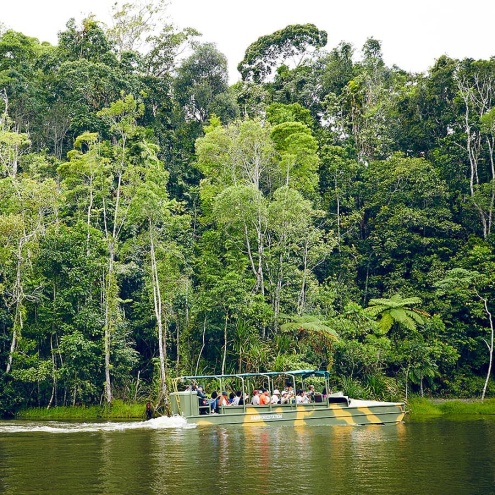 Experience the tropical rainforest from a totally unique perspective aboard an amphibious World War II Army Duck or DUKW (colloquially known as Duck).
Rainforestation has twelve of these historical vehicles which hold up to 30 passengers and uses a 6 wheel drive, propeller and rudder. During this 45 minute rainforest tour, your knowledgeable Duck Captain will identify and explain fascinating plants and wildlife as you pass by before splashing into the lake for a cruise with more wildlife to be seen.
During your tour, you'll visit the tropical fruit orchard which features over 60 different species of exotic tropical fruit trees and you'll learn about fruits of the region and the world.
Army Duck Photos
Your friends back home won't believe you've explored the rainforest on board an amphibious World War II Army Duck so take a photo to prove it!
Koala & Wildlife Park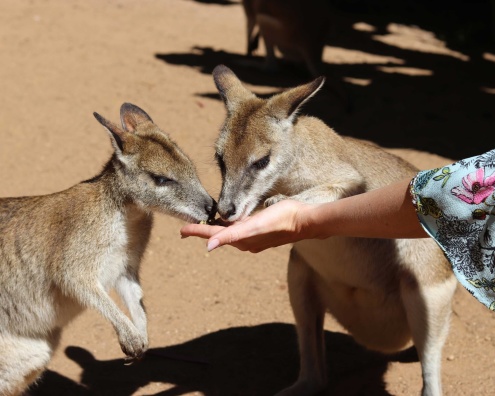 The Koala and Wildlife Park allows visitors to experience another facet of Australia.
Wander at your leisure or join a guided group with our experienced Wildlife Keepers. A series of elevated boardwalks provide close-up uninterrupted views of various Australian animals and reptiles.
Handfeed the free roaming kangaroos and wallabies in the landscaped gardens, observe the endangered cassowary, see wombats and lace monitors, and view local snakes and other reptiles.
The star attraction of our Wildlife Park is "Jack the Ripper", a 5 metre saltwater crocodile weighing at 650kgs with a reputation of killing 12 of his girlfriends in times gone by. Jack is kept in his own enclosure with an elevated platform perfect for your safe and close-up viewing.
Pamagirri Aboriginal Experience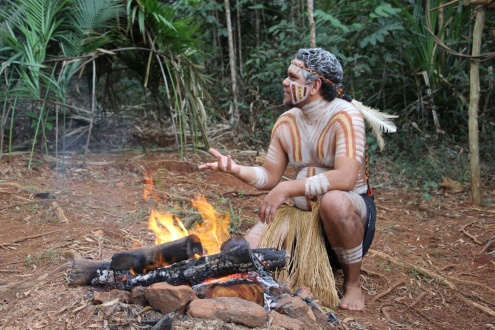 Australia's Indigenous culture is one of the oldest surviving cultures in the world and Rainforestation Nature Park recognises the importance of preserving and sharing this unique culture.
Local indigenous Pamagirri guides welcome you to join them on a journey to discover the Dreamtime and learn about the fascinating customs and ancient traditions that are kept alive in the rainforest of Kuranda, in Tropical North Queensland.
The Pamagirri Aboriginal Experience takes approximately 1 hour which includes both the Pamagirri Aboriginal Dance Show held in the Rainforest Amphitheatre and the Dreamtime Walk conducted either before or after the show. Extended Dreamtime Walk activities are available at an extra cost for groups to learn even more about the fascinating history of Australia's Indigenous culture.
---
Rainforestation Nature Park
Rainforestation Nature Park is located on the Kennedy Highway in Kuranda. Directions from Cairns to Rainforestation by car: Departing Cairns accommodation, travel North on Sheridan Street. As you pass the airport on your right, Sheridan Street becomes the Captain Cook Highway and you will soon cross the Barron River Bridge. Continue through the Machans Beach, Holloways Beach and Yorkeys Knob and Caravonica roundabouts. At the Smithfield roundabout turn left onto the Kennedy Highway, passing Smithfield Shopping Centre on your right and join the Kuranda Range. You may wish to stop at Henry Ross Lookout for a scenic view of Cairns and the coast. From Henry Ross Lookout, continue on the Kennedy Highway for approximately 5 km, and you will see a sign indicating a right hand turn off to Rainforestation.
---