About Green Island Cairns
Green Island Cairns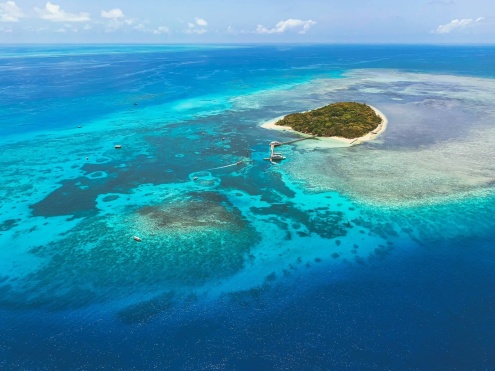 Green Island is a beautiful 6000 year old coral cay located in the Great Barrier Reef Marine Park, just 27km offshore from Cairns, and one of the most popular destinations on the Great Barrier Reef for visitors coming to Far North Queensland.
A ferry trip to Green Island only takes 45 minutes, it makes for a great day out or convenient half day experience.
Green Island History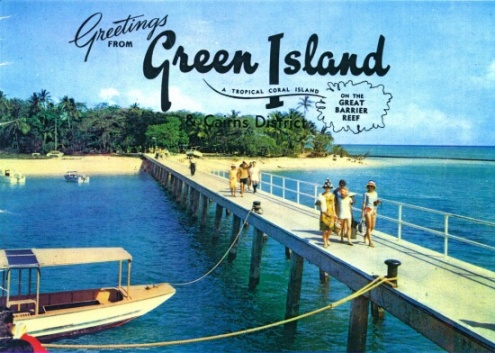 Green Island is a 12 hectare coral cay that is over 6000 years old. A coral cay is a sandy island formed on the surface of the coral reef over thousands of years.
The Island was the result of the ocean currents build-up of sand and coral rubble deposited on the calm side of the platform reef, and is now the only coral cay on the Great Barrier Reef that is covered in rainforest!
Green Island became a national park in 1937, a marine park in 1974 and protected as part of the Great Barrier Reef World Heritage Area in 1981. The Great Barrier Reef has over 400 types of corals and 1,500 species of fish. It is common for visitors to Green Island to swim only metres away from Green and Hawksbill turtles just off the beach, which are endangered species. The island also has a wide diversity of bird and insect life which live inside the tropical vine forest that covers the island.
The Aboriginal people, the Gungandi people know the island as Wunyami. They still maintain a close connection to the island and reef which were used as an initiation ground for young men in the past.
Green Island Ferry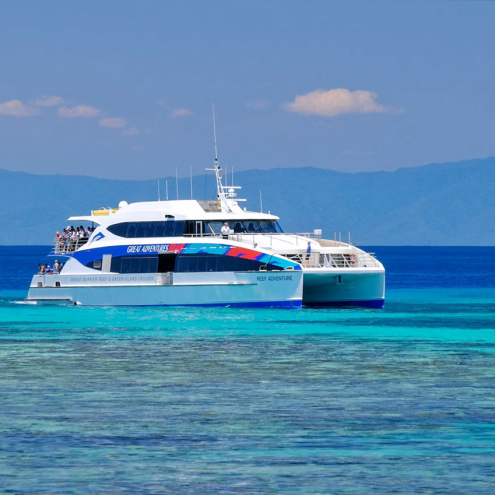 The Great Adventures Green Island Ferry departs Cairns 3 times daily. Your journey to Great Island takes only 45 minutes.
You can choose the Eco (Snorkeling or Glass Bottom Boat) or the Discovery (Snorkeling & Glass Bottom Boat)
Cairns to Green Island Departures
8.30am (Check in at 8.00am)
10.30am (Check in at 10.00am)
12.30am (Check in at 12.00pm)
Green Island to Cairns Departures
12.00pm (Check in at 11.30am)
2.30pm (Check in at 2.00pm)
4.30pm (Check in at 4.00pm)
Great Adventures Green Island Ferry Features
Return on air-conditioned, fast catamaran
Snorkel equipment
Glass Bottom Boat coral reef viewing tour
Up to 7 hours on Green Island
Morning tea and coffee served until departure from Cairns
Use of Island swimming pool exclusive for Great Adventures guests.
Big Cat Green Island Day Tour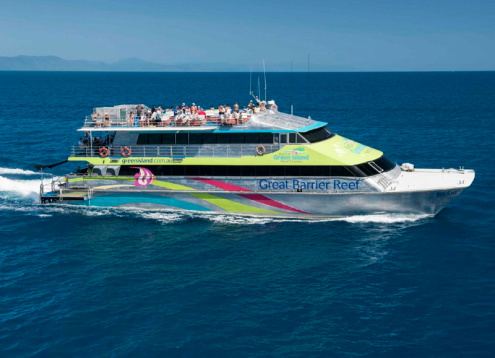 Big Cat is a comfortable air-conditioned 35 metre catamaran with spacious interior cabins and a relaxed atmosphere. Travel time to Green Island is just 45 minutes from Cairns. Big Cat Green Island offers a full day on Green Island.
Cairns to Green Island Departures
9.00am (Check in at 8.30am)
Green Island to Cairns Departure
5.00pm (Check in at 4.30pm)
Package Options
Pak 1: Return ferry transfers, Glass Bottom Boat OR Snorkel equipment
Pak 2: Return ferry transfers, Glass Bottom Boat OR Snorkel equipment and Hot/Cold Buffet lunch
Pak 3: Return ferry transfers, Glass Bottom Boat OR Snorkel equipment and Semi-Submersible
Pak 4: Return ferry transfers, Glass Bottom Boat OR Snorkel equipment, Hot/Cold Buffet lunch and Semi-Submersible
Green Island Reef Rocket Ferry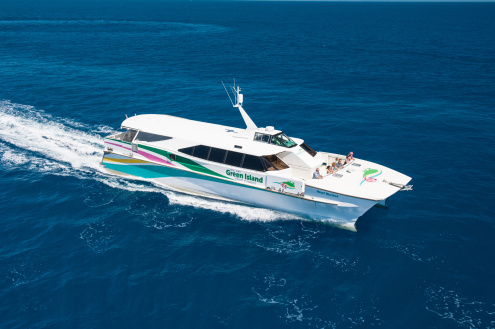 Reef Rocket is a modern, comfortable, air-conditioned, high speed catamaran. Travel time to Green Island is 45 minutes from Cairns.
Reef Rocket Cairns to Green Island Options
9.00am - 1.00pm (Check in at 8.30am)
11.00am - 5.00 pm (Check in at 10.30am)
1.00pm - 5.00pm (Check in at 12.30pm)
Special Family Pricing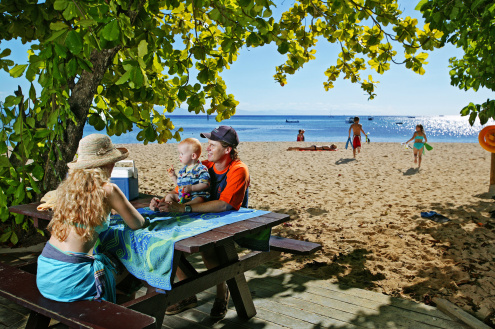 We offer special rates for families on all Green Island Ferry & Day Tour experiences. All of our family rates are based on the following:
Infants (3 Years & Under) travel free
Children (4 - 14 years) Half Price
Family (2 Adults & 2 Children) 1 Child travels free
Family pricing may change slightly depending on the tour options you choose. ​Please check the booking form for up to date family pricing for your group.
Things to do on Green Island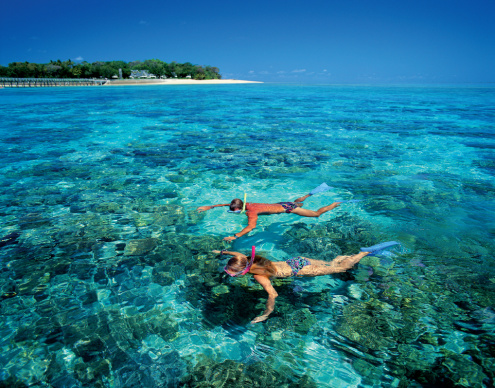 For a small island, there are so many activities and things to do on Green Island. These include snorkelling, swimming, and scuba diving, parasailing or exploring the island further with a self-guided island walk.
If you are unable to swim or have small children, you can view the reef by glass bottom boat or semi submarine. If you want a less active day, perhaps visit the Marineland Melanesia which is home to Cassius the world's largest Crocodile in captivity. Shopping is also an option at the island resort shop and boutiques, or spoil yourself at, Oiled, the Green Island Massage centre.
Being so easily accessible, Green Island is one of the most popular destinations on the Great Barrier Reef for visitors coming to Cairns and Far North Queensland. Green Island and the surrounding coral reef are a protected World Heritage Site, one of the seven natural wonders of the world.
Snorkeling on Green Island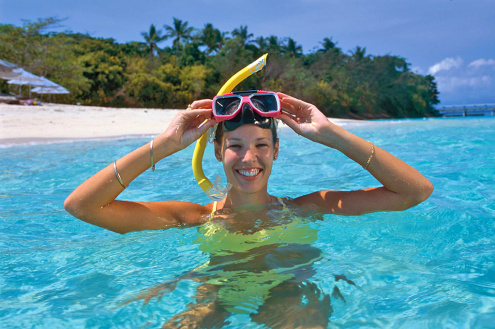 All Green Island Ferry options include snorkelling equipment so you can experience the beauty of the coral reef only metres off the beach.
The waters around Green Island are home to a large population of sea turtles who are often found swimming in the seagrass and reefs close to the island shore.
Snorkelling Equipment includes a Mask, Snorkel and Fins
Lycra Suits and Floatation Vests are available for hire atthe Dive Centre or can be organised on the ferry.
On your journey to Green Island safe snorkelling tips are given, and a patrolled swimming area is provided on the northern side of the island near the beach hire hut.
Snorkel Boat Tour from Green Island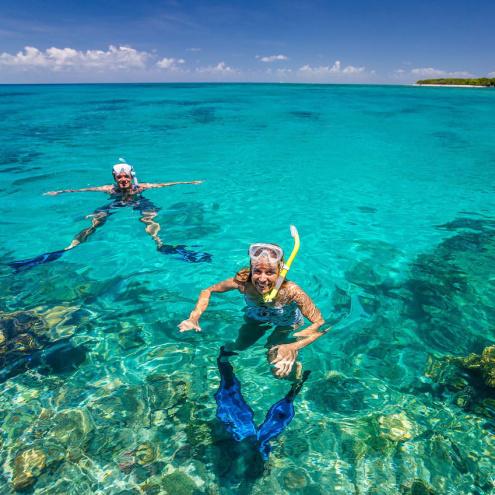 Additional 1 Hour Boat Snorkel Trip | $54 Adult | $38 Child
The boat snorkel trip gives you the opportunity to experience much more of Green Island's amazing marine life. After a short 5-7 minutes trip offshore, you will be at one of our four beautiful dive and snorkel sites, about 1.5km from Green Island. Be ready to snorkel amongst colourful marine life and coral gardens, as our lifeguard supervises and directs you to the best areas of the site. (buoyancy vests included).
Snorkelling gear is not available on the vessel. Please bring your own snorkelling gear. You can hire snorkelling gear from the dive shop on Green Island.
Green Island Self Guided Boardwalk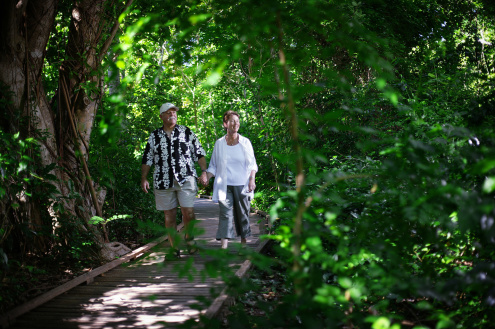 The Green Island Boardwalk is a leisurely 1.3km return taking less than an hour. The boardwalk access takes you through the national park forest to the south-east beach.
A self-guided island walk brochure is available from the information centre for visitors to explore Green Island at their own pace.
A map available from the information centre will point you in the right direction to start your self-guided Eco Walk. This trail guides you to numbered locations that explore the history of the island and informative facts about some of the 126 native species of plant life on Green Island.
The walk has been voted one of Queensland's top bushwalks in the state giving people the opportunity to spot some of the 28 species of forest birds and 35 species of seabirds that live on the Island. The Eco walk takes less than one hour and the map is available in six different languages.
Marineland Melanesia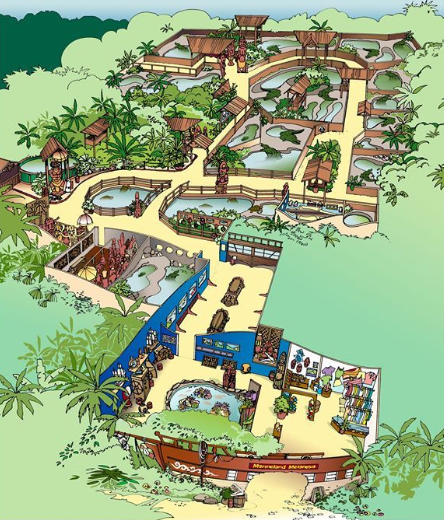 Marineland Melanesia is a unique attraction on Green Island; home to over 50 crocodiles, marine aquariums with coral, fish, giant sea turtles, and a magnificent range of tribal carvings. Also displayed are a number of old and restored marine artefacts and stationary engines.
This family owned and operated business has been a popular tourist attraction operating on Green Island since the early 1960's. Located just a short stroll along the path to the left of the jetty, look out for the iconic shipwreck entrance and gift shop. See exciting crocodile shows, you can even have your photo taken holding a baby crocodile! Marineland Melanesia is also home to Cassius - the largest crocodile in captivity.
Beach Hire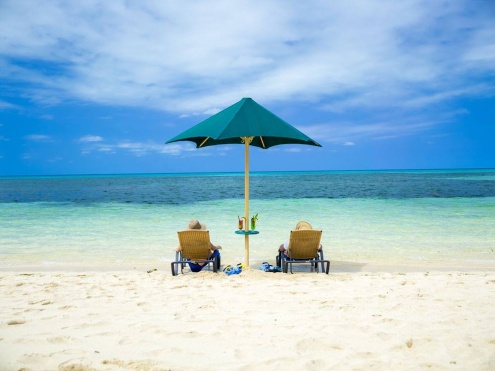 Green Island Beach HireHire of water sports equipment such as canoes and windsurfers, lockers, towels and umbrellas are available through the resort and beach hire hut.
Beach Hire Prices
$40 | 2 Beach lounge chairs & umbrella (all day)
$15 | Beach volleyball (2 hours)
$30 | Double Kayak (1/2 hour)
$20 | Single Kayak (1/2 hour)

Dining Options on Green Island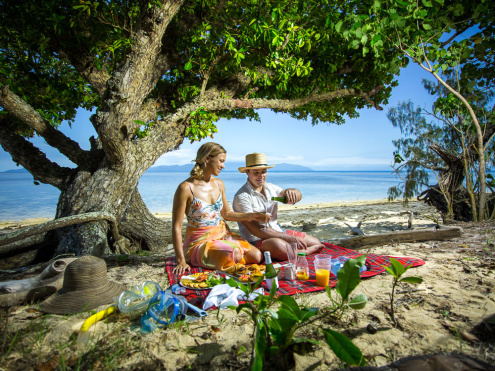 The Canopy Grill
The Canopy Grill offers quick service and is a good option for families with young children. Offering Burgers, hot dogs & fish and chips, or café style wraps. Open daily from 09:30 to 15:30.
Emeralds Restaurant
Emeralds Restaurant offers air-conditioned or outdoor a la carte dining from 10am. Breakfast is also available up to 10.30am.
Big Cat Buffet (for passengers of the Big Cat Ferry)
Must be pre-booked with your Big Cat Ferry ticket. A delicious buffet lunch is served aboard 'Big Cat' at Green Island for those who have chosen this option.
Greens Buffet
Green Island's enclosed food court dining area offer guests a delicious buffet or a meal purchased from one of the island's food outlets including the Canopy Grill or Lite Bites in this lunch retreat amid the rainforest.
Green Island Resort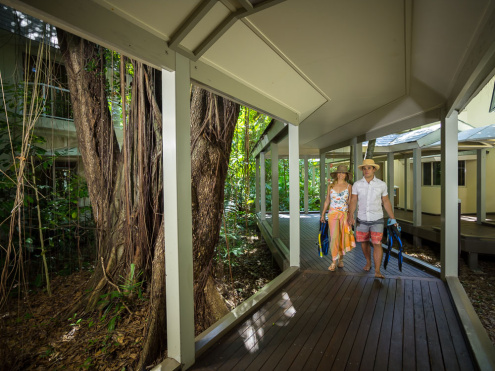 Green Island Resort features 46 elegant suites nestled amidst a lush rainforest on the 6000 year old coral cay of Green Island, located within the Great Barrier Reef Marine Park, just 27 km off the coast of Cairns. With 126 indigenous plant species and an array of vibrant birdlife, this 15-hectare (37-acre) island offers an unforgettable experience amidst its verdant rainforest and mesmerizing coral gardens.
The 45 minute walk around Green Island is a popular choice for resort guests. The Eco-walk and walking around the Island are the best way to experience the magic that lives amongst Green Island.
Green Island Resort has been awarded Advanced Ecotourism Certification for preservation and their commitment to the island's surrounding rainforest and reef, and the management of this eco-sensitive resort.
Resort Accommodation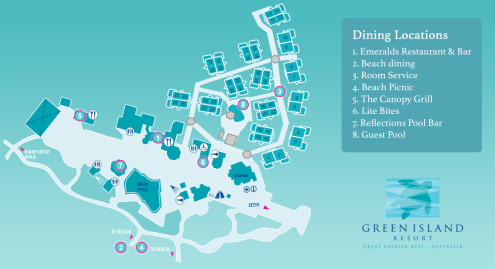 Green Island Resort has two styles of accommodation: Reef Suites and Island Suites. All suites are set in clusters under the rainforest canopy and adjoin to the central facilities via raised covered walkways. They are cleverly secluded from the remainder of the island and day visitor facilities
Island Suite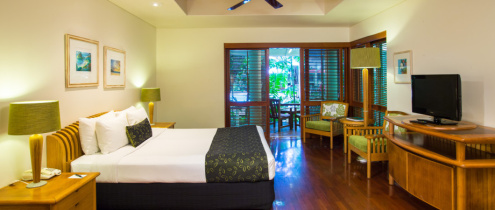 Green Island Resort's Island Suites offer luxurious and spacious accommodations with a tropical flair. The suites feature a large open-plan living area, separate bedroom, modern bathroom, and a private balcony with views of the island. Amenities include air-conditioning, mini-fridge, flat-screen TV, and a choice of twin beds or king-sized bed. Interconnecting or adjacent rooms are available for families.
Reef Suite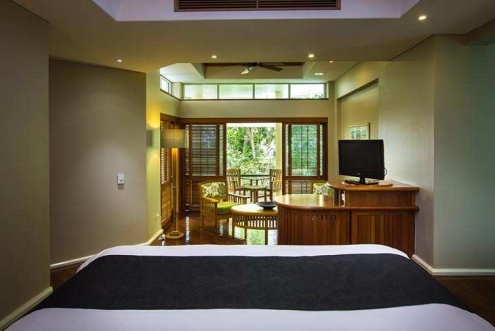 The Reef Suite at Green Island is a luxurious and spacious (66 sq m) split-level room designed for a romantic getaway or special occasion. It features a comfortable king-sized bed, a cozy lounge area, a separate bathroom and shower, and a private balcony with views of the lush rainforest. The room can accommodate up to 2 adults and offers air conditioning for added comfort.
Frequently Asked Questions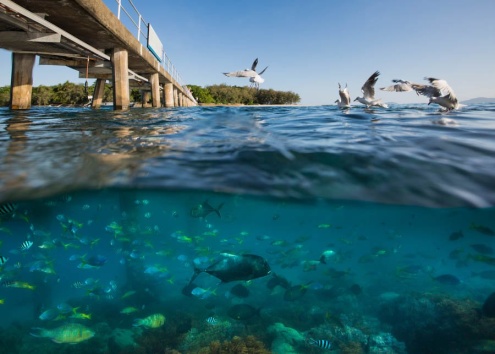 How far away is Green Island from Cairns?
Green Island is located 27km offshore from Cairns, within the Great Barrier Reef Marine Park.
How long does it take to get there?
Ferry transfers take just 45 minutes. Ideal for those who are short of time and looking for a quick getaway, or for those who are sensitive to the motion of the ocean, after a quick ferry ride you'll be on dry land where all reef & island activities take place.
When is the best time to visit?
Situated in the tropics the climate is favourable year round, making it suitable for water activities anytime. The warm waters range in temperature from 22-29 Celsius (75-85 Fahrenheit).
Is Green Island suitable for my family?
Green Island is an easy trip for people of all ages. The half day options are ideal for small children, infants, babies and the elderly. The facilities on the island provide ease and convenience.
Can I bring my own lunch?
Yes you can bring your own packed lunch or choose to dine at one of the various food outlets. Some tour operators include lunch in their package rates.
Is the island wheelchair accessible?
Green Island is accessible for wheelchairs, please advise on booking as not all vessels offer wheelchair facilities. Once on the island wide paved or timber walkways allow for wheelchair access and there are disabled toilets.
Is it safe to swim?
Yes you can swim or snorkel straight off the beach. This is ideal for beginner snorkellers providing the opportunity to gain confidence in the water. The main beach area is patrolled by Surf Lifesaving Queensland lifeguards
Are there Marine Stingers at Green Island?
It's very rare but, Jellyfish season is generally between November to May, during this time it is advised to wear a stinger suit when entering the water to avoid any 'bites' or stings.
Will I see turtles?
There is a high chance you will get to see a turtle. The sea grasses surrounding Green Island are a popular feeding ground for green sea turtles, they can be frequently spotted from the jetty.
What happens if it's raining?
Trips still operate to Green Island even if it's raining. In most cases you'll find that it'll be raining in Cairns and clear & fine at the reef, as the rain tends to draw towards the mountains.
Are lockers available?
Green Island offers coin lockers for your convenience. These lockers are compact but sufficient for storing your valuables while you enjoy your time in the water.
Where can I park my car while I am on the Green Island tour?
The Reef Fleet Terminal is located next to the Pier Marketplace where you can access paid parking. Additionally, the Cruise Liner Terminal also has a paid car park where you can purchase a day pass for approximately $10.
---
News By Green Island Cairns
Green Island is inclusive and accessible
By Green Island Cairns
21 Jun 2023
Island Experience - Great Adventures Green Island & Green Island Resort
Green Island's wide paved or timber pathways are easy for wheelchairs to access, as is the jetty – perfect for some turtle spotting. There is a boardwalk through the rainforest into the centre of the Island to explore the flora and birdlife. The sandy beach for access to the water is not accessible by wheelchair. The glass bottom boat is only accessible via a number of steps.
The day visitor area has disabled toilet facilities and easy access to the food outlets.
At our Cairns jetty and Green Island, Great Adventures catamarans have boarding ramp gangways able to accommodate standard sized wheelchairs, however larger motorised wheelchairs may not be suitable. Depending on tidal conditions, at times there may be a few steps at the end of the gangway onto the jetty. We recommend contacting our reservations staff 24 hours prior to travel to ensure the most appropriate departure times regarding tide.
Green Island Resort has an Island Suite configured for wheelchair access to the room and bathroom facilities, with the room located in easy access to central facilities and boardwalks.
For more information about wheelchair accessibility across our operations, or contact our friendly reservations teams for advice.
Big Cat now 7 Days a week
By Green Island Cairns
23 Dec 2022
Big Cat Green Island is now back to 7 days a week operation from Boxing Day 2022!
The only semi-submersible boat on Green Island and a fresh buffet lunch (including prawns) served daily by award winning Ochre Restaurant.
The Big Cat Full Day Green Island Tour departs Cairns at 9am and returns at 5pm. You have the option to include Snorkeling Gear, Glass Bottom Boat, Buffet Lunch & a Semi-Sub Tour.
---
Green Island Cairns Reviews
---
Green Island Cairns
all Green Island Day Trips depart from the Cairns City Marina. Check in to the Reef Fleet Terminal to obtain your boarding pass. Boarding is 30 minutes prior to departure time.
---