Spend a day on Green Island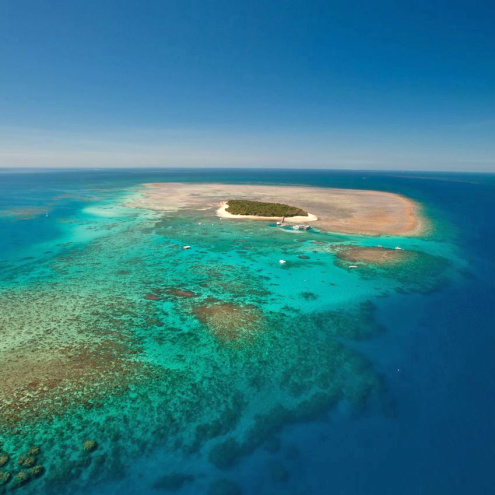 Green Island is a beautiful 6000 year old coral cay located in the Great Barrier Reef Marine Park, just 27km offshore from Cairns, and one of the most popular destinations on the Great Barrier Reef for visitors coming to Far North Queensland.
The Green Island Ferry departs Cairns 3 times daily. Your journey to Great Island takes only 45 minutes.
Select from the transfer only option or include snorkeling and glass bottom boat for your Green Island experience.
Green Island Ferry Features
Return on air-conditioned, fast catamaran
Snorkel equipment
Glass Bottom Boat coral reef viewing tour
Up to 7 hours on Green Island
Morning tea and coffee served until departure from Cairns
Use of Island swimming pool exclusive for Great Adventures guests
Family Pricing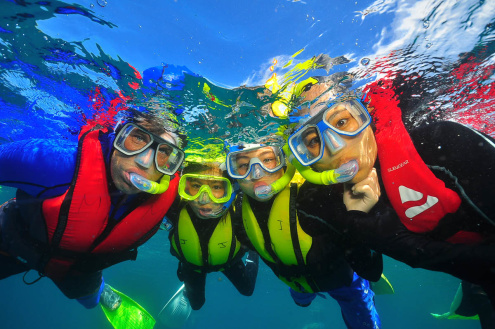 We offer special rates for families on all Green Island Ferry & Day Tour experiences.
Infants (3 Years & Under) travel free
Children (4 - 14 years) Half Price
Family (2 Adults & 2 Children) 1 Child travels free
Family pricing may change slightly depending on the tour options you choose. ​Please check the booking form for up to date family pricing for your group.
Green Island Ferry Times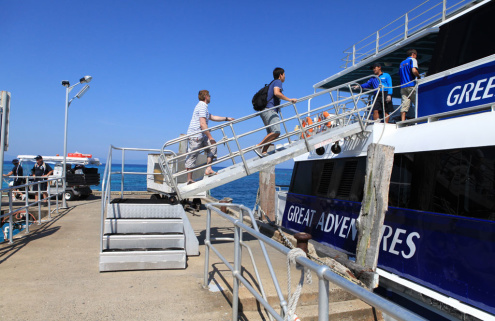 Cairns to Green Island Departures
8.30am (Check-in at 8.00am)
10.30am (Check-in at 10.00am)
12.30am (Check-in at 12.00pm)
Green Island to Cairns Departures
12.00pm (Boarding at 11.30am)
2.30pm (Boarding at 2.00pm)
4.30pm (Boarding at 4.00pm)
Green Island Beach Hire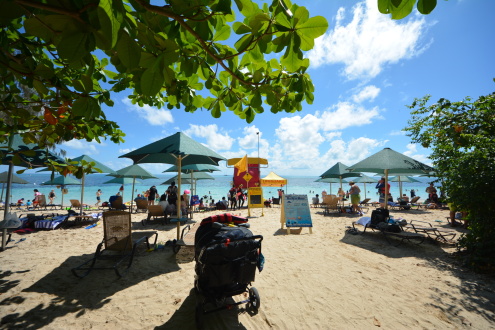 The Green Island Beach Hire Hut is located on the North side of the Island. Enjoy activities such as canoeing, glass bottom kayaking and windsurfing or relax with a cold drink on your personal sun lounge chair and umbrella on the beach.
Beach Hire Hut Prices
2 beach lounge chairs & umbrella (day): $40
Beach volleyball (2 hours): $15
Double Kayak (2 person) (1/2 hour): $30
Single Kayak (1 person) ( 1/2 hour): $20
For more information, see the friendly crew at the Beach Hire Hut.
Green Island Boardwalk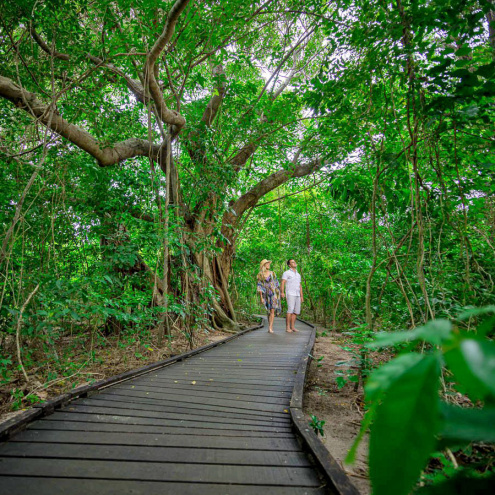 The Green Island Boardwalk is a leisurely 1.3km return taking less than an hour. The boardwalk access takes you through the national park forest to the south-east beach.
A self-guided island walk brochure is available from the information centre for visitors to explore Green Island at their own pace.
A map available from the information centre will point you in the right direction to start your self-guided Eco Walk. This trail guides you to numbered locations that explore the history of the island and informative facts about some of the 126 native species of plant life on Green Island.
The walk has been voted one of Queensland's top bushwalks in the state giving people the opportunity to spot some of the 28 species of forest birds and 35 species of seabirds that live on the Island. The Eco walk takes less than one hour and the map is available in six different languages.
Glass Bottom Boat Tour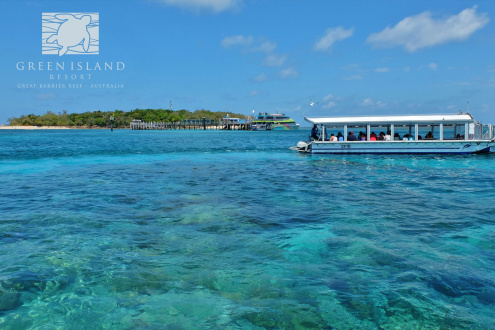 View the Great Barrier Reef off Green Island with it's beautiful coral gardens and amazing marine life while keeping dry in one of our modern Coral Explorer glass bottom boats.
Glass bottom boat tours are included in your Green Island Ferry Package or booked on the day at the Island
Green Island Glass Bottom Boat Prices
Adult $19
Child $9.50
Family $47.50

Snorkeling on Green Island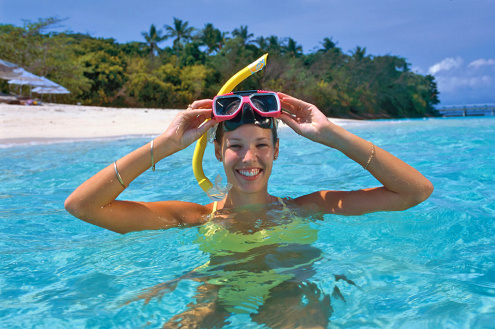 Collect your snorkel gear for the day from the Green Island Dive Shop and get ready to explore the reef surrounding Green Island.
Snorkel gear includes snorkel, mask and fins.
prescriptions masks and flotation vests & lycra suits are also available for hire from the dive shop.
The best snorkeling from the beach is to the left of the jetty. There is also a guided snorkel tour which takes you further out via boat.
1 Hour Green Island Guided Snorkel Tour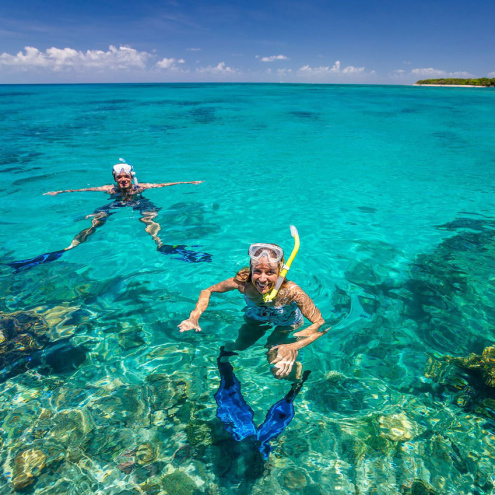 1 Hour Green Island Snorkel Tour gives you the opportunity to experience much more of Green Island's amazing marine life. After a short 5 minute boat trip offshore, you will be at one of our four beautiful dive and snorkel sites, about 1.5km from Green Island. Be ready to snorkel amongst colourful marine life and coral gardens, as our lifeguard supervises and directs you to the best areas of the site. (buoyancy vests included)
You will have around 30 minutes snorkeling time. We highly recommend adding the snorkel tour to your day on Green Island.
Snorkel tours run frequently. Organise your time slot with the staff on the vessel on the day of your Green Island day trip.
Boat Snorkel Tour Prices
Adult $52.00
Child $36.00
Family $140.00
Marineland Melanesia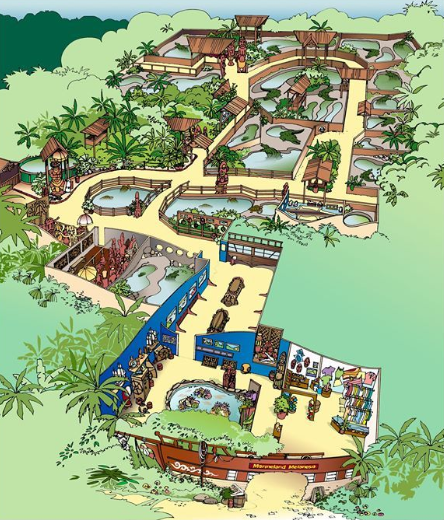 Marineland Melanesia is a unique attraction on Green Island; home to over 50 crocodiles, marine aquariums with coral, fish, giant sea turtles, and a magnificent range of tribal carvings. Also displayed are a number of old and restored marine artefacts and stationary engines.
This family owned and operated business has been a popular tourist attraction operating on Green Island since the early 1960's. Located just a short stroll along the path to the left of the jetty, look out for the iconic shipwreck entrance and gift shop. See exciting crocodile shows, you can even have your photo taken holding a baby crocodile! Marineland Melanesia is also home to Cassius - the largest crocodile in captivity.
Lunch Options on Green Island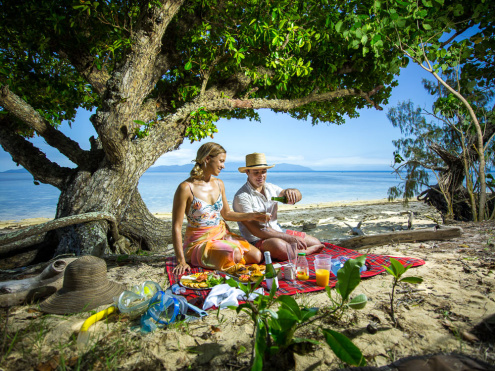 The Canopy Grill
The Canopy Grill offers quick service and is a good option for families with young children. Offering Burgers, hot dogs & fish and chips, or café style wraps. Open daily from 09:30 to 15:30.
Emeralds Restaurant
Emeralds Restaurant offers air-conditioned or outdoor a la carte dining from 10am. Breakfast is also available up to 10.30am.
Reflections Pool Bar
Enjoy pizza, nachos or oysters by the pool. Reflections is fully licenced serving ice-cold drinks, specialty cocktails, tea and barista coffees and cake.
About Green Island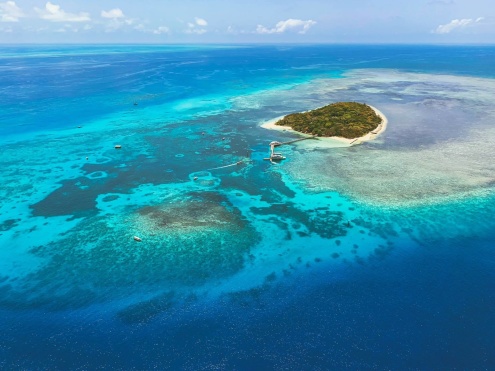 Green Island is a beautiful 6000 year old coral cay located in the Great Barrier Reef Marine Park, just 27 km offshore from Cairns. The Island is approximately 12 hectares in size and is unique in that it has a reef and rainforest environment. Of the 300 coral cays in the Great Barrier Reef, Green Island is the only one with a rainforest.
Flora and Fauna
Green Island is home to over 120 species of native plants, including a unique mixture of coastal and rainforest plants. The coastline is ringed by coastal vegetation that can survive drier conditions along the beach. But, step a few feet in to the centre of the island, and the vegetation changes abruptly to a dense, shady vine-thicket rainforest.
Green Island attracts a wide range of colourful birdlife, including land birds, seabirds and migratory birds that pass through the Great Barrier Reef on the way to nesting grounds. There are over 55 species of birds regularly seen on Green Island. About 15 types of birds regularly nest on the island.
Green Island Marine Life
The reef surrounding Green Island supports a diverse range of habitats and marine life. The seagrass beds in the shallows support a wide range of animals, from juvenile fish that use the grass for protection from predators to large sea turtles and dugong that feed on the seagrass.
The coral reef around Green Island starts shallow and continues into the depths and has over 190 different types of hard corals and over 100 types of soft corals.
Green Island History
Green Island is also know as "Wunyami", the aboriginal name for this island, and is part of the traditional sea country of the Guru-Gulu Gungandji Aboriginal people.
Green Island's amazing history includes many pioneering 'world firsts', such as the introduction of the first glass bottom boat in 1937 and the first stationary underwater observatory opened in 1954.
Green Island was named in 1770 after the astronomer onboard the HMS Endeavour, Mr Charles Green. HMS Endeavour, was a British Royal Navy research vessel commanded by (then Lieutenant) James Cook on his first voyage of discovery to Australia and New Zealand in 1768-71.
Frequently Asked Questions
How far away is Green Island from Cairns?
Green Island is located 27km offshore from Cairns, within the Great Barrier Reef Marine Park.
How long does it take to get there?
Ferry transfers take just 45 minutes. Ideal for those who are short of time and looking for a quick getaway, or for those who are sensitive to the motion of the ocean, after a quick ferry ride you'll be on dry land where all reef & island activities take place.
When is the best time to visit?
Situated in the tropics the climate is favourable year round, making it suitable for water activities anytime. The warm waters range in temperature from 22-29 Celsius (75-85 Fahrenheit).
Is Green Island suitable for my family?
Green Island is an easy trip for people of all ages. The half day options are ideal for small children, infants, babies and the elderly. The facilities on the island provide ease and convenience.
Can I bring my own lunch?
Yes you can bring your own packed lunch or choose to dine at one of the various food outlets. Some tour operators include lunch in their package rates.
Is the island wheelchair accessible?
Green Island is wheely friendly. Wide paved or timber walkways allow for wheelchair access and there are disabled toilets.
Will I see turtles?
There is a high chance you will get to see a turtle. The sea grasses surrounding Green Island are a popular feeding ground for green sea turtles, they can be frequently spotted from the jetty.
---
Green Island Ferry
The Great Adventures Green Island Ferry departs Cairns 3 times daily | Your journey to Great Island takes only 45 minutes | Check in to the Reef Fleet Terminal to obtain your boarding pass | Boarding is 30 minutes prior to departure time.
---