About Quicksilver | Great Barrier Reef Tour
Quicksilver is Australia's most awarded reef cruise company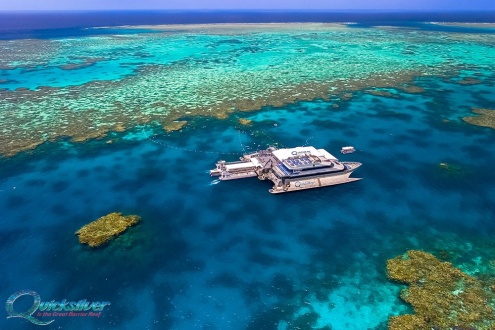 For your experience of a lifetime, Quicksilver's wavepiercing catamaran and friendly crew will take you to a reef at the very edge of Australia's Continental Shelf, to an underwater world that is dazzling kaleidoscope of colour and brilliance.
Agincourt Reef, a magnificent ribbon reef where you can experience first hand the magic that is the Great Barrier Reef.
Choose to dive, snorkel, or stay dry and explore the stunning reef from the comfort of a Quicksilver semi-sub, just one meter underwater. Watch the fish feeding from Quicksilver's unique underwater viewing platform and underwater observatory, or fly in a helicopter over the reef.
Whichever way you choose, you'll bring home a lifetime of memories from this living natural wonder.
Special Family Pricing
We offer special rates for familes. Please check the booking for form for up to date family pricing.
Infants (3 Years & Under) travel free
Children (4 - 14 years) up to 50% off
Family (2 Adults & 2 Children) 1 Child travels free
Daily Departures: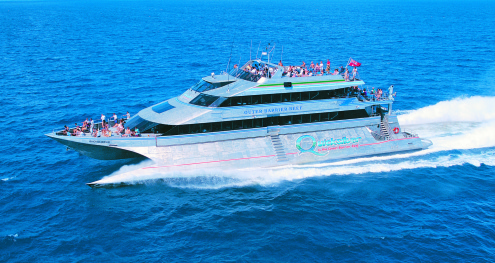 Check in time is 9.15am at the Quicksilver office, at Crystalbrook Marina, Wharf Street, Port Douglas.
Departs Crystalbrook Marina Port Douglas at 10:00am
Returns to Crystalbrook Marina at 4:30pm
Free Parking is available
Return hotel transfers from Cairns & Northern Beaches available
Cairns pick-up times from 8.00am
Inclusions: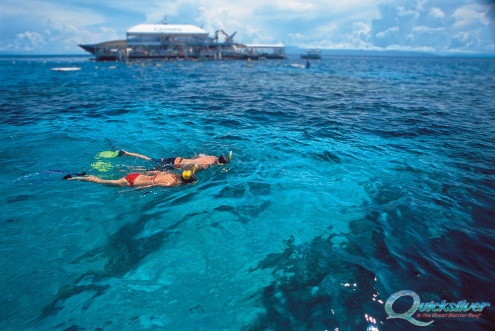 3.5 hours at Agincourt Reef
Morning and afternoon tea
Hot and cold tropical smorgasbord lunch
Reef presentation by marine biologist
Snorkelling equipment (mask, fins, snorkel), Buoyancy vests and flotation noodles.
Snorkelling instruction provided
Underwater observatory fish & coral viewing
Semi-submersible coral viewing
Fish feeding conducted by crew
Change Rooms & Freshwater Showers
Sun Deck
Lycra suits
Undercover tables and seating
EMC (reef tax)
Your day at a glance: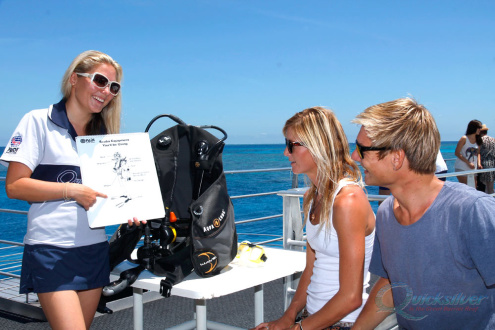 9:15 am – Check in: Check in at the Quicksilver reservations counter to receive your boarding pass.
9:30 am – Boarding
After checking in, board the vessel and enjoy the complimentary morning tea/coffee on boarding. For your safety, hot drinks are not served once the vessel is underway. Passengers are required to be onboard the vessel 15 minutes before departure (10am).
10.00 am – Departure
Choose to sit in the air-conditioned cabins or on the outside decks as our Wavepiercer departs the Reef Marina for the Outer Barrier Reef.
10:30 am – Presentation
A Marine biology presentation is shown on the vessel monitors 30 minutes after departure. A snorkelling demonstration will follow. If you're participating in scuba diving or helmet diving, you'll have a 30 minute briefing with the dive crew in readiness for your dive.
11:30 am – Outer Barrier Reef
Swim and snorkel from the activity platform. Underwater observatory open for coral and fish viewing. Semi-subs depart every fifteen minutes from the rear of the platform. Pre-booked guided snorkel, scuba and helmet diving, and scenic helicopter flights commence as scheduled. Fish feed presentation conducted in the snorkel area.
12-1:30 pm – Lunch served
Lunch [included in the fare] is served. Enjoy a hot and cold tropical buffet, containing fresh prawns, pastas, meats, salads and fruit. There are full bar facilities available where you can purchase drinks.
After lunch
Time for more reef activities or just relax and take in the view!
3.00 pm – Return
Depart Agincourt Reef for Port Douglas. Chat with the marine biologists, enjoy the reef video and even the photographers photos of the day on the homeward journey.
4.30 pm – Arrival at Reef Marina
Snorkelling at Agincourt Reef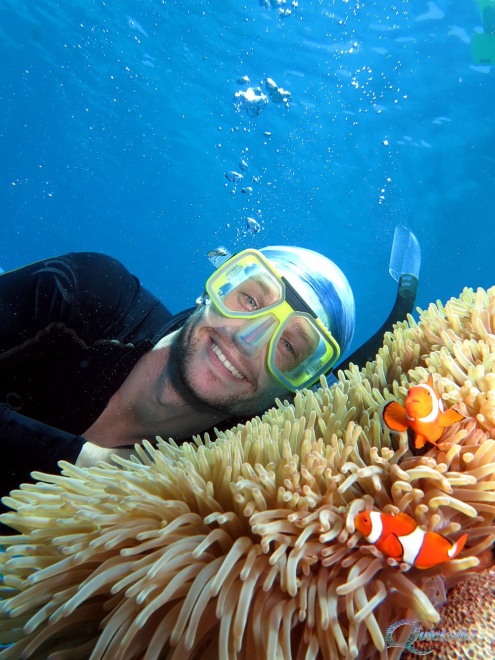 Snorkelling is one of the many activities included in your day and is one of the best ways to view the incredible underwater world of the Great Barrier Reef. Our friendly crew are on hand to show you how. On your journey out to Agincourt Reef, you can view an instructional video on how to snorkel to teach you the right techniques.
Upon reaching the outer reef, you can obtain your snorkelling equipment from the storage containers on the platform. Easy access to the water is available from submerged platforms. Our friendly snorkelling safety officers can assist you with your snorkelling gear and give you a few tips so that you can fully enjoy your experience.
Marine Biologist Guided Snorkelling Adventures
If you would like to learn more about the Great Barrier Reef whilst snorkelling, you may like to try one of our optional guided snorkelling tours. Our University qualified marine biologists will introduce you to a new and exciting world. You will be part of a small group, guided by our experienced marine biologists who can reveal so much more about the magnificent marine life of this fragile eco-system.
We offer two different snorkel tours designed to enable all groups of passengers, regardless of their snorkelling skill level, to enjoy an amazing in-water experience on the reef.
Introductory Snorkel Tour
Who For? Designed for the novice or beginner snorkeller.
Duration: 30-40 minutes
This tour is designed for the novice or beginner snorkeller.
The tour provides an introduction to the marine environment.
It is tailored for families, and those wanting an educational experience.
Tours leave and return from the protected snorkelling platform. As a safety precaution, the marine biologist tows a safety float and a whistle.
Advanced Snorkel Tour
Who For? More adventurous – some snorkelling experience is recommended.
Duration: 45 – 60+ minutes
This tour is more about exploring, and the marine biologists encourage and teach passengers how to duck dive (if they would like to learn).
Tours generally leave from the platform, but sometimes may involve a drop-off from a small tender, so participants can cover a greater distance, and have the chance to "drift with the current", before returning to the platform.
Distance travelled can be up to several hundred metres.
Duration of up to 60+ minutes depends on conditions and passenger experience.
To be eligible for an Advanced Snorkel Tour guests must be able to swim unassisted with no flotation device for the duration of the tour.
Underwater Observatory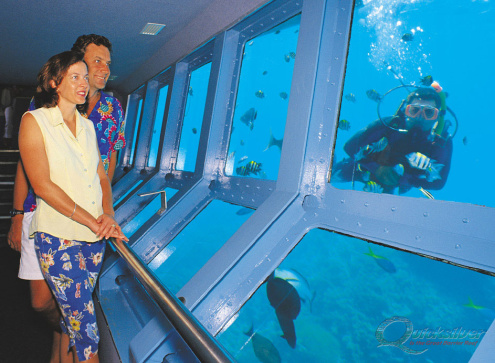 View the Reef and Marine life
Watch the fish feeding from Quicksilver's unique viewing platform and underwater observatory located directly in front of the platform. From here, you can also view "first time" divers taking part in introductory dives. You can see the reef vibrate with the hues, stripes, and shimmering's of a myriad of fishes.
Butterfly fish, parrot fish, angel fish and elegant nudibranchs dance before your eyes and coral gardens beckon you to explore. Watch, entranced, as a clownfish snuggles into the embrace of a sea anemone.
Availability, Booking & Tickets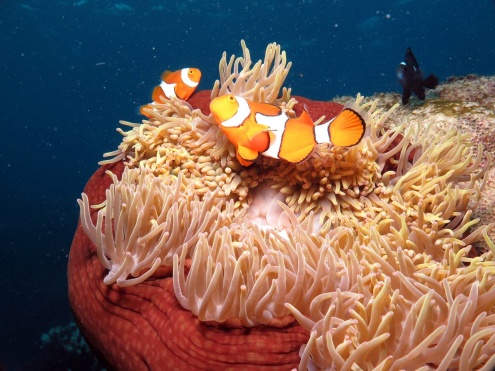 ​Instant Booking & Mobile Friendly Tickets.
Check live availability here for your dates.
Pre-booking is essential. Please do not turn up on the day without a booking.
Bookings made on Tourism Town are instantly confirmed in our reservations system.
After you complete your booking you will receive an e-mail confirmation & ticket instantly.
You do not need to print your ticket. You can present this message on your mobile device to check in.
What to bring
Just like a day at the beach you will need some sunscreen, swimmers and a towel. Lunch and snorkeling gear is provided on the day.


Agincourt Reef Platform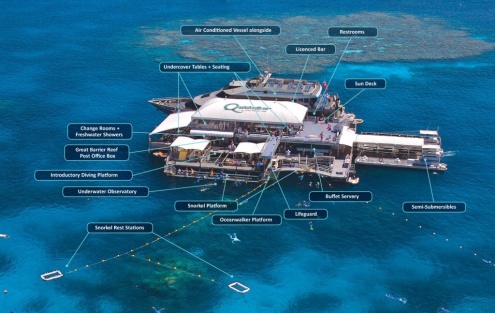 Spacious Floating Platforms
Floating like an island in a Coral Sea, our spacious and modern, dual level platform provides the ultimate in facilities for reef viewing and relaxation in all weather and wind conditions.
Situated on the very edge of the Great Barrier Reef, Agincourt Reef provides a sheltered anchorage for the Quicksilver vessel and the perfect spot for passengers to snorkel, dive, and view the spectacular coral formations and exotic marine life from the semi-submersible vessels.
Your personal reef discovery
You can also see the corals and watch the fish feeding from Quicksilver's unique viewing platform and underwater observatory located directly in front of the platform. From here, you can also view "first time" divers taking part in introductory dives. On the spacious decks, enjoy lunch in the undercover seating or in the air-conditioned comfort of the vessel.
The biggest and most spacious platform on the Great Barrier Reef
Designed to provide the best experience for both swimmers and non-swimmers to enjoy a day of discovery on the reef, some of the platform features include:
Undercover tables and seating
Snorkelling platforms
Semi-submersibles – cruise as often as you like!
Underwater Observatory
Dive Area, Introductory Dive and Snorkel Pools
Showers (fresh water)
Change rooms
Toilets (onboard vessel)
Post Office Box
Sundeck
Licenced Bar
Credit Card Facilities
Lunch
Disability Access to the Great Barrier Reef
For guests confined to a wheelchair, our specially designed water powered lift allows for easy access into the snorkel pool where they can swim directly off the lift's chair into the weightless environment of the reef to snorkel and explore at their own pace. You can read more about disability access here.
For a special souvenir, you can even send a postcard postmarked with the world's only Great Barrier Reef stamp, from the only official Australia Post box on the Great Barrier Reef!
Quicksilver FAQ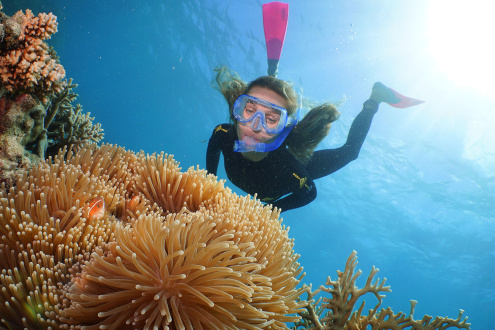 Where do I check-in?
Please check-in at the Quicksilver reservations counter inside the Port Douglas Reef Marina. Check-in begins from 9:15am for
vessel boarding at 9:30am. Quicksilver departs the marina at 10am. Our staff will issue you with your boarding pass and direct you to our vessel.
How long does it take to get to Agincout Reef
Agincourt Reef is 72km NE of Port Douglas. Travelling time aboard our state-of-the-art wavepiercer catamaran from Port Douglas to Agincourt Reef is 90 minutes.
Are there lockers on board
We do not have lockers however we do have safety bags which can be used for smaller items like wallets, passports, jewellery and small cameras. This is at no cost and can be accessed by checking with our bar staff.
Are there change rooms
Fresh water showers and change rooms are on the Quicksilver platform.
Do you have perscription masks
Standard masks magnify objects underwater by 25%. However prescription masks are also available ranging from -4 to -7 in strength. Prescription masks are available at no extra charge. To obtain one of these masks, see our safety supervisors on the snorkelling platform.
Is there easy access to the water from the platform
Yes, the snorkelling platforms are situated right on the waterline and there are bench seats on the snorkelling platform where you can put on your fins, mask and snorkel before entering the water.
What time do we get back to Port Douglas
Quicksilver's wavepiercer boards at 9:30am for 10:00am departure from the Reef Marina Port Douglas. The vessel returns to Port Douglas at 4:30pm.
Can I take a pram
Our Wavepiercer catamarans and reef platforms are pram-friendly with ample room on the boat and ramped areas on the platform.
---
News By Quicksilver | Great Barrier Reef Tour
The Year of Accessible Tourism
By Quicksilver | Great Barrier Reef Tour
21 Jun 2023
The Quicksilver Group strives where possible to make our tourism experiences inclusive and accessible for people with disabilities and accessibility needs. Scuba diving engages all your senses and our dive teams have over the years been able to share the underwater world with vision-impaired guests. And now Quicksilver Dive brings dive courses to even more people with PADI Adaptive Service Facility accreditation (see more information in this issue). Carers with a companion card travel at discounted fares and assistance dogs are welcome.
In the Year of Accessible Tourism, we'd like to highlight the best suited Great Barrier Reef experiences for guests with mobility issues.
Outer Reef Experience - Quicksilver Cruises
A unique feature at our Agincourt Reef activity platform is the chair lift which enables disabled passengers to be lowered into the water to enjoy snorkelling.
At the platform, there are ramp facilities from the vessel between the levels of the platform, however access to the underwater observatory, swim platforms and semi-submersibles is by stairs only.
Our wharf facilities in Port Douglas have boarding ramps suitable for wheelchairs. Onboard our wavepiercer catamarans Quicksilver VIII and Quicksilver V, there are oversized toilet cubicles suitable for most wheelchair passengers.
Reef Protection Initiative full steam ahead
By Quicksilver | Great Barrier Reef Tour
21 Jun 2023
The Quicksilver Group's environmental teams have been busy undertaking important monitoring and conservation work as part of the Great Barrier Reef Marine Park Authority's Tourism Reef Protection Initiative.
Following the success of the initial program conducted throughout 20-2021, the new $15 million initiative has dual aims; conservation and protection of high value tourism sites within the World Heritage Marine Park, and the support of the reef tourism industry's post pandemic recovery.
"Over the course of 18 months, our experienced marine biologists and dive teams will be conducting around 150 activity days dedicated to reef stewardship initiatives spanning from the Agincourt reefs north of Port Douglas to Moore Reef south of Cairns," said Doug Baird, Quicksilver Group Environment and Compliance Manager.
Eye on the Reef Weekly monitoring data, which is generated by trained staff conducting a timed swim over a known area and noting key species, is being collected at key sites. As well as this monitoring, Reef Health Impact Surveys and Photo Point Enhancement surveys, permitted site intervention such as crown of thorns starfish (COTS) and drupella removal (known coral predators) where required, and coral nurturing projects are being conducted.
Through Stewardship plans of our key sites, the information gathered will inform GBRMPA about what is happening at our sites locally, and when the data from other operators involved in the initiative is added, a reef-wide perspective allows any changes to be identified.
Administered by GBRMPA, 26 Queensland reef tourism operators are participating in the Tourism Reef Protection Initiative providing services along the length of the Great Barrier Reef. The Initiative runs until the end of June 2024.
---
Quicksilver | Great Barrier Reef Tour Reviews
---
Quicksilver | Great Barrier Reef Tour
Make your Own Way Check in time is 9.15am at the Quicksilver office, at Crystalbrook Marina, Wharf Street, Port Douglas. Free Parking is available. Cairns Transfers Return hotel transfers from Cairns & Northern Beaches available Cairns pick-up times start at 8.00am
---