About Fitzroy Island Cairns
Fitzroy Island Ferry & Day Trips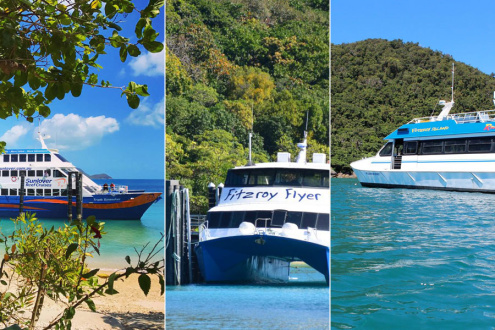 Fitzroy island is located 29 kilometres south-east of Cairns and is only 45 minutes by ferry. All of our day trips depart from the Reef Fleet Terminal in Cairns City.
Ferry Options Summary
Fitzroy Flyer
The Flyer is a large & modern catamaran which departs Cairns 3 - 5 times daily. When booking the flyer you can add extras such as snorkeling equipment and glass bottom boat tours.
Check-in opens 1 hour prior to departure at the Fitzroy Island Resort Booking Centre Shop 2/1 Spence Street
Departs Cairns at 8am, 11am, 1:30pm
Departs Fitzroy at 9:30am, 12:15pm, 5pm
The Fitzroy Flyer is ideal for resort guests who need to book the ferry one way or return with different departure dates.
Fitzroy Island Adventures
Fitzroy Island Adventures offers a smaller catamaran and departs Cairns at 9am daily. Passengers on Fitzroy Island adventures have unlimited use of the Ocean trampoline.
Departs Cairns at 9am
Departs Fitzroy at 4pm
Sunlover Reef Cruises Ferry
Sunlover Reef Cruises is a large catamaran that stops at Fitzroy Island on the way to and from the outer Reef. Sunlover is introducing more time options for their ferry service to Fitzroy Island in April 2023.
Departs Cairns Marina at 8:45am
Departs Fitzroy at 4:00pm
---
News By Fitzroy Island Cairns
New Ferry Times for Sunlover
By Fitzroy Island Cairns
09 Dec 2021
As of 18 December2021, Sunlover will be extending the Fitzroy ferry times, with 2 additional return transfers per day.
Sunlover Fitzroy Island Ferry Time Table
Departs Cairns Marina at 8:30am, 9:30am, 1:00pm
Departs Fitzroy at 11:30am, 4:00pm, 4:30pm.
---