About Barron River | White Water Rafting
Half Day Afternoon Rafting Experience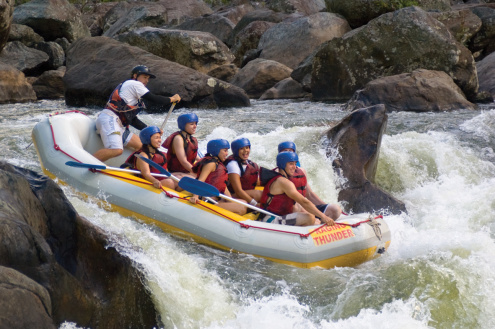 Only 20 minutes from the centre of Cairns, the Barron River is a fantastic introduction to White Water Rafting. Offering guaranteed water levels year round, no experience is necessary to raft these Grade 2 & 3 rapids.
The trip commences 100m south of the Barron Hydro Station. A short walk is required to access the rapid section, and then the adventure begins! Each raft is controlled by a highly trained River Guide who is expertly trained to negotiate the white water.
Enjoy up to 2 hours of white water rafting grade 2-3 rapids. You will discover rapids such as 'Rooster Tail', 'Mother in Law', 'Cheese Churn' and 'Hells Gate' plus experience the meaning behind their names!
Barron River begins its way on the Atherton Tablelands and flows towards Kuranda before descending down the 260m high Barron Falls and reaching the Cairns floodplains. The steep, narrow Barron Gorge is formed at the base of these falls. Much of the water that flows along the gorge is used to generate electricity at the Barron Gorge Hydroelectric Power Station. This is ideal for rafting, providing a consistent supply of water all year round.
Cairns is lucky enough to have the Barron River located just 20 minutes from the city, ideal for a half day of white water action. No experience is necessary to raft these grade 3 rapids.
The rafting guides are all very professional and safety conscious, but at the same time will ensure you have lots of laughs and the best time ever. They will share some of the scenic highlights and historical points of interest in the area. Inbetween rapids you will have the chance to admire and take in the dense rainforest surrounds and outstanding scenery of the Barron Gorge.
As this is an afternoon tour it's also perfect to combine with other tours in the same day, such as Canyoning, Hot Air Ballooning, Skyrail, ATV or Horse Riding.
An awesome adventure for all the family! Minimum age is 13 years.
Barron River Rafting Features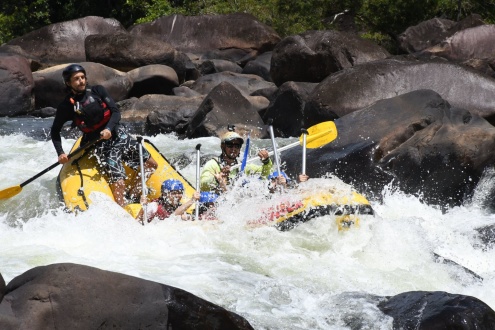 2 hours of white water rafting
Guaranteed water levels all year round on the power station controlled waters of the river
All tuition - no experience necessary
Accommodation transfers
Complimentary tea & coffee at the end of your rafting trip
What to Bring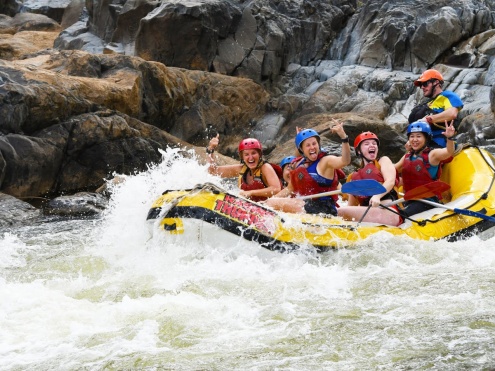 Secure footwear that won't fall off your feet (you can also hire some on the day)
Swimming costume, towel, sunscreen
Dry clothes to put on after the trip
Money for souvenirs and snacks, photos etc.
Please do not wear any jewellery - it is recommended that you leave anything of value in your hotel safe for this trip.
Times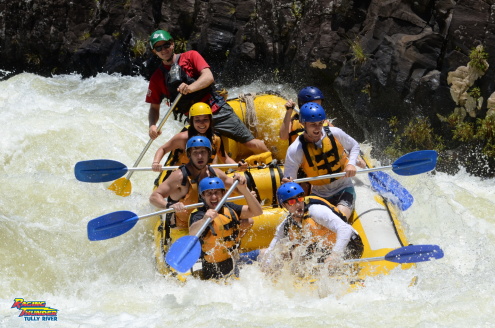 Return hotel transfers from Cairns and Northern Beaches (Trinity Beach, Palm Cove) - Departs 6:30am .. Returns 6:00pm
Return hotel transfers from Port Douglas at 9:30am with 3 hours free time in Cairns, return approx. 6:10pm
Self Drive to Lake Placid - Departs 2:15pm. Returns 5:30pm
PLEASE NOTE:
The minimum age for rafting the Barron River is 13 years.
Rafting is not suitable for anyone who is pregnant.
---
Barron River | White Water Rafting Reviews
---
Barron River | White Water Rafting
Departures: Return hotel transfers from Cairns and Northern Beaches (Trinity Beach, Palm Cove) - Departs 6:30am .. Returns 6:00pm Return hotel transfers from Port Douglas at 9:30am with 3 hours free time in Cairns, return approx. 6:10pm Self Drive to Lake Placid - Departs 2:15pm. Returns 5:30pm
---