About Daintree Dreaming Day Tour
Tour departs Monday, Tuesday, Thursday and Friday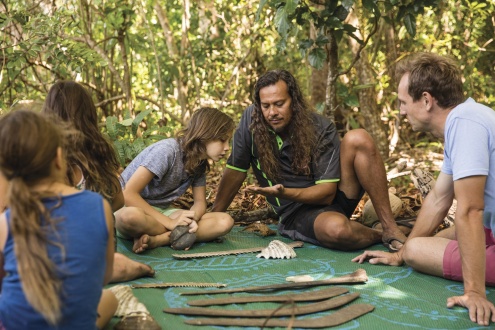 Adults $255.00
Children (4-14 yrs) $240.00
Family (2 adults +2 children) $969.00
View itinerary: Daintree Dreaming Day Tour
Your day includes:
2 hour coastal & mangrove walk learning to identify and catch land & sea bush tucker
Eat your catch of the day with homemade damper
Welcome to Country ceremony
Guided interpretive tour through the rainforest of Mossman Gorge with your Adventure North guide
Opportunity to swim in the pristine waters of Mossman Gorge
Lunch at the Mossman Gorge Centre
Return hotel transfers
Coastal Mangrove Walk with Kuku Yalanji Cultural Habitat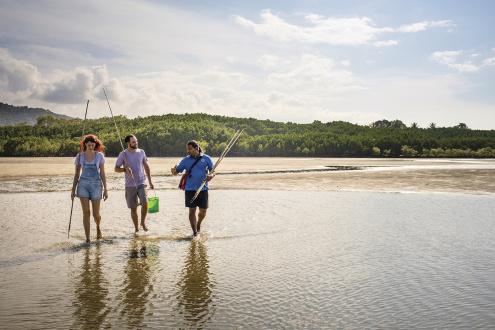 You will be collected from your accommodation and travel along the scenic costal drive north. Just past Port Douglas is beautiful Cooya Beach (Kuyu Kuyu). This special place is a traditional fishing ground of the Kuku Yalanji people. Join one of the Kubirri Warra brothers, Linc or Brandon on their beach, mudflat and mangrove cultural walk. This unique coastal place has three diverse ecosystems of beach, mangrove and coastal reef – that are connected to each other by the ever-changing mudflats and tidal lagoons.
Here, you will be introduced to traditional fishing and gathering techniques with the aim of finding your own tucker (food). Your catch may include crabs, mussels and fish which are cooked up for everyone to share with homemade damper on the balcony of the family home.
Lunch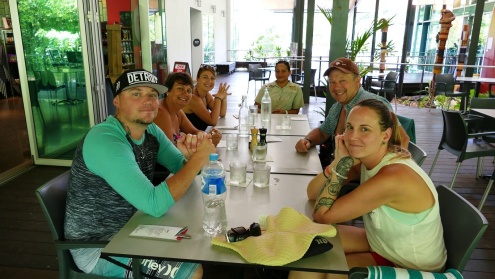 A delicious lunch infused with the local flavours is served in the Mossman Gorge Centre at the edge of the rainforest. There is also time to explore the gallery which is filled with artworks from prominent and emerging local artists of the area.
Welcome To Country Ceremony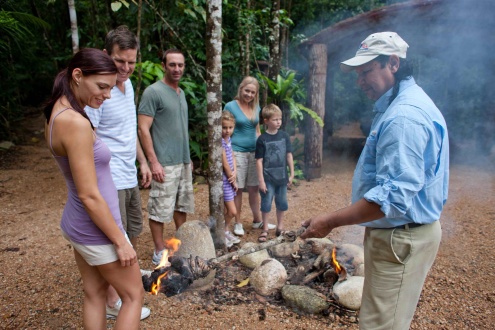 A short drive into Mossman Gorge where you will greeted with a traditional smoking ceremony. This ceremony is conducted by Aboriginal people with specialised cultural knowledge to welcome people to their land. It is a ceremony of spiritual cleansing, to ward of evil spirits and to ensure that while you are on the traditional land of Kuku Yalanji people you are accepted and honoured.
Mossman Gorge - Daintree National Park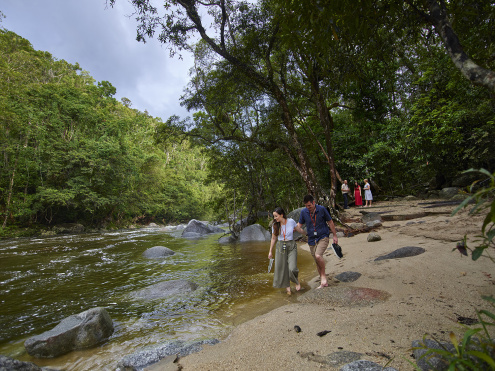 Wander into the lush rainforest of the World Heritage Listed Daintree National Park – Mossman Gorge. Home of the Kuku Yalanji people.
Experience one of the world's oldest and most beautiful rainforests' with your Adventure North guide. An easy walk across boardwalks, tracks and bridges that protect the delicate ecosystem that adorns spectacular waterfalls and mountain ranges. your guide will explain the rich flora, fauna and diverse ecosystem of this amazing rainforest.
Ensure you bring your swimmers so you are able to make the most of the crystal clear waters of the beautiful swimming hole that is encased by rainforest.
Optional Extra – Ngadiku 1.5 hour Aboriginal Guided Rainforest Walk
$75.00 per adult $37.00 per child Family 2 Ad 2 Ch $185.00
At Mossman Gorge are the Ngadiku Dreamtime Walks, conducted by the local Aboriginal guides. You can join join this optional 1.5 hour tour.
Ngadiku (Nar-di-gul) means stories and legends from a long time ago in local Kuku Yalanji language. You are welcomed with a traditional 'smoking' ceremony that cleanses and wards off bad spirits. The walk then meanders through stunning rainforest and takes in traditional huts or humpies. Your experienced interpretive Indigenous guide demonstrates traditional plant use, identify bush food sources and provide an enchanting narrative of the rainforest and their special relationship with this unique tropical environment. Your guide demonstrates traditions like making bush soaps and ochre painting. At the end of the tour enjoy traditional bush tea and damper.
A day to remember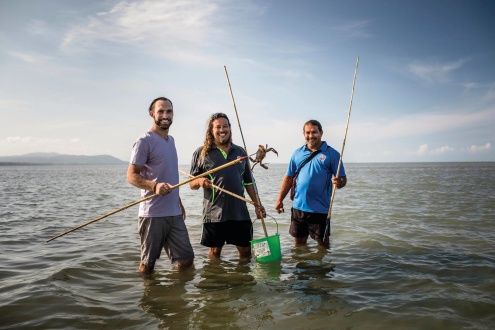 A day to remember This fun, exclusive day tour allows you to join a real Aboriginal cultural experience combined with the pristine natural beauty of the World Heritage Listed Daintree National Park Adventure North Australia is a leader in Aboriignal tourism in Tropical North Queensland.
Locally owned and operated. Wanhthaal-bi ngayu nganjin yununku miyil janay- We look forward to seeing you.
*Please note tour can operate in reverse depending on tide times.
**What to bring: Hat, sunscreen, insect repellant, swimmers, towel and bottle of water.
---
News By Daintree Dreaming Day Tour
Daintree Dreaming Aboriginal Cultural Tour
By Daintree Dreaming Day Tour
16 Mar 2019
Daintree Dreaming is a unique Aboriginal cultual experience in Tropical North Queensland. Pick up from Cairns and Port Douglas. Enjoy a small group experience learning traditional hunting and gathering techniques of the Kuku Yalanji traditional owners of the region. Visit stunning Mossman Gorge where you will be greeted with a smoking ceremony and opportunity to swim in the crystal clear waters of the rainforest.




Reviewed 1 week ago via mobile



Review of: Aboriginal Cultural Daintree Rainforest Tour from Cairns or Port Douglas
With big thanks and respect to the Kuku Yalangi people, we spent a fantastic day on the Dreamtime discovery day. Simon was our guide - we have experienced exceptional guides in great places all over the world, but I've never learned as much from a guide as I did today. Simons passion for conservation of the rainforest and his deep respect for Australia's indigenous peoples is truly contagious, he is a wealth of knowledge, avoids academic jargon and allows the interests of the group to tailor the tour. The rainforest itself is awesome, just bursting with life in every square inch, the cultural welcome was inspiring, and the lunch delicious. Simon pointed out all sorts of interesting things en route from and back to Cairns, his commentary whilst traveling in the bus was truly captivating. On the way. back we stopped to visit members of the Walker family and were taken on a tour of the beach at Cooya where all sorts of traditional customs and types of plant and wildlife were explained and demonstrated, what a great family - thank you Walkers! We also stopped to see a large group of wallabies. I can't recommend this trip enough.
Daintree Dreaming Day Tour - Fun, exclusive day out
By Daintree Dreaming Day Tour
09 Apr 2016
Guests and guide (Bridget Lawton) having fun on the Daintree Dreaming Day Tour.
Visits Mossman Gorge, Cooya Beach with Kuku Yalanji Cultural Habitat Tours
Connect with the oldest living rainforest and living culture on the planet on this fun, exclusive day tour from Cairns and Port Douglas
---
Daintree Dreaming Day Tour Reviews
---
Daintree Dreaming Day Tour
---