About White Water Rafting Cairns
White Water Rafting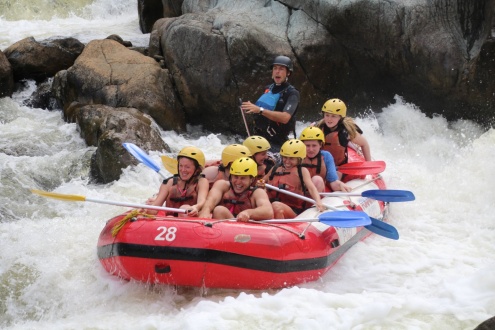 White Water Rafting is one of the most popular adventure activities in Cairns. Not only does it provide adrenalin pumping action, but where better to get your thrills & spills than amongst pristine World Heritage Rainforest. This unforgettable backdrop is well worth the experience in itself!
There are two main rafting rivers in Cairns - The Tully and the Barron River. The Tully River is a full day trip with rapid grades ranging from 1 - 4. The Barron River is a half day trip more suited to beginners, those who are a little less confident in the water, families, or those short of time.
We have the best climate, weather, and with the Barron and Tully both being Hydro release rivers, water levels are guaranteed year round.
Tully Rafting Update
There is only one Tully River Rafting Option in 2020. This is a half day self-drive option. Choose between morning and afternoon. You will spend 2 hours rating on the Tully River in 2 man Sports Rafts. More info here.Tully River Sports Rafting
---
White Water Rafting Cairns Reviews
---
White Water Rafting Cairns
Tully River Rafting Departs Daily. The Tully Gorge is 2.5 hours from Cairns and 1 hour from Mission Beach Cairns 6.30am | Returns 6.00pm Mission Beach Base located at 39 Porters Promenade, Mission Beach 8.30am departure | Returns 5.00pm Tully Gum Boot 9.10am | Returns 5.00pm Self Drive to Mission Beach: Please meet at the Raging Thunder Mission Beach Hub- 39 Porter Promenade, Mission Beach at 08:30 AM. Buses return to the same location after the tour between 3.30-4PM. Driving from Port Douglas: When booking choose the "Adventure House" Pickup point at 6.40am. This is where you can park your car for the day and join the tour. ​Adventure House: 52-54 Fearnley St, Portsmith QLD 4870
---