About White Water Rafting Cairns
White Water Rafting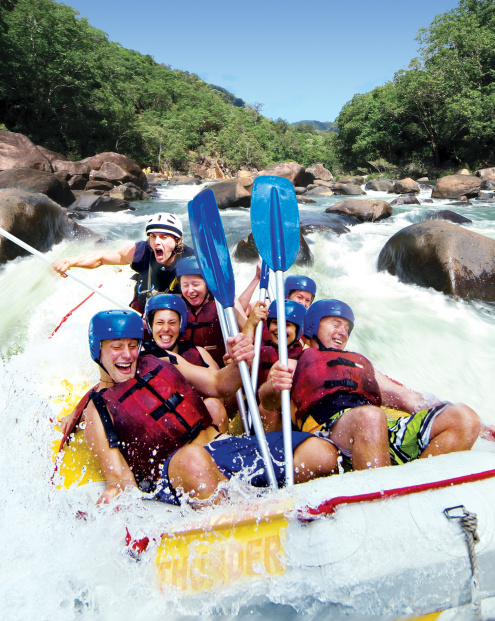 White Water Rafting is one of the most popular adventure activities in Cairns. Not only does it provide adrenalin pumping action, but where better to get your thrills & spills than amongst pristine World Heritage Rainforest. This unforgettable backdrop is well worth the experience in itself!
There are two main rafting rivers in Cairns - The Tully and the Barron River. The Tully River is a full day trip with rapid grades ranging from 1 - 4. The Barron River is a half day trip more suited to beginners, those who are a little less confident in the water, families, or those short of time.
We have the best climate, weather, and with the Barron and Tully both being Hydro release rivers, water levels are guaranteed year round.
Half Day Barron River Rafting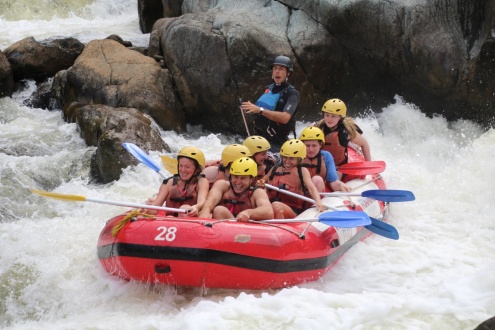 The Barron River half day rafting tour provides a fantastic introduction to White Water Rafting. Ideal for beginners, those who feel less confident in the water, or for those who are short of time. This fun-filled 2 hour trip will bring thrills & spills, and lots of laughter along the way!
Barron River begins its way on the Atherton Tablelands and flows towards Kuranda before descending down the 260m high Barron Falls and reaching the Cairns floodplains. The steep, narrow Barron Gorge is formed at the base of these falls. Much of the water that flows along the gorge is used to generate electricity at the Barron Gorge Hydroelectric Power Station. This is ideal for rafting, providing a consistent supply of water all year round.
Location: 2Omin from Cairns CBD
Operates: Year Round
Duration: Half Day
Rapids: Grade 2-3
Challenge: Medium
Minimum Age: 12 years
Cairns is lucky enough to have the Barron River located just 20 minutes from the city, ideal for a half day of white water action. No experience is necessary to raft these grade 3 rapids.
The trip commences 100m south of the Barron Hydro Station. A short walk over the rocks is required to access the rapid section, and then the adventure begins! Enjoy up to 2 hours of white water rafting grade 2-3 rapids. You will discover rapids such as 'Rooster Tail', 'Mother in Law', 'Cheese Churn' and 'Hells Gate' plus experience the meaning behind their names!
Full Day Tully River Rafting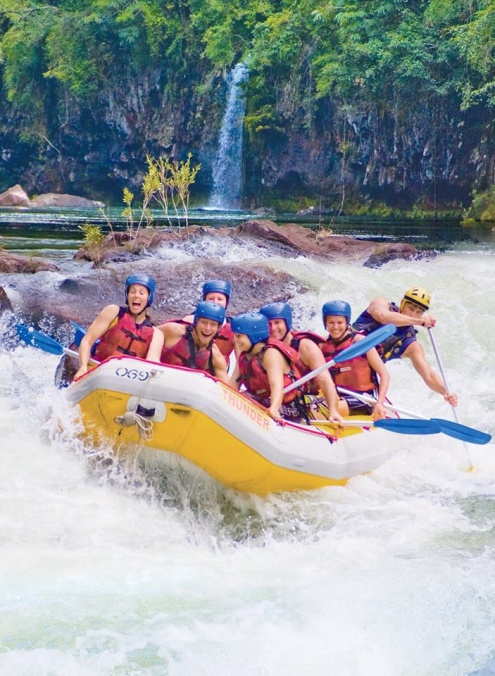 Tully River Rafting is regarded as the best rafting in Australia. Experience grade 3-4 rapids and stunning views of world heritage-listed rainforests of the Tully Gorge National Park.
The Tully River is located about 2 hours south of Cairns, be prepared for an early start, pick-ups begin at 6:00am from Cairns. Please make sure to enter your hotel name into the booking form.
Location: 2 hours south of Cairns
Operates: Monday, Thursday & Saturday
Duration: Full Day
Rapids: Grade 3-4
Challenge: Medium
Minimum Age: 13 years
On the way to Tully your guide will conduct a safety briefing providing clear instructions on how to navigate the rapids.
After a quick stop for breakfast (own expense), you'll then arrive at the river, ready to get your kit on.
Raging Thunder has over 30 years experience on the Tully River and a 100% commitment to white water rafting safety
Each raft at the Tully river is controlled by a highly trained river guide, who teaches you the correct techniques during the day, and who will share with you the history and wonders of this magnificent landscape which few get to see.
The Tully River is rated a Grade 3-4, which means there are some exciting rapids and guaranteed water levels all year round. It really is a very memorable, fun day with the World Heritage rainforest providing an unforgettable backdrop.
Why Choose Cairns Rafting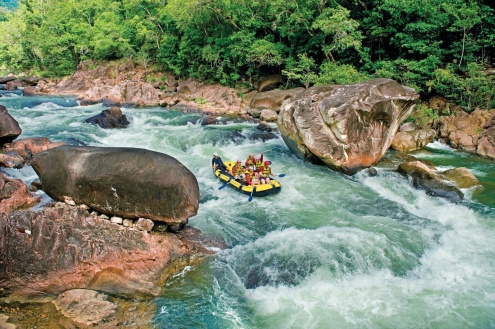 Far North Queensland is an awesome place to go rafting. We have the best climate, weather, and with the Barron and Tully both being Hydro release rivers, water levels are guaranteed year round. White Water Rafting also provides a great opportunity to view World Heritage Listed rainforest from a different perspective.
Barron Gorge National Park and Tully Gorge National Park are both situated within the Wet Tropics World Heritage Area, meeting all four natural criteria for World Heritage Listing status. Your guides are environmental stewards who will share an appreciation for the importance and exceptional natural beauty of this region.
What to Bring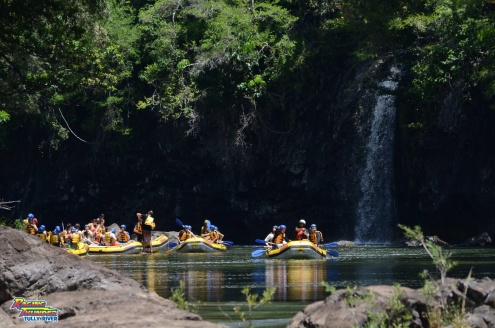 ​You will definitly get wet so bring your swimmers, ideally board shorts are recommended and make sure you wear secure footwear such as running shoes or sandals (that you don't mind getting wet). Cameras, watches and jewellery should be left behind otherwise there is a high chance of losing them if you fall out the raft.
Professional photos are taken during the day available to purchase and download, so you can show off your hero shots to friends and family. Go Pro helmut mounted video cameras are also available to hire so you can keep the memories in real time action.
Secure footwear (also available to hire)
Beach wear (board shorts and swimmers)
Dry clothes
Towel
Sunscreen
Your booking confirmation and money for extras, souvenirs and snacks, photos etc.
Please Note:
Please remember to remove any jewellery before white water rafting.
Times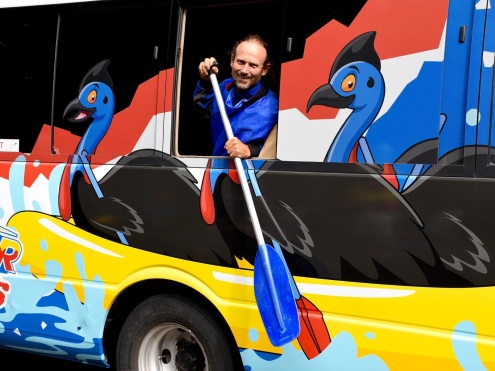 TULLY RIVER RAFTING
The full Day Tully River experience with Raging thunder has different times depending on the season.
Full Day 6am - 6pm Seasons
February to Mid May
October to November
Cairns: From 6am - 6pm
Mission Beach: From 7.45am - 5pm
Feluga: From 8.45am - 4pm
Full Day 10am to 10pm Seasons
Mid May to September
Decemeber to January
Cairns: From 10am - 10pm
Mission: Beach From 11.45am - 9.15pm
Tully Golden Gumboot: From 12.55pm - 8.15pm
BARRON RAFTING
Departs Cairns: 2:00pm
Returns Cairns: 6:00pm
Departs Port Douglas: 1:15pm (Foaming Fury)
Returns Port Douglas: 6:30pm (Foaming Fury)
TULLY SPORTSRAFT
Offers Half Day Rafting of the Tully River.
Departs Tully: 9am & 12Noon
Before you Book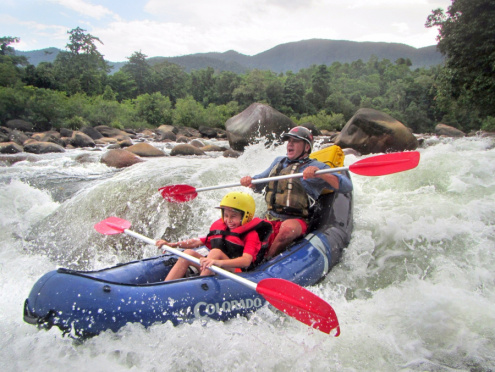 Rafting with Children
Children as young as 6 years can experience rafting from Cairns.
Barron River Rafting
Minimum age for the Barron River Rafting with Foaming Fury and Raging Thunder is 12 years.
Tully River Rafting
You must be 13 years and over to join the Raging Thunder Tully River Rafting tour.
Tully River Sports Rafting
Children as young as 6 years can join the Tully River Sportrafting tour. The Sportsrafting is on a lower section of the Tully River with grade 2 Rapids which is suitable for young children.
Our prices include the Levy
Most Rafting Tours in Cairns ask customers to pay a Levy on the day of travel. This is usually made up of insurance & Environmental Management fees.
For example: You might see a Tully River Rafting tour from Cairns advertised for $229 + $30 Levy payable on the day.
To make things easier & save confusion we include the levy in our advertised prices.
We advertise the Actual Rate so when you book with us there is no more to pay on the day!
Safety when Rafting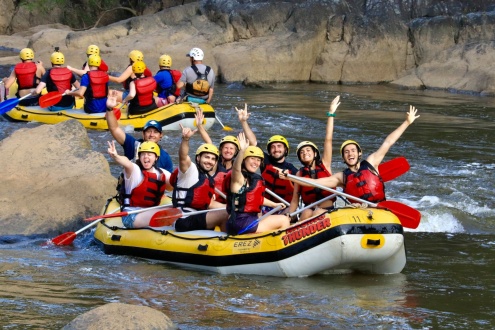 The rafting guides add to the adventure providing heaps of laughs and entertainment along the way. A lot of people who might be a little afraid on signing up find that they have the best time ever! It's very rewarding and all the family can take part. The guides go through rigorous training and are very experienced, they provide lots of fun but at the same time are capable and expert in what they do.

All river guides are trained in first aid, CPR, river reading, river navigation and white water rescue. Guides receive regular ongoing river training and assessments to maintain their existing high standards. All guides carry safety equipment to deal with any situation, and life jackets are helmuts are provided to all rafters. Only the world's finest rafts are used. These heavy duty inflatable rafts can seat 6-8 people, they are easily maneuverable and high-performance, providing an exhilarating whitewater ride like no other!
Rapid Grade Guide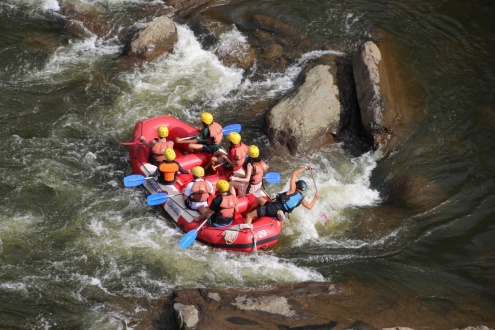 Grade 1: Very small rough areas, might require slight maneuvering. (Skill level: very basic)
Grade 2: Some rough water, maybe some rocks, might require some maneuvering. (Skill level: basic paddling skill)
Grade 3: Whitewater, small waves, maybe a small drop, but no considerable danger. May require significant maneuvering.
Grade 4: Whitewater, medium waves, maybe rocks, maybe a considerable drop, sharp maneuvers may be needed.
Grade 5: Whitewater, large waves, large volume, possibility of large rocks and hazards, possibility of a large drop, requires precise maneuvering.
---
News By White Water Rafting Cairns
Tully River Sportsraft transfer options over Christmas 2021
By White Water Rafting Cairns
18 Dec 2021
Cairns CBD Accommodation Transfers are available during the 2021 Christmas holidays.
This is for the full day option.
Departs Cairns 6am and returns to Cairns at 6pm
---
White Water Rafting Cairns Reviews
---
White Water Rafting Cairns
Most White Water Rafting tours from Cairns will pick you up from your accommodation. You will be asked for your pick-up point when you book.
---