Darwin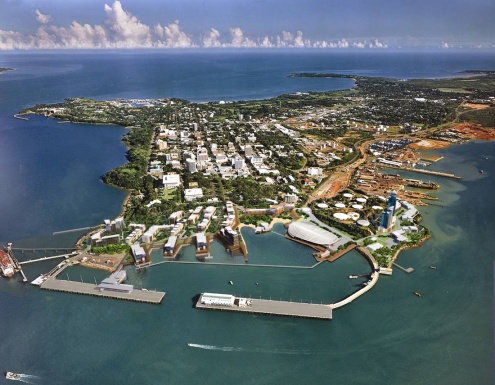 Darwin is the northern most capital city of Australia. With a rich history and iconic natural sights such as Kakadu and Litchfield National Parks and Katherine Gorge right on its doorstep, Darwin is the best place to explore and experience the Top End of Australia.
Darwin's year round warm weather creates a relaxed atmosphere and is perfect for those who enjoy an outdoor lifestyle. Head down to the waterfront precinct and find the city's buzzing cafés, bars and restaurants. There's also a giant wave pool that the kids (and adults) will love!
The city has a dramatic history encompassing the tragic WWII bombing of Darwin and the devastation of Cyclone Tracy in 1974. Learn about these historic events and more at the Museum and Art Gallery of the Northern Territory.
Travel east of Darwin and you'll find yourself in the in the heart of the Top End at the World Heritage Listed Kakadu National Park. You can cruise the fabled Yellow Water Billabong and view ancient Aboriginal rock art sites at Ubirr and Nourlangie. Kakadu has one of the highest concentrations of rock art anywhere in the world and will give you an insight into life in this region 20,000 years ago.
Kakadu is also home to the Aboriginal Reserve, Arnhem Land and is the perfect place to be immersed in Aboriginal culture. It is home to one of the largest indigenous groups in Australia and is where the didgeridoo, the famed instrument of indigenous Australians originally came from.
Along the banks of the Katherine River, is Katherine. The highlight of the region is undoubtedly Katherine Gorge, made up of thirteen towering gorges. This natural haven is guaranteed to take your breath away. Also connected by the Katherine River is (Leilyn) Edith Falls, a series of cascading waterfalls and crystal clear rock pools on the western side of Nitmiluk National Park.
Two hours south of Darwin is Litchfield National Park, a jewel of the Top End. This amazing natural wonderland is home to three spectacular waterfalls Florence, Tolmer and Wangi Falls. These sparkling cascades offer an opportunity to cool off from the tropical heat.
A short scenic flight north of Darwin will see you at the wonderful Tiwi Islands. A trip to the Tiwi Islands will allow you to experience life in a modern day Aboriginal community. Voted as one of the top 100 things to do before you die by Australian Traveller in 2011, this is a must do.
From Darwin you can also embark on a unique Australian adventure travelling across the continent to Alice Springs or Adelaide on the Ghan Train.
Tours from Darwin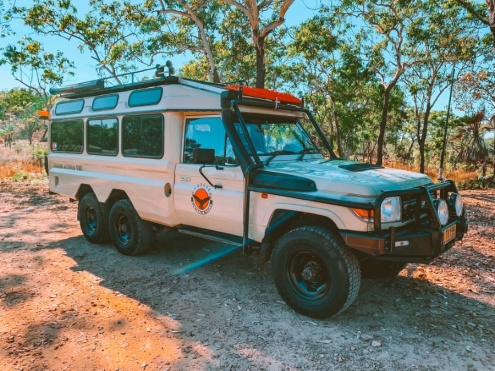 Darwin offers visitors a huge range of tours giving you an authentic experience. Explore nature with wildlife trips, learn about indigenous culture, enjoy peaceful water cruises, or have adventure in the outback. You'll see waterfalls, cool off in natural rock pools, and discover ancient stories in rock art. Glide on wetlands, meet crocs, or go onovernight camping safaris. These tours let you experience Darwin's true spirit. Pick what you love and explore the region's beauty and culture.
Tour Destinations
Litchfield: Discover waterfalls & pools in lush national park. Swim, relax & admire magnetic termite mounds.
Kakadu: Ancient rock art, wetlands & crocs. Witness stunning landscapes & rich Aboriginal heritage.
Katherine Gorge: Glide on tranquil waters amid towering cliffs. Witness nature's beauty & cultural significance.
Fogg Dam: Wetland haven for birdwatchers. Spot diverse birdlife in serene surroundings.
Ubirr Rock: Step into ancient history. Marvel at intricate rock art & panoramic views over Kakadu.
Kakadu National Park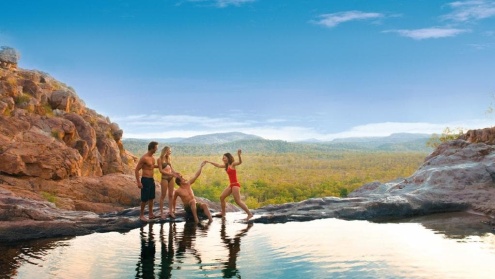 Situated 250 kilometres east of Darwin, Kakadu National Park is a UNESCO World Heritage site renowned for its natural and cultural significance. It boasts stunning landscapes, including wetlands, rivers, and sandstone escarpments. Visitors can join day tours from Darwin to explore ancient rock art sites, take wildlife cruises, go bushwalking, and experience Aboriginal cultural guided tours. There's plenty to see and do in this diverse landscape spanning over 19,000 square kilometres.
Kakadu is so large that its weather pattern varies from the coast in the north to the sandstone valets of the south. No less than six major landforms are found within the park's borders.
Cruise on the fabled Yellow Water Billabong or scale the escarpment for dramatic views of the mangrove fringed coastal areas, lowland hills and forest habitats. Here you'll witness the richest concentration of flora in the Northern Territory, with more than 1700 plant species as a result of the park's geological, landform and habitat diversity. No matter which time of the year you visit, there's always something to admire.
Kakadu is also home to one of the greatest recorded concentrations of rock art anywhere in the world, showcasing some of the best examples of Aboriginal rock art in Australia with Ubirr and Nourlangie recognised internationally. The rock canvases dating back 20,000 years are found in rocky outcrops that have provided shelter to the local Aboriginal inhabitants for thousands of years. The rock art is used for storytelling, education and religious significance.
Arnhem Land is the perfect place to be immersed in Aboriginal culture. The region has been occupied by indigenous people for tens of thousands of years. It is home to the Yolngu people, one of the largest indigenous groups in Australia and recognised as the birth place of the iconic Australian wooden wind instrument, the didgeridoo. This culturally rich area was declared an Aboriginal Reserve in 1931 and all visitors require written permission from the traditional owners to enter.
Katherine Gorge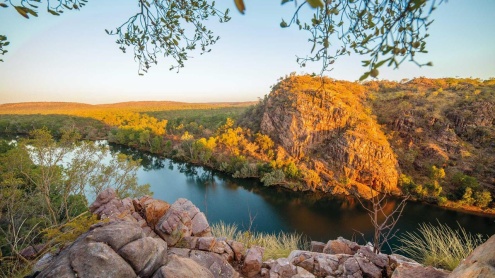 A must-see of the Top End is Katherine Gorge, situated just 30 kilometres north-east of Katherine nestled in the heart of Nitmiluk National Park.
Filled with hidden natural wonders and rich in indigenous history, the land was recently returned to its traditional owners, the Jawoyn people, resulting in the gorge being renamed Nitmiluk Gorge translating to "place of the cicada dreaming,"
The Jawoyn people place significance on Katherine Gorge and the surrounding geography as part of their cultural and ceremonial history. Having lived in the region for up to 45,000 years, they converted the walls of the Gorge into a canvas depicting the Jawoyn Dream Time stories.
Made up of thirteen towering gorges, this natural haven borders Kakadu National Park and is home to an abundance of exceptional beauty and stunning landscapes.
The best way to absorb the majesty of Katherine Gorge is by cruising the Katherine River. Wind your way along the 12 kilometre stretch, between cliff faces reaching more than 70 meters high, carved through the Arnhem Land Plateau. You'll see ancient Aboriginal rock paintings, pass cascading waterfalls and river rapids. Spot crocodiles basking on the banks, wonderful bird life and some of the most amazing scenery that the Northern Territory has to offer. It has to be seen to be believed.
Litchfield National Park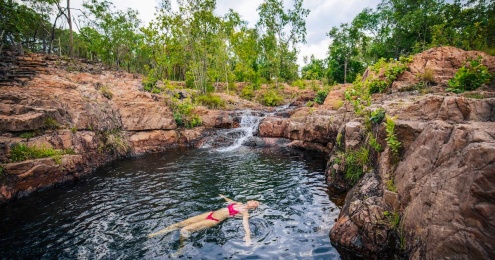 Crystal-clear swimming holes and pleasant bushwalking trails make Litchfield National Park a favourite among Darwin locals. Located just an hour-and-a-half drive south, 100 kilometers southwest of Darwin, the park features diverse environments from rugged sandstone escarpments to perennial spring-fed streams, monsoon rainforest, magnetic termite mounds, waterfalls and historic ruins.
Popular swimming spots include Wangi, Florence, Tjaynera Falls and Buley Rockhole.
Buley Rockhole
Located just 80 metres from the carpark and features a series of cascading waterfalls and rockholes.
Wangi Falls
One of the parks best swimming and picnicking spots,
Florence Falls
Boasts a spectacular double waterfall of Florence Falls set amid the monsoon forest with 160 steps leading down to the plunge pool.
Visitors to Litchfield Park will find several short trails that pass through a range of habitats and landscapes that are typical of the Top End. For the experienced, fit and well prepared bushwalkers, the multi-day Tabletop Track circuit offers the opportunity to experience the isolation of the Top End.
One of Litchfield National Park's most famous and unique sights is the hundreds of magnetic termite mounds standing up to two metres high. The mounds' thin edges point north-south minimising their exposure to the sun, keeping the mounds cool for the termites inside.
Litchfield features walkways and information centres at each major point of interest throughout the park. A Ranger Station is located at Batchelor and Walker Creek. Most areas have an Emergency Call Device, toilet facilities and disabled access.
You can spend as little as one day in the park, taking a quick dip in each of the plunge pools and rockholes on the drive through, but to really experience the true beauty of Litchfield it's best to stay at least two days.
Bowali Visitor Centre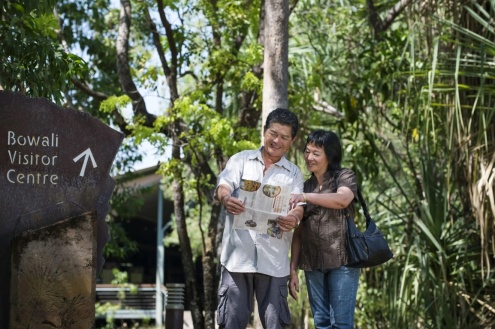 The Bowali Visitor Centre is an informative and interactive facility located within Kakadu National Park in the Northern Territory of Australia. It serves as the main gateway for visitors to the park, providing them with valuable information, exhibits, and services.
The visitor center aims to enhance visitors' understanding and appreciation of Kakadu National Park's natural and cultural values. It serves as an educational hub, providing insights into the park's ecology, Aboriginal heritage, geological formations, and more.
Kakadu National Park is of immense cultural significance to the local Aboriginal people, and the Bowali Visitor Centre reflects this importance. It provides an opportunity for visitors to learn about the rich cultural traditions, Dreamtime stories, and the ongoing connection of the traditional owners to the land.
Location
The Bowali Visitor Centre is situated in the heart of Kakadu National Park, approximately 253 kilometers east of Darwin, the capital city of the Northern Territory.
Exhibits and Information
The Bowali Visitor Centre features a range of exhibits, displays, and audiovisual presentations that offer comprehensive information about the park. Visitors can explore interactive exhibits showcasing the region's diverse flora and fauna, Aboriginal culture and history, and the importance of preserving the natural environment.
Visitor Services
The Bowali Visitor Centre offers a variety of visitor services, including maps, brochures, and knowledgeable staff who can assist with trip planning and answer questions. It serves as a starting point for exploring the various attractions within Kakadu National Park.
Souvenir Shop
There is a souvenir shop within the visitor center where visitors can browse and purchase a wide range of indigenous art, crafts, books, and other locally made products. It provides an opportunity to support local artisans and take home a memento of the park.
Cafeteria and Picnic Area
The center also features a cafeteria where visitors can grab a meal or snack. Additionally, there are picnic areas available for those who prefer to bring their own food and enjoy a meal amidst the park's natural surroundings.
Fogg Dam Conservation Reserve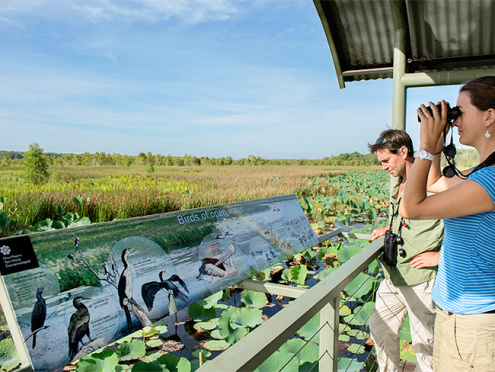 Fogg Dam in Kakadu National Park is a captivating destination known for its stunning wetland landscapes, remarkable birdlife, and diverse ecosystems. Whether you're a birdwatcher, nature enthusiast, or simply seeking a tranquil retreat, Fogg Dam offers a unique experience within the beautiful Northern Territory environment.
Throughout the reserve, informative signage provides visitors with details about the flora, fauna, and cultural significance of the area. It offers insights into the ecological processes, traditional land management practices, and the importance of wetland conservation.
Location
Fogg Dam is situated approximately 70 kilometers east of Darwin, making it easily accessible for day trips or as a stopover when visiting Kakadu National Park.
Walking Trails and Viewing Platforms
Fogg Dam offers a network of walking trails and elevated viewing platforms that allow visitors to explore and appreciate the natural beauty of the area. The trails vary in length and difficulty, catering to different levels of fitness and interests. They provide opportunities to observe wildlife, enjoy scenic views, and immerse oneself in the tranquil ambiance of the wetlands.
Landscape and Habitat
Fogg Dam is characterized by a unique mix of wetland and woodland habitats. It consists of a vast expanse of floodplains, billabongs, and open water surrounded by a mosaic of paperbark forests, monsoon woodlands, and grassy savannahs. This diverse environment supports a rich variety of flora and fauna.
Birdwatching Paradise
Fogg Dam is renowned as a haven for birdwatching enthusiasts. With over 200 species of birds recorded in the area, including migratory birds, it offers exceptional opportunities for bird spotting and photography. Common sightings include magpie geese, brolgas, jacanas, egrets, herons, and various birds of prey.
Wildlife
Apart from birds, Fogg Dam is also home to a range of other wildlife species. Visitors may spot agile wallabies, water pythons, monitor lizards, and even crocodiles. The wetlands support abundant aquatic life, including barramundi, catfish, and various waterfowl.
Picnic Facilities
Fogg Dam provides picnic facilities, including shaded areas with tables and benches, where visitors can relax and enjoy a meal surrounded by nature. It's a great spot to take a break, unwind, and appreciate the peacefulness of the wetlands.
Cahills Crossing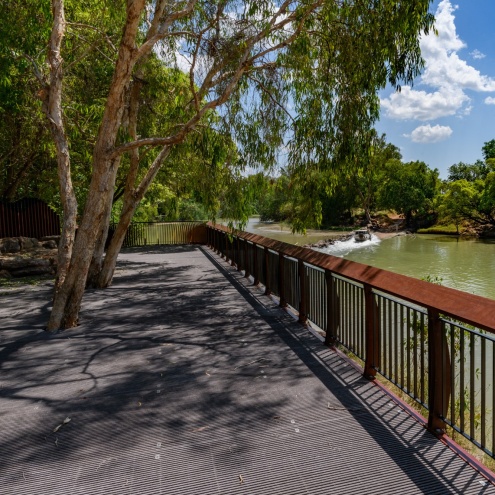 Cahills Crossing is a well-known and significant location within Kakadu National Park. The crossing provides stunning views of the surrounding landscape, including the river, floodplains, and distant escarpments. It's an excellent spot to take in the natural beauty of Kakadu National Park and appreciate the unique environment of the region.
Location
Cahills Crossing is situated on the East Alligator River, which serves as the border between Arnhem Land and Kakadu National Park. It is located about 230 kilometers east of Darwin and can be accessed via the Arnhem Highway.
The River Crossing Causeway
Cahills Crossing is a river crossing point where the Arnhem Highway intersects with the East Alligator River. It is a tidal river crossing, meaning that water levels can fluctuate dramatically depending on the tides, rainfall, and seasonal conditions.
Crocodile Habitat
The East Alligator River is home to a large population of saltwater crocodiles, also known as "salties." These apex predators are frequently seen in the vicinity of Cahills Crossing, making it an area of caution and fascination for visitors.
Wildlife Viewing
Apart from crocodiles, Cahills Crossing offers excellent opportunities for observing a range of wildlife. It's not uncommon to spot various bird species, including sea eagles, brolgas, and magpie geese, as well as other animals such as wallabies and buffalo.
Cultural Significance
The area around Cahills Crossing holds cultural significance for the local Aboriginal people, particularly the traditional owners of the region. The East Alligator River plays an essential role in their spiritual beliefs and cultural practices, adding cultural depth to the area.
Ubirr Rock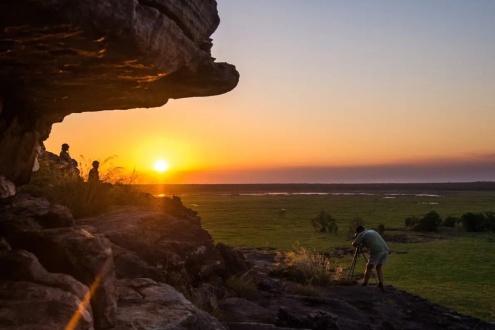 Ubirr is a prominent and culturally significant rock formation located within Kakadu National Park. Ubirr features several rock art sites, including the Main Gallery, which is the most accessible and offers a diverse range of rock art styles. Other notable sites include the Rainbow Serpent Gallery, the Lightning Man site, and the Nadab Lookout, each showcasing unique rock art and cultural significance.
Location
Ubirr is situated in the East Alligator region of Kakadu National Park, approximately 40 kilometers from Jabiru and about 253 kilometers east of Darwin.
Aboriginal Rock Art Sites
Ubirr is renowned for its exceptional collection of Aboriginal rock art, which dates back thousands of years. The rock art at Ubirr provides insights into the rich cultural heritage and ancient traditions of the local Aboriginal people, particularly the Bininj/Mungguy people. The art depicts stories, Dreamtime figures, animals, and traditional hunting scenes.
Scenic Views
In addition to its rock art, Ubirr offers stunning panoramic views of the surrounding landscape. Visitors can climb to the top of the rock formation and enjoy breathtaking vistas over the Nadab floodplain, the East Alligator River, and the vast Kakadu wilderness. The sunset views from Ubirr are particularly renowned for their beauty.
Cultural Significance
Ubirr holds great cultural significance to the local Aboriginal people. It is a place of ceremony, storytelling, and connection to the ancestral spirits. Visitors are encouraged to respect the cultural importance of the site and follow any guidelines provided to preserve its integrity.
Guided Tours
Guided tours are available at Ubirr, providing visitors with valuable insights into the rock art, cultural significance, and natural environment of the area. Indigenous guides often lead these tours, sharing their knowledge, stories, and deep understanding of the land.
Facilities
Ubirr has visitor facilities, including a car park, picnic area, and toilet facilities. It is important to note that there is no camping allowed at Ubirr.
Berry Springs Nature Park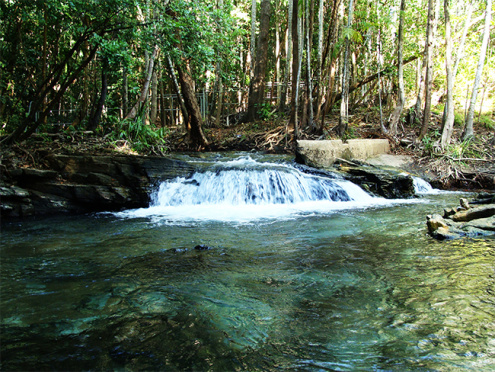 Berry Springs Nature Park offers a serene and picturesque natural setting where visitors can relax, swim, and connect with nature. It's an ideal spot for picnics, family outings, and nature lovers seeking a tranquil escape in the beautiful Northern Territory.
Location
Berry Springs Nature Park is situated approximately 40 kilometers south of Darwin, making it easily accessible for day trips or as a refreshing stopover when traveling to or from Darwin.
Natural Swimming Holes
The main attraction of Berry Springs Nature Park is its crystal-clear swimming holes. The park features several spring-fed pools that offer a cool and refreshing escape from the tropical heat. Visitors can swim, relax, and enjoy the serene surroundings while immersing themselves in the natural beauty of the park.
Picnic Areas and Facilities
Berry Springs Nature Park provides well-maintained picnic areas with shaded tables and barbecue facilities. These areas are perfect for enjoying a picnic lunch or a barbecue with family and friends. Additionally, there are toilets and changing rooms available for visitors' convenience.
Walking Trails and Wildlife Viewing
The park offers walking trails that allow visitors to explore the surrounding landscapes and observe the local flora and fauna. As you wander along the trails, you may encounter various bird species, including colorful kingfishers and waterbirds. There's also a chance to spot native wildlife, such as wallabies and monitor lizards.
Berry Springs Botanical Gardens
Berry Springs Nature Park features a section known as the Territory Wildlife Park Berry Springs Botanic Gardens. It showcases a diverse range of native plants, including tropical species, native shrubs, and an assortment of palms. Visitors can take leisurely walks through the gardens, appreciating the unique flora of the region.
Accessibility
Berry Springs Nature Park is relatively easy to access, with a large parking area available near the swimming holes. The park is also wheelchair accessible, making it inclusive for visitors with mobility challenges.
Seasonal Considerations
It's important to note that the park's swimming areas may be closed during the wet season (November to April) due to safety reasons, as water levels can rise rapidly and the presence of crocodiles may increase. It's recommended to check the park's official website or contact the relevant authorities for up-to-date information before planning a visit.
Best time to visit Darwin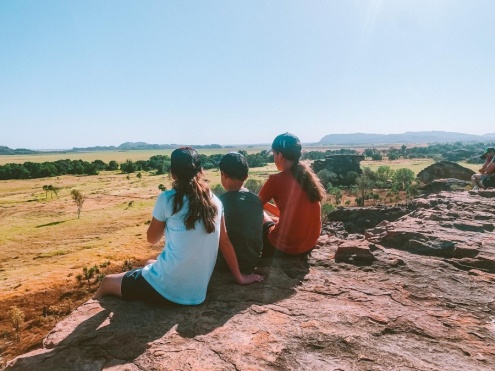 Planning a trip to Darwin? Wondering when's the best time to visit? There are basically two seasons in the Top End. Wet & Dry.
Darwin's a city for all seasons. Choose the time that suits you best, pack smartly, and get ready to explore this vibrant and diverse region. Whether it's waterfalls, wildlife, or cultural experiences, Darwin has something for everyone, all year round.
Dry Season (May to September)
This is the most popular time to visit. The weather is warm but not too hot. You can explore national parks, swim in waterfalls, and enjoy outdoor activities. Just remember to pack sunscreen and a hat!
Wet Season (October to April)
Things get a bit wet during this time, but it's also when the landscapes are lush and vibrant. You'll experience tropical rain, and some roads might be closed.
Pack Sun Protection
Whether it's sunny or cloudy, the Australian sun can be strong. So, bring sunscreen, a hat, and sunglasses.
Stay Hydrated
Exploring the Top End is thirsty work, especially in the dry season. Carry a re-usable water bottle with you. Most tours offer water refills.
Pack for the Season
Depending on when you visit, you'll need different clothes. Light and breathable for the dry season, and rain gear for the wet season.
Check operating dates for Tours
Most tours operate daily during the dry season. But in the wet season, some tours and destinations might be closed to the public or anaccessable due to rain.
---
Darwin Tours
Darwin is the northern most capital city of Australia. With a rich history and iconic natural sights such as Kakadu and Litchfield National Parks and Katherine Gorge right on its doorstep, Darwin is the best place to explore and experience the Top End of Australia.
---