12,000 Foot Tandem Skydive on the Gold Coast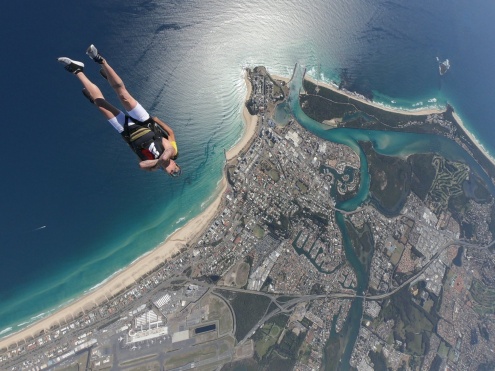 Gold Coast Skydive is the only skydive centre on the Gold Coast. Our tandem skydivers land on the beautiful and iconic sandy Kirra beach. We are one of the few remaining family owned businesses within the skydiving industry and our focus on fun, customer service and above all else, safety is what sets us above the rest.
12,000ft Tandem Skydive
No Experience Necessary
40 second Free-Fall
5 Minute Parachute Flight
Gold Coast Beach Landing
Hotel Pickup & Dropoff
The Experience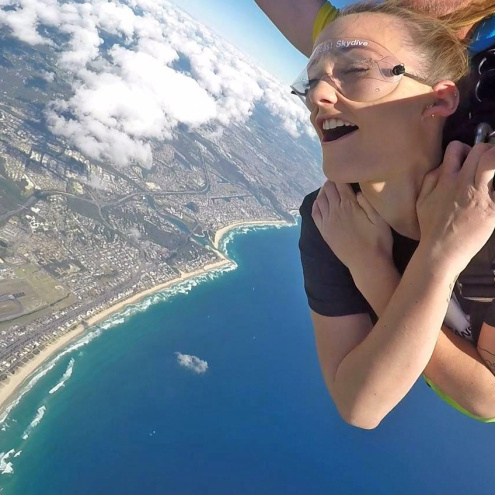 We take off from Gold Coast International airport amongst the passenger jets, which offers it's own unique experience and that's before you've even leave the ground.
You will then have the opportunity to take in the breathtaking scenery on the flight to 12,000 feet. The view of the Gold Coast's beaches and Surfers Paradise skyline are stunning.
Once the aircraft has reached the drop point you will leap from the plane on an adrenaline filled ride of a lifetime, rushing through the air as you free-fall down to paradise.
You hurtle 7,500 feet through the sky in 45 seconds. The skydiving parachute is deployed at around 4,500 feet, offering an intensely serene experience and one of the world's greatest views During the five-minute glide to earth you'll be taught to control your direction and descent speed. You will float down to the sandy beaches of Kirra, giving you a chance to take in the beautiful views of the Gold Coasts never ending beaches.
Duration & Pickups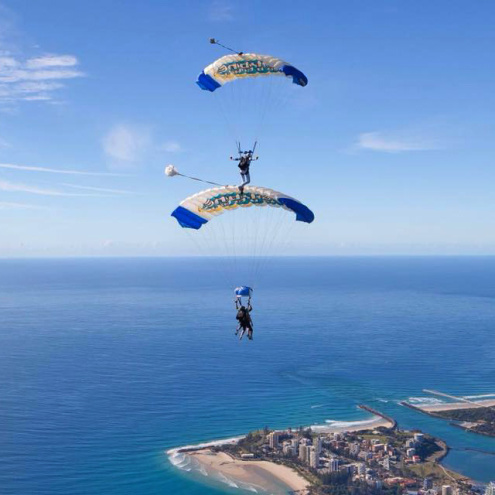 We offer a FREE pickup from Surfers Paradise every day at around 7am and free return transport. Please specify if you need a pickup in the booking notes and we will contact you to organise times.
You can also self drive to our office.
Gold Coast Skydive Address
18 Coyne Street
Coolangatta,
Duration (2 Hours)
The Gold Coast Tandem Skydiving experience starts each hour from 7:30 - 4:30. You will be asked to select a preffered time when booking. Allow for approximately 2 hours for the whole skydive experience.
What to Wear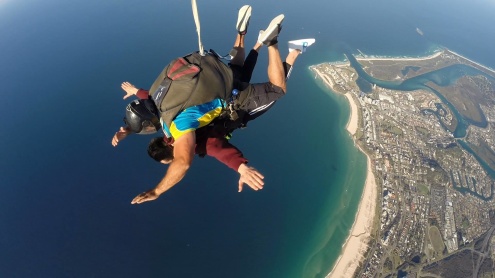 Make sure you bring a pair of flat soled running shoes and wear comfortable non restrictive clothing. We do have jumpsuits available if you are coming on the spur of the moment.If you are jumping during winter bring a warm jumper as it can get cold up there. If you are jumping during summer you can wear shorts and T-shirt. No singlets or vests please.
Weather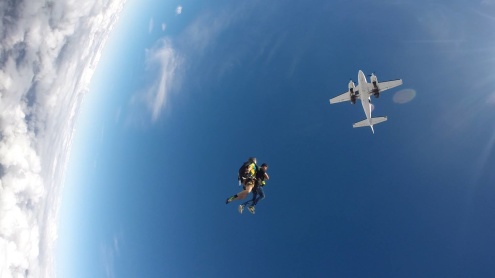 We do not jump in rain and we are restricted by a wind speed limit. If the weather conditions are unsuitable on the day that you are booked in to jump you may receive a phone call advising you that your jump has been delayed.As weather conditions are difficult to predict and can change frequently your jump may be put on hold at anytime before you exit the aircraft.
Other Info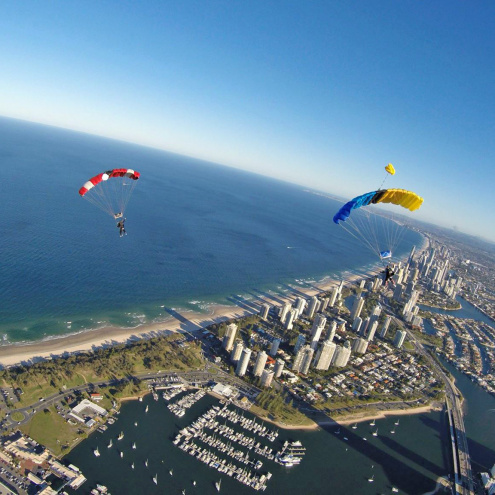 Minimum Age 12 years
The age minimum for jumping in Australia is 12 years. Any person under the age of 18 years needs a parent or legal guardian to accompany them in order to read and sign our indemnity form.
Weight Restrictions
The standard weight limit is 95kg. Each tandem passenger must be weighed at the office prior to jumping. This weight limit is enforced for safety reasons. If you're over 95kg and under 110kg we would still love to take you skydiving. There are a few conditions that will impact on your jump such as wind direction and strength. Please contact the office on (07) 5599 1920 or info@goldcoastskydive.com.au to further discuss your skydive.
PLEASE NOTE: There is no upper age limit for skydiving, provided you are fit and healthy you can go for a tandem skydive! We recommend tandem passengers over 60 years of age seek medical consent from a medical practitioner prior to making a booking. Our oldest customer to date was 90 years of age!
---
Gold Coast Skydive Reviews
---