About Port Douglas Reef Tours
Visit the Reef and Coral Cays from Port Douglas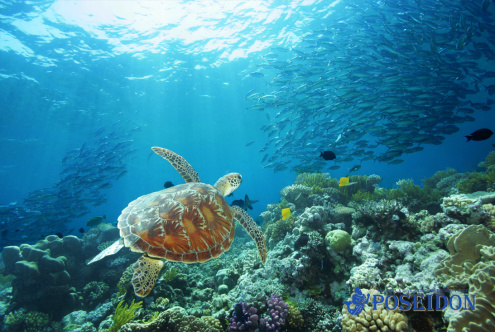 Tours to the Great Barrier Reef depart Port Douglas Crystalbrook Superyacht Marina daily. Whether you're an experienced diver or a first-time snorkeler, there's something for everyone to enjoy. And with a range of vessels and some of the most pristine reef sites in the world, you're sure to have a unique experience.
Port Douglas is located close to the Great Barrier Reef making it an ideal departure point with tours taking from 45 to 90 minutes to reach your destination.
There are a number of reef sites visited from Port Douglas, all of which are considered to be among the best and most pristine along the Great Barrier Reef. Sites like Agincourt Reef or Opal Reef continue to boast an enticing underwater world of diverse marine life and vibrant coral.
Reef Tours Available from Port Douglas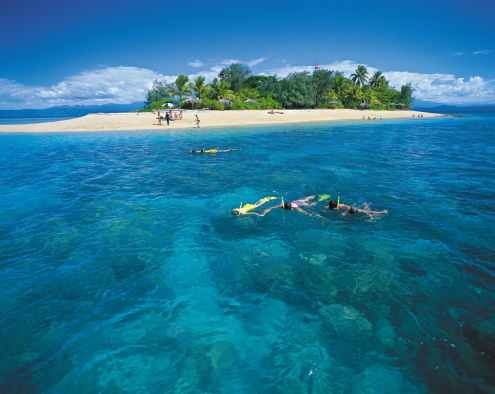 Wavedancer Low Isles Cruise
Departs 10:00am | Returns 4:30pm
Embark on a luxury sailing experience to the Low Isles. Relax on a spacious catamaran, snorkel in the coral gardens, or join a guided beach walk to learn about the island's unique ecosystem. Indulge in a tropical buffet lunch on board and soak up the sun on the deck.
Silversonic Reef Snorkeling Adventure
Departs 8:30am | Returns 4:30pm
If you're seeking an smaller snorkeling experience, this tour is for you. Travel on a high-speed catamaran to three different outer reef sites, renowned for their crystal-clear waters and abundant marine life. Snorkel alongside tropical fish, colorful corals, and possibly spot rays and turtles. Buffet lunch included.
Quicksilver Outer Reef Tour
Departs 10:00am | Returns 4:30pm
Join this renowned tour operator for a full-day adventure to the pontoon on Agincourt Reef . Discover breathtaking coral formations, swim with tropical fish, and explore underwater gardens on a guided snorkeling tour. Enjoy a delicious buffet lunch and relax on the spacious reef pontoon. Large vessel & Pontoon. Many activities. Great for familes.
Poseidon Outer Reef Tour
Departs 8:30am | Returns 4:30pm
Travel to the Agincourt Ribbon Reefs, renowned for their outstanding coral formations and marine biodiversity. Enjoy guided snorkeling tours, certified diving experiences, and educational presentations by marine biologists. Indulge in a seafood buffet lunch while taking in the stunning reef views. Smaller vessel. 3 reef sites.
Calypso Outer Barrier Reef Tour
Morning | Departs 7:30am | Returns 11:30pm
Afternoon | Departs 1:15pm | Returns 5:15pm
Explore the diverse ecosystems of the Agincourt Ribbon Reefs on this eco-certified tour. Snorkel in pristine locations teeming with marine life, enjoy a guided snorkeling tour, and relax on the spacious reef vessel. A buffet lunch and informative presentations are included.
Calypso Low Isles Half Day
Departs 8:45am | Returns 4:15pm
Choose between morning and afternoon half day tours to Low Island from Port Douglas. Experience 2 hours on the sheltered Low Isles and snorkel in the lagoon of the tranquil coral cay.
Wavelength Snorkeling Reef Tour
Departs 8:30am | Returns 4:30pm
Wavelength is a dedicated snorkelling vessel which visits three Great Barrier Reef sites in one day. Buffet lunch and snorkelling gear is included. Wavelength hosts a maximum of 48 passengers. Small numbers. Authentic experience.
Sailaway Coral Cay Reef Tour
Departs 8:00am | Returns 5:00pm
Sit back and relax on a beautiful sailing catamaran. Visit the Coral Cays of Mackay or Undine Reefs. Enjoy an authentic sailing experience, just 10 nautical miles off the coast of Port Douglas. Enjoy a tropical buffet lunch, morning and afternoon teas & coffee.
Snorkeling & Scuba Diving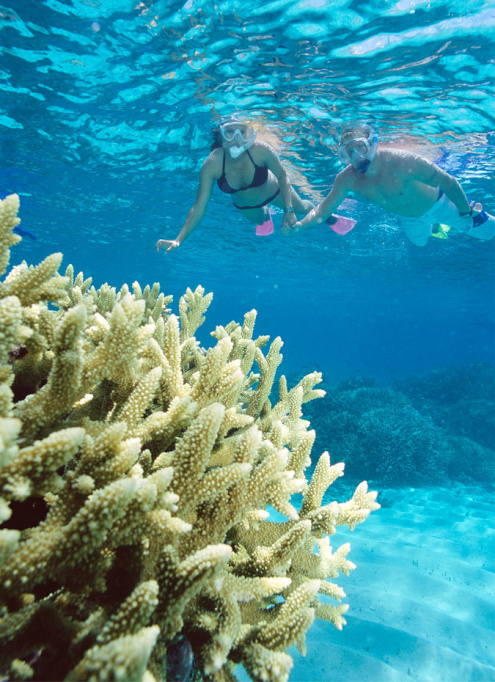 When it comes to exploring the Great Barrier Reef, there are few experiences that can compare to snorkeling or diving. Snorkeling gear is standard on all reef trips departing from Port Douglas.
Snorkeling: An Easy Way to View the Reef
Snorkeling is a fantastic, easy way to view the reef, and is available on all reef trips. snorkeling equipment is provided on all tours, and guided snorkeling tours are available to maximize your reef experience. A marine naturalist will point out the different corals and marine life and explain their place in such a diverse ecosystem. So whether you're a first-time snorkeler or a seasoned pro, there's plenty to discover underwater.
Diving: Get Up Close and Personal with the Reef
For those looking to get up close and personal with the reef, diving is the way to go. From beginner to expert, there is a dive tour to suit all levels.
Introductory Dives: Perfect for Beginners
If you're new to diving, don't worry. Introductory dives led by qualified dive instructors are available on many reef tours, with onboard tuition and equipment included. Beginners are briefed on the way out to the reef site to ensure both an exciting and safe first dive. So if you've always wanted to explore the underwater world, now's your chance. No experience necessary.
Certified Diving: For the More Experienced Diver
For the certified diver, the reefs off Port Douglas are home to dramatic drop offs, swim throughs, and bommies. Buddy up with a dive partner, or tag along with a dive guide for a grand tour of all the nooks and crannies. No matter your skill level, there's something for everyone to discover underwater.
Crystalbrook Superyacht Marina
The Crystalbrook Superyacht Marina is considered one of the premier nautical destinations in Australia. This world-class marina is just a short walk from the Port Douglas Village and boasts an impressive array of facilities and is located close to the Great Barrier Reef, making it an ideal gateway for exploring this world heritage site.
The Marina caters to a vast range of private and commercial reef tour vessels. There are 135 berths in total, with some specifically designed for superyachts up to 50 metres in length.
Marina Facilities and Services
The marina provides top-notch facilities and services to ensure a comfortable stay for all its guests. These services often include Wi-Fi, laundry, shower and toilet facilities, and 24-hour security. The marina also provides access to water, electricity, and fueling facilities for the boats.
Location
The marina is located in the heart of Port Douglas, providing easy access to a range of facilities including restaurants, bars, and shops. Its location also offers a perfect starting point for trips to the Great Barrier Reef.
Marina Shopping
The Crystalbrook Superyacht Marina hosts a range of high-end retail shops, offering everything from fashion to souvenirs. Need some sunscrean & a hat? The marina offers visitors a chance to grab some last minute items for a day on the Great Barrier Reef
Dining
The marina complex includes a range of eateries that cater to a variety of tastes, offering everything from casual meals to fine dining experiences. Some of these dining options provide beautiful views over the marina, making for a wonderful dining experience.
Great Barrier Reef Tour Departure Point
Given its proximity to the Great Barrier Reef, there are numerous tour operators based at the marina, offering a range of experiences.
The Great Barrier Reef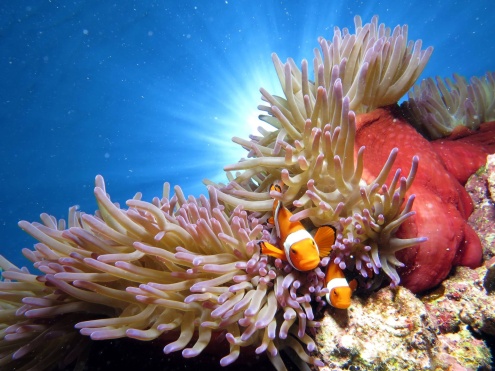 The Great Barrier Reef is an extraordinary natural wonder that captivates millions of visitors from around the world every year. With its massive size, diverse marine life, and breathtaking colors, it's no wonder that it's the only living structure visible from the moon with the naked eye.
The Great Barrier Reef is Big!
The Great Barrier Reef is massive, with an area larger than Ireland and Great Britain combined. The Reef isn't just one reef, but thousands of different reefs, some of which are several kilometers long. Each reef is separated by a vast, vivid blue sea, which owes its color to the fact that there are minimal particles floating around in it.
The Diversity of Life
The Great Barrier Reef is home to an incredible diversity of marine life, with 1500 different species of fish, 350 different types of coral, 6000 species of crustaceans, 5000 species of mollusks, reptiles, and marine mammals. The colors of the coral and marine creatures are mind-blowing, and each one serves a purpose, such as warning predators or marking cleaning stations.
Seasonal Experiences
Visiting the Great Barrier Reef is a unique experience that can vary depending on the season. From October to December, the Reef is in the midst of its reproductive cycle, Coral spawning occurs during this period. From January to May, it's recruitment time when baby creatures born elsewhere invade the reef. From June to September, it's Whale spotting season, when whales come to the Tropics to get a manicure, shedding barnacles and other fouling organisms in the warm waters of Tropical North Queensland.
Visiting the Reef from Port Douglas
One of the biggest advantages of visiting the Great Barrier Reef from Port Douglas is the proximity of the outer reefs to shore. There are also coral islands, drop-offs, and drift dive sites to explore. Port Douglas tour operators are highly professional and have an excellent safety record, making it a must-visit destination for both divers and snorkelers.
Marine life on the Reef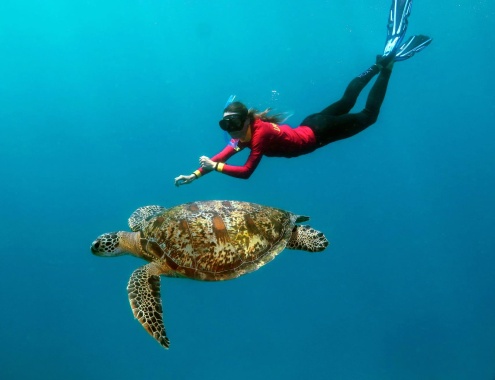 When snorkeling on the Great Barrier Reef near Port Douglas, you can expect to encounter a diverse array of marine life. Here are some of the common marine species you might see.
Soft & Hard Corals
The Great Barrier Reef is renowned for its stunning coral formations. You'll have the opportunity to witness a variety of hard and soft corals in various shapes, sizes, and vibrant colors. Look out for brain corals, staghorn corals, plate corals, and more.
Tropical Fish
The reef is teeming with an incredible diversity of tropical fish. You can spot schools of colourful fish including clownfish (like Nemo!), angelfish, butterflyfish, parrotfish, damselfish, wrasses, and many others. Each species displays unique patterns, colours, and behaviours.
Green Sea & Loggerhead Turtles
The Great Barrier Reef is home to several species of sea turtles, such as the green turtle and loggerhead turtle. Snorkelling provides opportunities to observe these majestic creatures gracefully swimming among the coral gardens.
Reef Sharks
While most shark species found on the Great Barrier Reef are harmless, it's possible to spot some during your snorkelling adventure. Blacktip reef sharks and whitetip reef sharks are commonly seen. They are typically small and shy, posing no threat to humans.
All Types of Rays
Keep an eye out for various ray species, including the spotted eagle ray and the blue-spotted ray. These elegant creatures often glide along the sandy seabed, providing an incredible sight.
Giant Clams
The Great Barrier Reef is also home to impressive giant clams. These large molluscs can reach sizes of up to a meter and showcase vibrant colours. Snorkelling allows you to see them up close and appreciate their unique beauty.
Nudibranchs and Sea Slugs
The reef is abundant with a fascinating array of nudibranchs and sea slugs. These vibrant and intricate creatures come in a stunning variety of shapes, sizes, and colours, showcasing nature's artistry.
Dolphins
While not as common as other species, there is a chance to encounter dolphins on your journey to and from the Great Barrier Reef. Keep an eye on the water surface for these playful and intelligent marine mammals.
Getting to Port Douglas from Cairns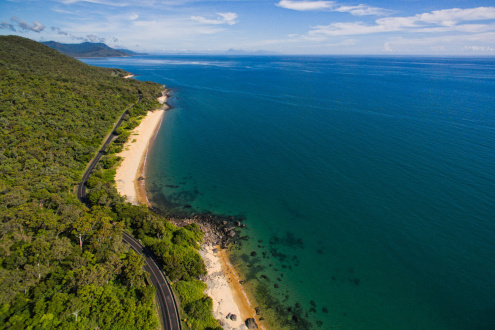 The drive from Cairns to Port Douglas is a scenic 66 km journey that offers stunning coastal and rainforest views.
Allow an hour to reach Port Douglas. Throughout the drive, you'll be surrounded by tropical landscapes, including sugar cane fields, mountains, and coastal vistas. It's a scenic route that showcases the natural beauty of Far North Queensland.
On the way there you will pass many iconic attractions.
Skyrail Rainforest Cable way
15 minutes into your drive to Port Douglas, if you look to your left you will see the Skyrail gondolas make their way up to Kuranda.
Trinity Beach
Trinity Beach is roughly 20 minutes' drive from Cairns and offers a relaxed coastal atmosphere, swimming & dining options. It's a great spot to stop for lunch on the way to Port Douglas.
Palm Cove
About 25 kilometres north of Cairns, you'll pass by Palm Cove, a picturesque beachside village known for its palm-lined esplanade. It's a popular spot for swimming, dining, and enjoying the relaxed tropical atmosphere.
Ellis Beach
Ellis Beach is a stunning coastal destination located approximately 30 kilometres north of Cairns. Ellis Beach is known for its tropical sandy shoreline and picturesque palm trees. The beach stretches for about a kilometre and offers a tranquil and relaxed setting for visitors to enjoy the tropical paradise.
The Ellis Beach Bar and Grill is located on the beach, and It offers delicious meals, refreshing beverages, and stunning views of the beach. It's a great place to stop for a break to relax and enjoy a meal on your way to Port Douglas.
Hartley's Crocodile Adventure Park
Just 40 Minutes North of Cairns and 20 Minutes South of Port Douglas. Hartley's is an Australian wildlife park set in an amazing, natural Eucalypt forest, with landscaped walkways. Hartley's Crocodile Adventure Park is a great experience to add to your trip to Port Douglas.
Rex Lookout
Just after Hartley's turn off, you'll reach Rex Lookout. Make a quick stop here to take in breathtaking panoramic views of the Coral Sea, Trinity Bay, and the surrounding mountains. It's a great spot for photos and a short break.
Port Douglas
Finally, you'll arrive in the charming village of Port Douglas. This coastal town is known for its beautiful Four Mile Beach, marina, and vibrant atmosphere. You'll find a variety of shops, restaurants, and accommodations catering to visitors.
Best time of year to visit the Reef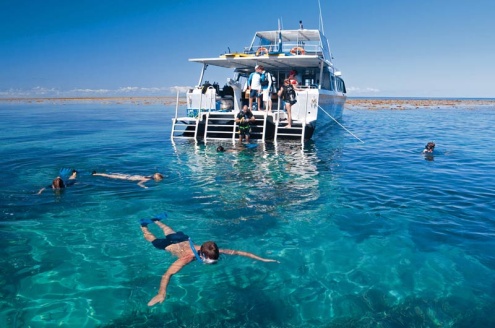 Port Douglas offers a fantastic getaway throughout the year, thanks to its warm tropical climate and a variety of outdoor activities. The region experiences two distinct seasons: the 'wet' and the 'dry', which are often referred to as the 'green' and the 'dry' due to the lush rainforests that surround the area. Don't be discouraged by the 'green season,' as it has its own unique beauty.
The Green Season | December - April
The green season typically begins with the first monsoonal rains in December and lasts until April. During this period, 75 to 90% of the annual rainfall occurs, accompanied by high humidity. Average temperatures range from 24°C to 33°C (75°F to 91°F).
The green season is a dramatic and stunning time when the flora and fauna of the tropical rainforests come alive. The rainfall is vital for the rainforest's existence. This period is particularly exciting for nature lovers and photographers as the tropics are at their most beautiful, with waterfalls flowing abundantly.
Great Barrier Reef tours welcome the gentle winds at this time of year. You are more likely to experience a "glass out conditions" in the green season due to the low winds. Glass out conditions offer optimal visibility and make for ideal snorkelling & diving on the reef. The calm waters allow for clear views of the underwater world, making it easier to spot marine life, admire vibrant corals, and appreciate the reef's beauty in its full glory.
The Dry season | May to November
The dry season, from May to November, brings lower humidity, clear skies, and pleasant temperatures both day and night. Average winter temperatures range from 19°C to 24°C (66°F to 75°F).
Less chance of rain gives visitors more options when planning a Reef Tour. You might even spot whales during their migration on your way to and from the reef.
This period corresponds to the peak tourist season, attracting visitors seeking a respite from the colder southern states. Families, especially during school holidays, are advised to book tour to the reef in advance as we have up to 50% more visitors during this time of year.
Wheely Friendly Reef Tours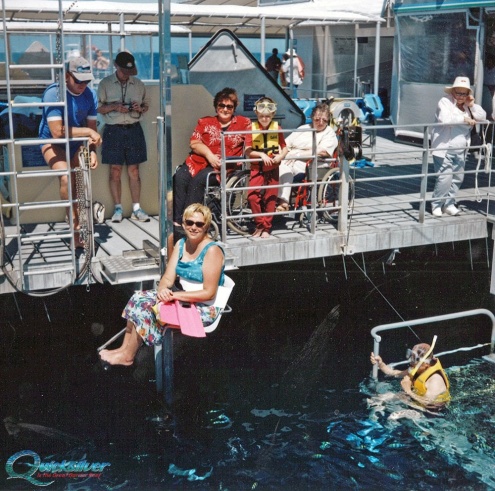 Quicksilver is the most suitable reef tour for wheelchairs including electric wheelchairs.
At the Outer Barrier Reef there are ramp facilities from the vessel to the floating platform, however access to the underwater observatory, swim platforms and the semi-submersible coral viewing vessels is by stairs only.
A chair lift enables disabled passengers to be lowered into the water to enjoy snorkelling.
The snorkelling platforms are situated right on the waterline and there are bench seats on the snorkelling platform where you can put on your fins, mask, and snorkel before entering the water.
On the Quicksilver vessel there is an oversized toilet cubicle available suitable for most wheelchair passengers.
Port Douglas Accommodation Transfers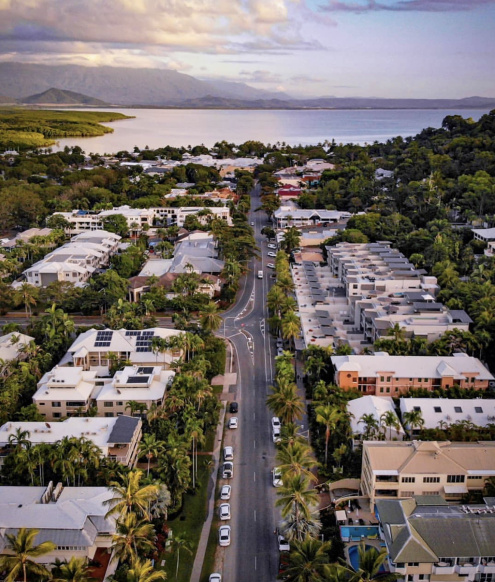 Complimentary Port Douglas Accommodation Transfers
These tours offer complimentary pick-up and drop off (transfers) from your Port Douglas accommodation.
Silversonic
Poseidon
Sailaway
If you would like to include transfers from your accommodation in Port Douglas, please let us know the name of your accommodation in the booking notes so we can send you a pick-up time.
Frequently Asked Questions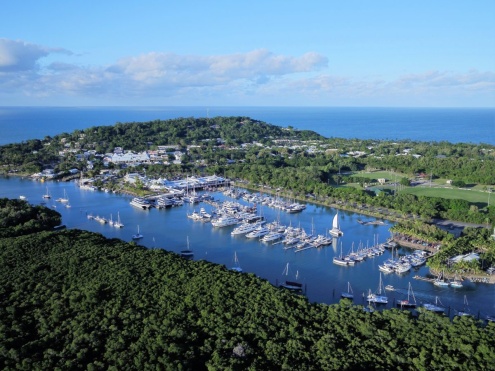 Is there free parking at the Port Douglas Marina?
Yes, Crystalbrook Marina offers a large car park where you can park for free all day.
How far is the Marina from Port Douglas Village
Just a 5 Minute walk. The marina is located in the heart of Port Douglas, Its location also offers a perfect starting point for trips to the Great Barrier Reef.
What types of reef tours are available from Port Douglas?
Port Douglas offers a variety of reef tours, including snorkeling trips, scuba diving excursions, sailing adventures, and cruises to outer reef locations.
How long is the boat ride to the Great Barrier Reef?
Most tours from Port Douglas take approximately one to one and a half hours to reach the Great Barrier Reef.
Do I need to be able to swim to snorkel?
While all boats provide life jackets and flotation devices, it is important to be confident in the water. The presence of lifeguards is assured. Ideally, having swimming skills enhances the enjoyment of snorkeling.
Is snorkeling equipment provided on the reef tours?
Yes, most reef tours provide snorkeling equipment such as masks, snorkels, fins, and flotation devices. However, you are welcome to bring your own gear if preferred.
Can I bring my own camera to capture the reef experience?
Yes, you can bring your underwater camera to document your snorkeling or diving adventure. However, drones are not allowed on reef tours due to regulations.
Are prescription masks available?
Yes, most boats provide prescription lens masks. When booking, please let us know your prescription so that we can ensure the best opportunity for you to see the reef.
How deep is the Great Barrier Reef?
The reef boats usually anchor in sheltered coral lagoons. While the water on the Great Barrier Reef can be very deep, the vessels typically moor in water up to 35 meters deep, but it is more likely to be around 15 meters deep.
Can I touch the bottom?
No, the water is too deep to stand in. Coral bommies may be close to or above the water surface, depending on tides, but touching or standing on the Great Barrier Reef is not allowed.
When is the best time to visit the reef?
Fish and reef colors are more vibrant on sunny days. The water in North Queensland remains warm throughout the year. It is advisable to choose a day with low wind for optimal visibility.
Can we still visit the reef when it's raining?
Yes, the fish and coral continue their daily activities even when it's raining. Once you are in the water, you will not notice the rain. During the wet season months (January to April), rain showers may occur, but they usually clear early in the day.
Do I need a wetsuit?
The waters off Port Douglas are generally warm, ranging between 23 and 29 degrees Celsius. Wearing a wetsuit is not necessary for swimming and snorkeling, but they are available on all boats.
Do I need to bring my own swimsuit and towel?
Yes, the lycra suits and wetsuits provided are not swimsuits. Towels are not provided on any reef trips, so remember to bring your own.
Can I bring my own underwater camera?
Yes, you can bring your own underwater camera. However, please note that introductory divers are not allowed to use cameras during their dive.
Can I bring my drone?
No, due to drone flight regulations, drones are not allowed on the reef tours.
Can I bring my own mask, snorkel, and fins?
Absolutely! You are welcome to bring your own mask, snorkel, and fins.
What is a pontoon?
A pontoon is a fixed steel platform anchored to the sea bed at a snorkel/dive site. These platforms provide amenities such as underwater observatories, easy access into the water, changing rooms, and sometimes additional features like sun lounges and glass bottom boat and semi-submarine tours. Pontoon trips are particularly suitable for families with young children and non-swimmers, and they typically visit one destination at the outer reef.
What is a semi-submarine?
A semi-submarine is a coral viewing vessel with stairs that go down into the hull, where you will find seating and many windows. These tours usually last around 25 minutes and cruise around bommies (coral formations) at the outer reef. It is a great way to explore the underwater world without swimming or getting wet. All pontoon operators include a semi-submarine tour in their day, and some may also offer additional features like a glass bottom boat.
Will I see turtles, dolphins, or whales?
It is highly likely that you will see turtles during your reef tour. Dolphins are sometimes spotted splashing behind the boats on the way back to Port Douglas. Humpback whales make appearances in our waters between June and September. Regardless of the outer reef tour you choose, you will undoubtedly witness a multitude of colorful marine life.
Can I change the date of my reef tour if the weather is bad?
It's usually possible to reschedule your reef tour if the weather is unfavorable, subject to availability. Make sure to let us know 48 hours prior to the event.
If the reef trip is canceled due to bad weather, do I get my money back?
Yes, if the reef trip is canceled by the operator, you will receive a full refund.
If the weather is not good, can I change the date of my trip?
Yes, you can change the date of your trip, but please confirm with us the day before. Changes are subject to availability and the operator's policy. It is not possible to change the date on the day of the trip unless suggested by the operator.
Can I fly after diving?
It is generally fine to fly after diving, but it is recommended to allow a minimum of 18 hours between your last dive and your flight.
What's included in reef trips?
All reef trips from Port Douglas include snorkel gear (mask, fins, snorkel), a cup of tea or coffee in the morning, lunch, and afternoon tea or coffee. The price of the trip may vary based on the quality of the vessel, gear, and the quality and abundance of meals and refreshments.
What does EMC stand for?
EMC stands for Environmental Management Charge or reef tax. This charge is compulsory and paid by every visitor to the Great Barrier Reef.
---
Port Douglas Reef Tours
All Great Barrier Reef tours from Port Douglas depart from the Crystalbrook Superyacht Marina
---
Direct Contact Info
Hours: 9am - 3pm Monday to Friday | 9am -12pm Weekends
Address:
TRAVSTAR PTY LTD
ABN: 21 095 692 925
PO Box 6918
Cairns
QLD 4870
Australia
---