About Cairns Scenic Flights
Helicopter and fixed wing scenic flights from Cairns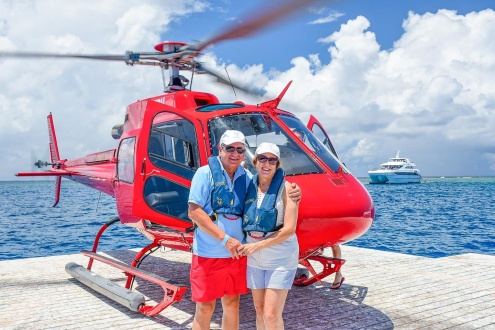 Explore Tropical North Queensland's natural splendour in a truly unique and memorable way – by taking to the skies on a scenic flight from Cairns. Known as the gateway to the Great Barrier Reef and the Daintree Rainforest, Cairns offers an array of picturesque vistas that are simply breathtaking from above. A scenic flight from Cairns is a great way to create unforgettable memories.
When visiting Cairns, there are a wealth of scenic flights to choose from, each promising an unparalleled perspective of some of the most beautiful landscapes in the world. Whether it's a quick 10-minute helicopter ride over the city, a full day adventure combining a luxury yacht cruise and a helicopter flight over the Reef, or a tranquil 60-minute journey over the ancient Daintree Rainforest and coastal Port Douglas, there's a flight to cater to every taste and sense of adventure.
Choosing a scenic flight is not just about the thrill of being airborne. It's also about the opportunity to gain a deeper understanding and appreciation of the scale and diversity of the landscapes below. As you soar above, you can witness the sprawling expanse of the Great Barrier Reef in all its colourful grandeur, see the dramatic Barron Falls from a perspective not many get to enjoy, or even sip champagne on your very own private Sand Cay.
Scenic flights also provide the opportunity to spot iconic wildlife like manta rays, turtles, and during winter months, even migrating whales. And, with the knowledgeable commentary provided by experienced pilots, you're sure to leave with more than just amazing photos; you'll also gain insights into the history, geology, and ecology of the world's oldest rainforest and largest coral reef system.
Cairns City Scenic Flights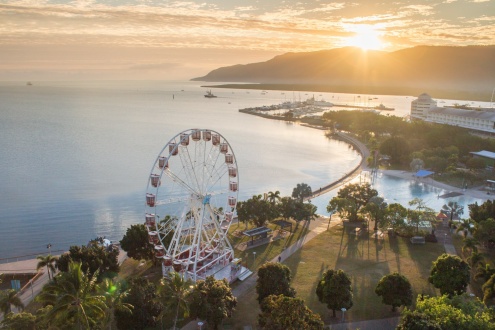 See the beauty of Cairns from above with an exhilarating 10-minute helicopter tour. Soar above Marlin Marina, Trinity Inlet, and Admiralty Island, all set against the stunning backdrop of the rainforest-clad slopes of the Great Dividing Range. Cairns city helicopter flights depart from the Esplanade and Cairns General Aviation and provide a breathtaking view of Cairns and the surrounding region.
Great Barrier Reef Scenic Flights from Cairns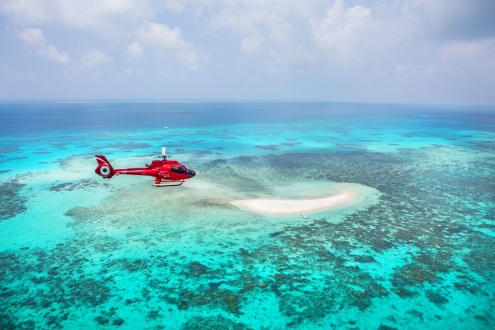 Ascend into the skies in a fixed-wing plane or helicopter, for an awe-inspiring scenic flight over the Great Barrier Reef. Soar over Green Island and marvel at the undulating beauty of the panoramic views beneath you.
The blue and green hues of Coral Sea playing host to a thriving ecosystem nestled within its coral gardens. These scenic flights over the Reef not only provide mesmerizing vistas but also provide great photo opportunities.
From this unique vantage point in the air, you stand a greater chance of spotting the Reef's larger marine inhabitants. Frequent sightings from our flights include graceful Sea Turtles, elusive Sharks, gliding Manta Rays, playful Dolphins, and even the serene Dugong. During the Humpback Whales' annual migration from Antarctica, it is not uncommon to see these majestic creatures majestically cresting the waters.
Reef flights typically range from 20 to 60 minutes and conveniently depart from either The Cairns Esplanade or Cairns General Aviation. Step aboard for the scenic flight of a lifetime, as you witness firsthand the beauty of the Great Barrier Reef from the sky.
Barron Gorge Falls Scenic Helicopter Flight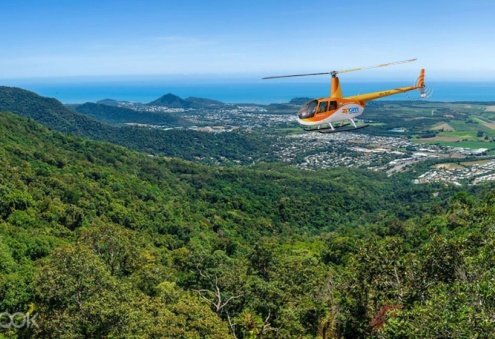 Head inland on a 20-minute helicopter scenic flight. Enjoy awe-inspiring views of Barron Falls and the village of Kuranda. As you fly through the Barron Gorge and over the Great Dividing Range, you'll witness breathtaking panoramic views of Cairns city and the nearby Reef. Learn about the history of the falls and the river that carved this impressive natural feature from your knowledgeable pilot. You may even spot the Kuranda Train making its way up to Kuranda.
---
Cairns Scenic Flights
Departure Point: GSL Aviation, 83 Royal Flying Doctor St, Cairns City QLD 4870, Australia. We offer hotel pickup and drop-off from Cairns city centre area. Pickup will commence 45-minutes to 1-hour prior to start time.
---