About Aussie Macro Photos
Let's Go Buggin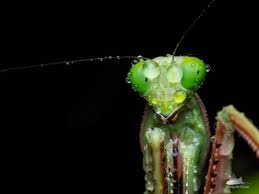 Experience the wonder of the macro world! Join renowned macro photographer Bridgette Gower on a small group tour to explore the world of Fungi, Insects and Spiders in the Cairns Botanic Gardens.
Bridgette has expertise of the many miniature lifeforms that grow in the rich and integral ecosystem. Most of these lifeforms go completely unnoticed. However, a magical world awaits when you join Bridgette for a personalised, highly specified tour of the gardens and the treasures waiting to be discovered. Fantastic frogs, beautiful bugs and amazing arachnids!
The Experience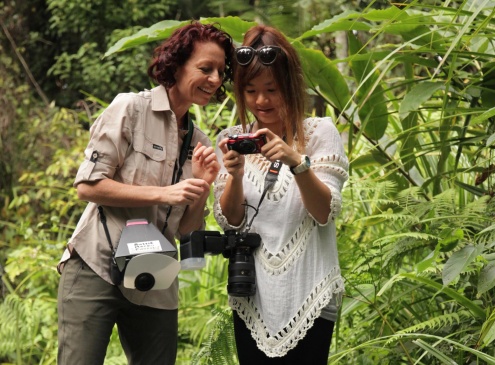 We commence our walk of discovery immediately after our briefing at the meeting point. Depending on the season I will adapt the walking route to see what is around at that time of year. There are a number of host plants that are habitats for our most regularly seen critters. I will also try and incorporate any individual interests.
Pricing
$49 Adult (16 plus)
$42 Child (8-15) Must be accompanied by an adult
$140 Family (2 adults, 2 children)
$29 Camera (Pre-book only, pay on arrival) includes 16GB memory stick for you to keep
Time & Place
Meet at the Cairns Botanic Gardens entrance @ 78-96 Collins Ave
Tours run daily. Afternoon Tours on request.
FAQ
Where do we meet?
Please come to the Cairns Botanic Gardens and we will meet at the main entrance on Collins Ave. There are some seats in a covered entrance. Please wait here and I will meet you and finalise any last-minute details. There are toilets behind the cafe about 50 metres inside the gardens.
What times are the tours held?
Tours run daily 8:30-10:30am. Afternoon Tours on request.
What's the best time of year?
There is something to see all year round with changes in specific animals throughout the year. For example, Feather Horned Beetles are mostly seen in July and August and not seen for the rest of the year. The fungi and mushroom species are only seen during the wet season.
What should I bring?
A camera, your prescription eyewear. Optional: Sunscreen, hat, sunglasses. Most areas are shady, however there are a few sunny spots as well. I do have 2 types of magnifying glasses available, however you may wish to bring your own.
If you don't have a camera, I can provide rental equipment, which includes a free 16 GB memory stick for you to keep.
What is the minimum age?
Minimum age of 8 please. All children under 16 must be accompanied by an adult.
Is the tour wheelchair accessible?
While most of the gardens is wheelchair accessible, some areas are not. However, I can adapt the walking route to be wheelchair accessible. Please advise at time of booking.
Car Parking and Buses
There is on-street parking around the Cairns Botanic gardens and there is a bus stop at the entrance. Plan your journey here: https://translink.com.au/cairns
Camera Hire
No camera? No Problem. Camera hire of the Olympus TG5 is available for $29 (includes 16GB memory stick for you to keep). Pre-book 12 hours prior ONLY. The Olympus TG5 is a fantastic point and shoot camera with a macro setting that is very easy to use. I can give you a quick tutorial prior to the tour. Please come 20 minutes prior for your tutorial and a quick practice before we head off on the tour.
---
Events By Aussie Macro Photos
Night Walk in Cairns Botanic Gardens
27 Oct 2021 19:00:00 - 27 Oct 2021 21:00:00
A regular Night Walking Tour in the heart of Cairns through the rainforest boardwalk of the Cairns Botanic Gardens.
---
Aussie Macro Photos
Let's Go Buggin oprates tours around the Cairns Botanic Gardens twice a day 9:30-11:30am and 2:30-4:30pm.
---
Direct Contact Info
Hours: 8am to 5pm
---