About Palm Cove Kayak Turtle Tour
Experience the Inner Great Barrier Reef By Kayak.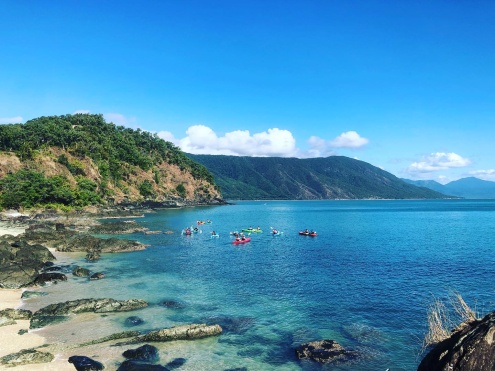 ↻ Duration | 4 Hours
⇨ Instant Confirmation
⎙ Mobile or Printed Ticket
Palm Cove Kayak Tours start from the south end of Palm Cove and visit Double Island daily.
From Palm Cove, it is only 20 minute paddle to Double Island on the edge of the Great Barrier Reef. Paddle over coral reef, explore the mangroves & beaches at Double Island. There is even a cave to explore if the conditions are right.
More often than not, the water is crystal clear. There is an abundance of small rays and turtles swimming through the water, and its even possible to see a dolphin, dugong or pod of whales on the tour if you are lucky.
Half Day Itinerary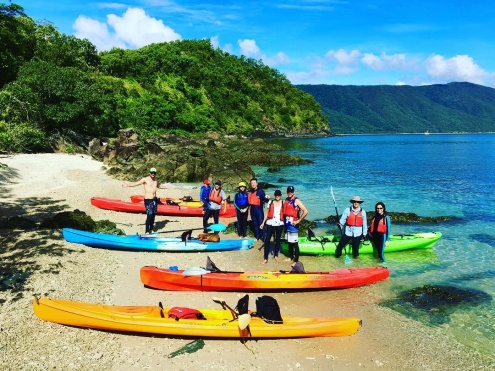 Our first stop is our turtle spot. This is the place where the green turtle and the hawksbill turtle can be seen basking in the ocean. More often than not we have numerous turtle sightings. This is an exciting part of the trip for all of our customers.
From here on, we either travel to the north side of the island or we move in to the south side and explore the mangroves, depending on what the tides are doing and the wind direction. It's not uncommon to see many rays and shovel nosed sharks playing and feeding in the shallows along the tidal part of the beach.
If we venture to the north side of the island and with a low tide, we will check out the lime stone cave. When the tide is right, we go right inside the cave. Here we find small stalactites hanging from the roof of the cave. This is always a popular part of the tour for everyone.
Next stop is the beach for a swim and some fresh fruit and juice. We have snorkelling equipment on hand too (free of course) , so if anyone feels like a snorkel, you are more than welcome to give it a go.
After all this, it's time to head home. If the northerly wind kicks in, we head back to Palm Cove. If the wind comes from the south or south-east, we head further downwind to one of the northern beaches, where our van is on standby to pick us all up. Either way, the trip home is always easy, because we use the wind to push us back. We even have a sail that we put up to pull us all along.
Included in Your Day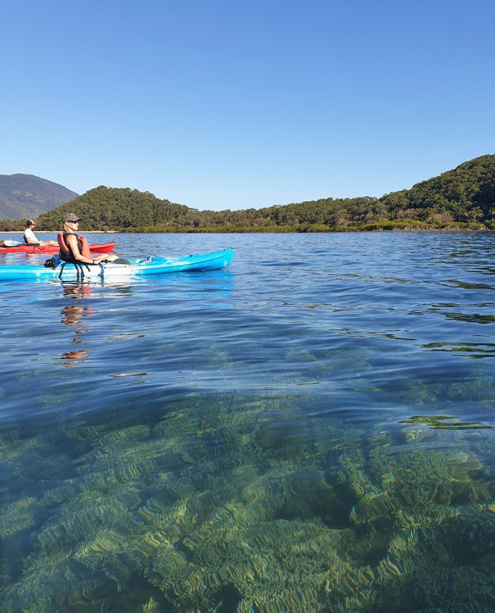 Kayaks
snorkelling equipment
Life jackets
Juice
Water
Fruit
Pick up from Cairns can be arranged for a small charge (see booking form)
Our tours normally runs from 3.5 - 4 hours. First we paddle over to Double Island. this usually takes about 20 minutes. Once we get there, it is time to explore the reef. More often than not we see lots of different marine life like:
Eagle rays
Shovel nose sharks
Mangrove rays
Colourful fish
Sea Turtles
What to know before you go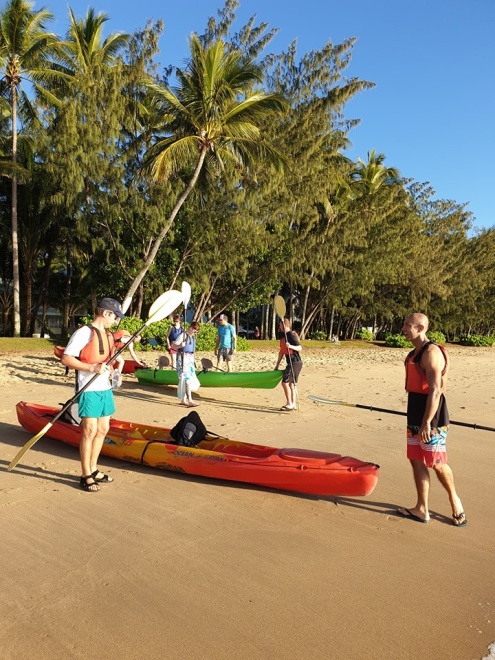 Check-in time
Please come 15 minutes before the tour starts
Departure Time
7:00AM (morning) 1:30PM (afternoon)
Pickup Time in Cairns
45 minutes before the tour starts
What to Bring
Sunglasses, Water, Sunscreen, Waterproof Camera, A Sense Of Adventure
Marine Life
More often than not we see lots of different marine life like:
Eagle rays
Shovel nose sharks
Mangrove rays
Colourful fish
Sea Turtles
EMC Charge
For every person that comes on the Great Barrier Reef with us, we are required to pay a $6.50 Environmental Management Fee
This EMC is not included in the cost of the tour and is added on as an additional cost. You can pre-pay the EMC when booking by selecting it as an extra.
Stinger & Sun Suits Provided during Season
Between November & May marine stingers can be found in the waters along the coast on North Queensland. We supply stinger suits once stinger season starts even if risk is very low. The Rashie suits also provide good protection from the Sun.
Weight limit
Weight limit is about 120kg.
Double & Single Kayaks Available
We prefer to put people in double kayaks as it is a lot easier going. If the person is pretty experienced then will can offer them a single or if there is an odd number. Kids really need to be 12 or older to go in a single.
---
Palm Cove Kayak Turtle Tour Reviews
---
Palm Cove Kayak Turtle Tour
CHECK IN TIME: Please come 15 minutes before the tour starts DEPARTURE TIME: 7:00AM (morning) 1:30PM (afternoon) PICKUP TIME IN CAIRNS: 45 minutes before the tour starts
---