Maria Island National Park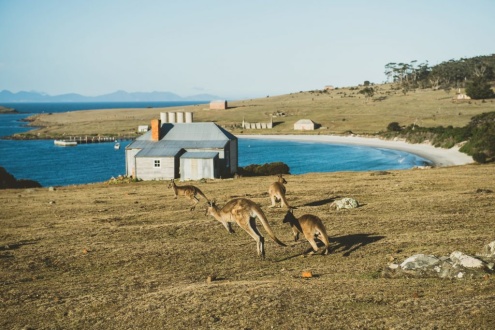 Maria Island (pronounced Mariah) is Tasmania's only island National Park. Located off Tasmania's east coast and accessible only by a 30-minute ferry ride, Maria Island has a diverse range of highlights including convict history, sweeping mountain peaks, majestic coastal cliffs, gorgeous deserted beaches & excellent hiking and biking.
It is natural wildlife haven and is home to wombats, pademelons, Forester Kangaroos, Bennetts wallabies and Tasmanian Devils. It's also one of the best places in Tasmania for bird-watching with many Tasmanian endemics, including the rare forty-spotted pardalote and the Tasmanian native hen. The abundant marine life including seals and whales and clear waters makes for spectacular diving and snorkelling.
There is one town on Maria Island, called Darlington. It lies near the northern tip of the island. Darlington has several historic buildings and no permanent inhabitants other than a few park rangers.
Attractions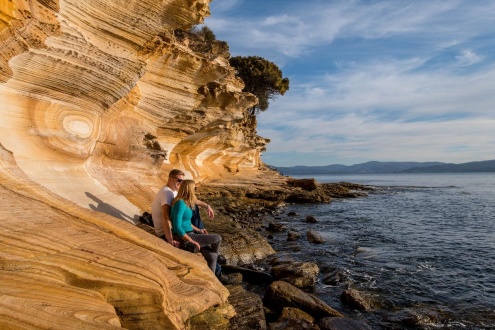 Darlington Probation Station
The township of Darlington (officially the World Heritage–listed Darlington Probation Station) is where you'll start your time on the island. The first site is the Commissariat Store, near the ferry jetty. It's the oldest building on the island and was originally a storehouse. Today it's home to the park visitor centre and has some interesting displays for visitors. Through an avenue of gnarled macrocarpa trees lies the penitentiary, which once housed convicts and now offers bunkhouse-style accommodation, as well as the restored Coffee Palace and mess hall.
Painted Cliffs Maria Island
​From Darlington it's a one-hour return walk to the Painted Cliffs, at the southern end of Hopground Beach. From the beach you can clamber along the sculpted sandstone cliffs, stained with iron oxide in a kaleidoscope of colours. We suggest a visit in the late afternoon when the sun paints the cliffs a fiery orange.
Bishop and Clerk
Bishop and Clerk, the island's towering peaks, can be reached on a 3 to 5 hr return walk past majestic sea cliffs, through grasslands, open forest and tall woodland to rocky slopes. Scramble over boulders to reach the summit and be rewarded with spectacular views of the island, Freycinet Peninsula and the Tasman Sea.
Haunted Bay
Haunted Bay is so named because of the constant calling in the evening of the many fairy penguins that live there. The track south is the usual route for people doing bike rides or multi-day walks, or easily accessible from Frenchs Farm / Encampment Cove campgrounds. A fairly easy walk to a beautiful bay, which was a whaling site in the 1800s.​
Maria Island Ferry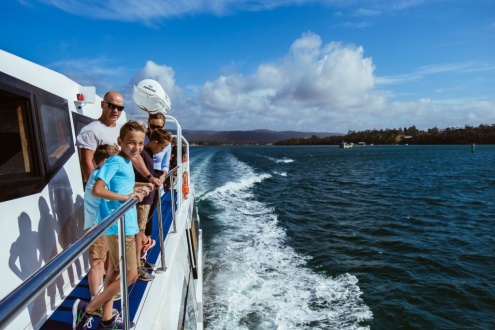 ​Access Maria Island by passenger ferry from Triabunna, located off the Tasman Highway (A3), about one and a half hours from Hobart and 2.5 hours from Launceston. The ferry runs from Triabuna to Darlington on Maria Island daily with five ferries per day and takes around 30 minutes.
Advance bookings are recommended. As of 2019, the return journey costs $45 per adult & $28 per child. There are discounts for students, and seniors. Your ferry ticket includes one carry-on bag.
In order to check-in for the ferry, you will need a valid National Parks pass which you can purchase online at the same time as you make your ferry reservation.
Once you get off the ferry on Maria island you will need to walk 500m from the ferry dock to Darlington town. There are a small number of wheeled carts you can use to carry your luggage.
There is plenty of free parking near the ferry dock. If you don't want to worry about driving, book a day tour from Hobart that includes ferry reservations.
Best Time to Visit: Year-round, but the weather is best from December to March.
Maria Island Day Tours from Hobart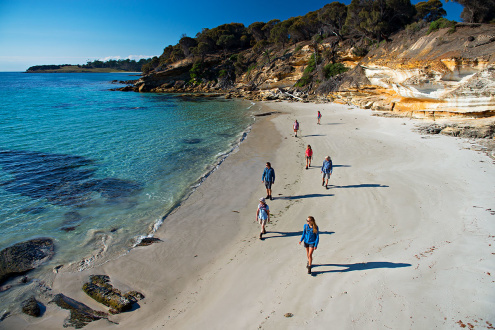 Maria Island Day Tour | Tours Tasmania
Duration | 9 hours (approx)
Join us on this day of discovery rich in environmental and cultural history of Maria Island, just one hour's drive from Hobart to the ferry and 30 minutes across the water. Hike around the island with a knowledgeable guide, swim in sheltered bays, and look for animals like ombats can also be seen around the island, as well as Pademelons, Forester Kangaroos, Bennetts wallabies and Tasmanian Devils.
Maria Island Day Tour | Heart of Tasmania
Duration | 12 hours (approx)
See the best of the UNESCO-listed Maria Island and its surrounding scenic isles on on a full-day tour from Hobart. Be amazed at the abundant wildlife enjoying life on their amazing island & take in all the sweeping mountain peaks, the majestic Painted Cliffs, gorgeous white sandy beaches, and breathtaking forests alive with birdlife, Kangaroos, wombats & more!
Getting Around on Maria Island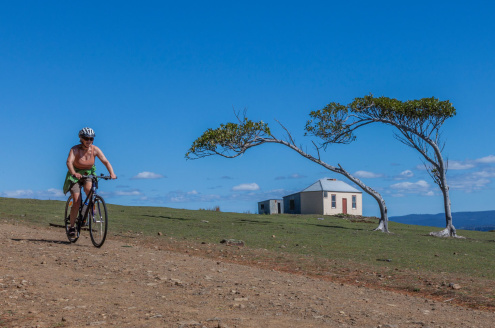 There is no vehicle access to Maria Island – you can explore the island on foot or by bike.
Most of the major sites are within an hour's walk of Darlington and the ferry. From a casual stroll around Darlington, to scrambling up boulders to the summit of Mount Maria, and just about everything in between, there are short walks, day walks and overnight walks to suit all levels of ability. As always, come prepared – food, water, suitable clothing, instagram account, etc.
One of the best ways to experience this island sanctuary is by bike. You can get around faster so you can travel further and see more of the island. Biking is allowed on all roads on the island, but not on the walking tracks. You can bring your own or rent one on the island. You can reserve bikes online ahead of time. Tasmanian law requires you to wear a bike helmet.
Walks & Hikes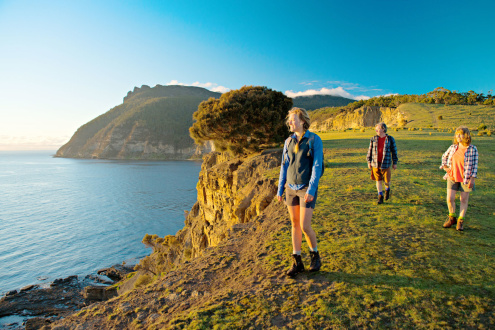 There are many bushwalks to be explored on the island.
Short walks will allow visitors to explore the buildings and ruins of Darlington. The Reservoir Circuit is sheltered from the coastal winds and provides a glimpse of Maria Island's wildlife and history as you wander through open woodlands into a tall eucalypt forest.
Fossil Cliffs (1.5 – 2 hr return) provides a fascinating close-up look at the many ancient creatures immortalised as fossils in the rocks.
Painted Cliffs (1.5 - 2 hr return) at Hopground Beach are beautifully patterned sandstone cliffs shaped by the mineral-rich water and wind.
Mt Maria (6 - 7 hr return), the highest point on the island, and Bishop and Clerk (3 - 5 hr return) both pass majestic sea cliffs, through grasslands, open forest and tall woodland and rocky slopes and end with a scramble over boulders to reach the summit and spectacular views of the island, Freycinet Peninsula and the Tasman Sea.
---
Maria Island
Maria Island, is a mountainous island located in the Tasman Sea, off the east coast of Tasmania, Australia. The 115.5-square-kilometre island is contained within the Maria Island National Park, which includes a marine area of 18.78 square kilometres off the island's northwest coast.
---