About Kuranda Train & Skyrail
Your Day in Kuranda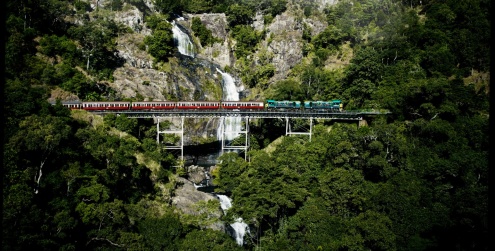 Kuranda Scenic Rail & Skyrail is one of the most popular experiences for visitors to the Cairns region. The package combines the famous Kuranda Scenic Rail and Skyrail Rainforest Cableway into a relaxing scenic day trip and one of the world's most beautiful and unforgettable rainforest experiences.
Your package can include accommodation transfers from Cairns and the Northern Beaches or, if you have a car you can drive yourself to Skyrail Smithfield Station and get a shuttle bus to Freshwater station.
The Kuranda train takes 90 minutes to reach Kuranda and you will stop along the way to view the Baron Falls.
The Skyrail Rainforest Cableway journey is a minimum of 45 minutes but most people stop at the stations along the way to take in the views and explore the rainforest on the boardwalks. Allow for 90 minutes to get back down to the Skyrail Smithfield Station.
Kuranda Scenic Rail & Skyrail Self Drive option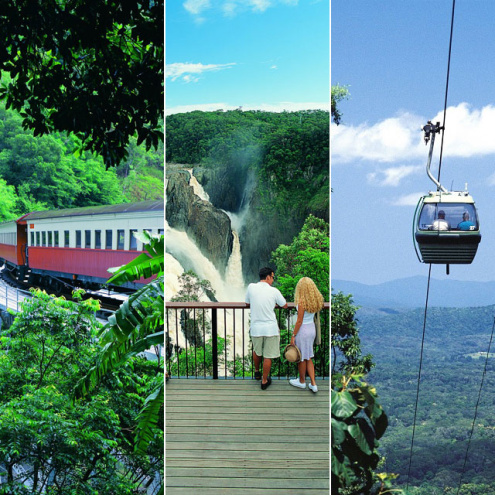 Self-Drive is a popular option for people who have their own vehicle and can save you up to 10% of the cost of the package.
When you book the Kuranda Scenic Rail & Skyrail self-drive option you will need to drive your car to Skyrail Station at Smithfield.
You can park your car at Skyrail for the day at no cost.
Included in the Self-drive option is a shuttle transfer from Skyrail Smithfield to Freshwater Station where the Kuranda Scenic Rail departs.
The Train Journey takes around 90 Minutes and you can choose between an 8:50am or 9:50am departure from Freshwater Station.
After spending some time in Kuranda village you will return to your car on the Skyrail Rainforest Cableway.
When you reach the end of your Skyrail journey you are able to simply get into your car and drive back to your hotel.
The self-drive option is popular as it saves time and costs a little less.
Optional Hotel Transfers from Cairns & Beaches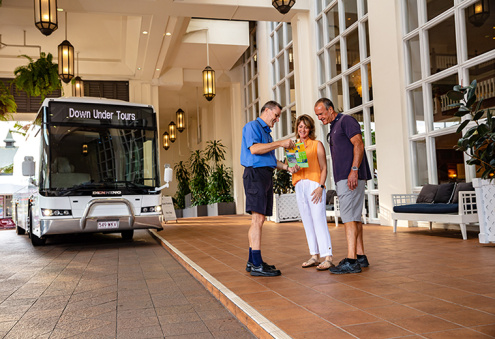 You can include return hotel transfers from Cairns and Northern Beaches. You will be given a pickup time when booking & our driver will greet you, collect your voucher and issue your Kuranda Boarding Pass. We will then transfer you to Freshwater Station. There is no need to queue as your pre-allocated Train tickets are already on your Boarding Pass.
Kuranda Scenic Rail Timetable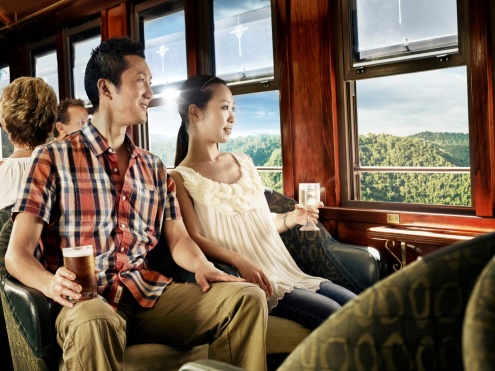 Departures:
Freshwater station: 8:55am & 9:55am
Kuranda station: 2:00pm & 3:30pm
Arrivals:
Kuranda station: 10:25am & 11:25am
Freshwater station: 3:32pm & 5:02pm
Freshwater Connection Station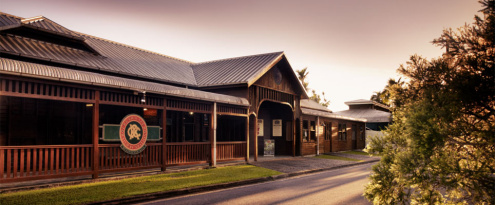 Freshwater Connection is a popular departure point for pre-organised tours. Situated in a quiet, leafy suburb, amidst tropical gardens and authentic heritage railway carriages Freshwater Connection provides a perfect venue for visitors to enjoy a hearty breakfast and is an ideal way to begin a Kuranda Scenic Railway journey.
Many of Freshwater's small Queenslander houses were built for railway workers and local farmers in the 1920 & 30s, some with timber from the old Mareeba Hospital. The very large mango trees in the area date from the 1890s. Freshwater Connection was built in 1984 as a tribute to the visionaries and pioneers who built the Kuranda Scenic Railway between 1887 and 1891. Freshwater Connection station includes a museum, and pioneer cottage which provide visitors with an interesting and educational experience.
Kuranda Scenic Rail Experience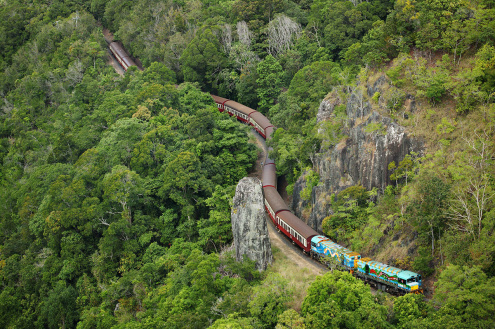 Kuranda Scenic Rail is one of the most unique rail journeys in Australia steeped firmly in Australian Pioneer history.
Rising from sea level to 328m, the journey to Kuranda winds its way through World Heritage protected tropical rainforest, past beautiful and spectacular waterfalls and into the awesome Barron Gorge. Only minutes away from Barron Falls the train journey comes to an end at beautiful Kuranda Station.
The Journey
The Kuranda Scenic Rail journey takes one and a half hours to complete and includes an English commentary on the history of the region and the railway.
All passengers receive a a souvenir booklet which includes information on the history of the railways construction, a trip map and a map of Kuranda.
Each carriage is fitted with three media screens to provide passengers with detailed information of the history of the Kuranda railway. There are also two gold class carriages where refreshments and finger food are served on the journey. Gold class carriages are available on the 9.50am and 3.30pm trains.
The dreamtime story of Buda-dji, the ancestral being, is also told daily. Buda-dji is the Carpet Snake who, in the dreamtime, carved out the Barron River and the creeks that join onto it, from the coast to the Tablelands. The Railway Engine itself has been painted with a representation of this ancestral being.
Kuranda Station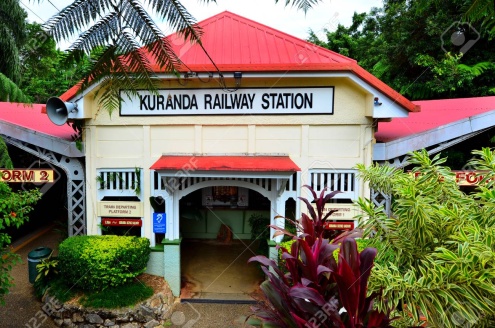 Kuranda Station is one of the earliest stations to be built in Australia using standard concrete units and is the oldest remaining examples of its type in Queensland. Described as "after the style of a Swiss Chalet, the idea being to make Kuranda a show station", the station was designed in 1910. A modified version of the design was built in 1914 and included the Passenger Station building, Signal Cabin and Utilities Block.
Ornamental planting proposed in the 1910 scheme, was developed by George Wriede and Bert Wickham, both station masters at Kuranda. Today Kuranda Station is world renowned for its tropical gardens and historic significance. It is possibly one of the most photographed railway stations in the world. The heritage-listed buildings blend with the tropical surrounds providing a relaxed environment to enjoy. The Kuranda Railway Tea Rooms at the station offer a great range of souvenirs and refreshments.
Kuranda Village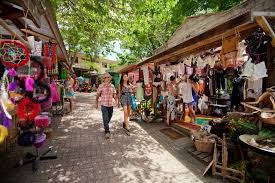 Kuranda is a famous village located on the Atherton Tablelands in Far North Queensland, Australia. Surrounded by tropical rainforest and adjacent to the Wet Tropics World Heritage listed Barron Gorge National Park, Kuranda is situated just 25 kilometres from Cairns, making it a popular day trip for visitors to experience the region's natural beauty.
Kuranda Village has been attracting visitors for well over a century. Initially people came to admire the mighty Barron Falls, while artisans were attracted to the region's natural beauty. Throughout the 1960s and 1970s Kuranda was popular with alternative lifestylers, a theme that still runs through the local community today.
Here you will discover a variety of natural, cultural, wildlife and shopping experiences. Visitors come to see the Barron Falls and to enjoy the stunning natural beauty and relaxed atmosphere of the local markets, selling unique souvenirs and gift items.
Kuranda Original Rainforest Markets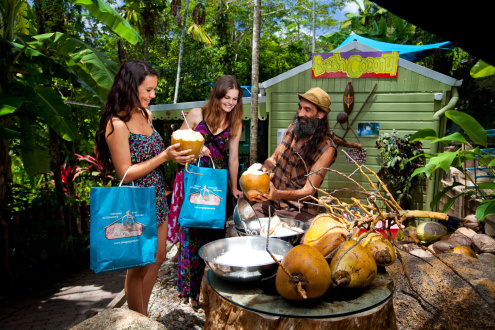 Kuranda Original Markets had their humble beginnings in 1978 organised by a group of locals to attract visitors to Kuranda and see their hand made arts, crafts and local produce. The original marketeers had to operate their own train service for two seasons, to prove commercial viability of the service to the Queensland Railway Department.
Today the markets are an established icon, operating 7 days a week and proving a huge success with providing employment for local artists and makers as well as raising the profile of Kuranda, which is now recognised as a unique Australian Rainforest tourist destination. The Original Markets has retained it's atmosphere, with many local artists and personalities making the market part of their lifestyle. Many of the current marketeers have been involved in the markets during the course of the last 25 – 30 years.
This market also has a strong eco-conscious ethic with organic, recycled, natural, holistic and remedial products available here. Crafts people still flock to this mountain top oasis to display their beautifully hand crafted wares. Renovated in 2005, this market has lost none of it's rustic charm, featuring tropical gardens, mini-golf in the rainforest, gourmet regional fare, and contemporary arts and crafts. You are sure to enjoy exploring this truly memorable destination.
Where: Corner of Therwine & Thoree St, Kuranda QLD 4881
When: Open 7 Days, 9:30am until 3:00pm
What: This market has a strong eco-conscious ethic with organic, recycled, natural, holistic and remedial products
Skyrail Rainforest Cableway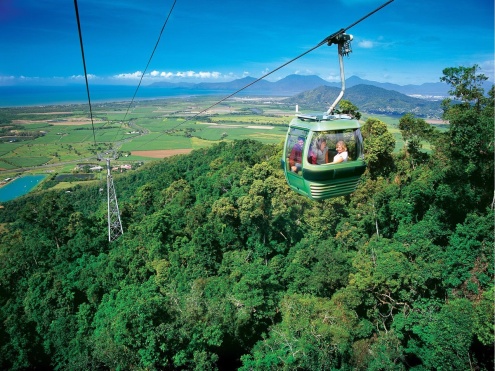 The Skyrail Rainforest Cableway is considered one of the best and most beautiful rainforest eco experiences in Australia and the world. spanning 7.5kms over pristine rainforest, this multi award winning eco tour will take you on an unforgettable journey gliding just metres above World Heritage listed tropical rainforest.
Comprising of comfortable six-person gondola cabins, the Skyrail journey will allow you to explore the wonders of an ancient tropical rainforest, and learn about one of the most botanically fascinating and diverse areas on earth. Operating from the Cairns suburb of Smithfield to Kuranda Village, this 1.5 hour experience will allow you to see, hear, smell and immerse yourself in the tropical rainforest environment.
The Kuranda Boarding Pass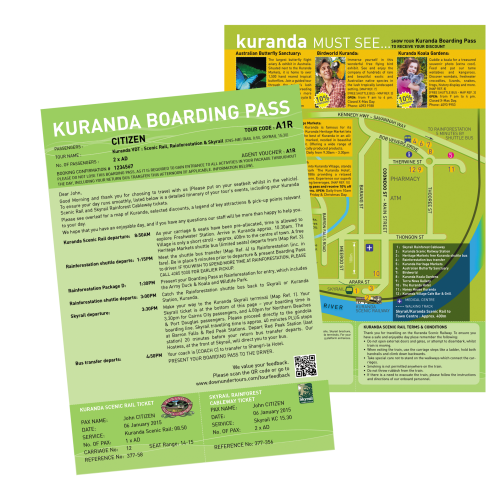 All bookings made with Cairns tours receive the Kuranda Boarding Pass
No waiting with Cairns Tours
Express check-in on coaches and at Skyrail
Express check-in and pre-allocated seating on Kuranda Scenic Railway
Highly detailed information on your day ensuring your day runs smoothly
Detailed map with highlights and points of interest
Tour itinerary with timings and Handy Hints
Kuranda Train & Skyrail FAQ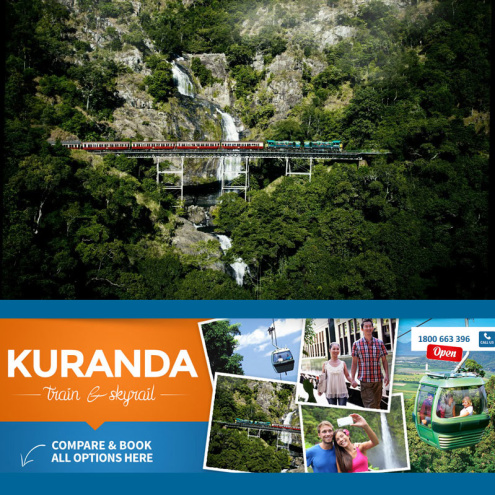 Where is Skyrail located?
Skyrail Terminal is located a 15 minute drive north of Cairns city and 50 minutes south of Port Douglas.
How long does Skyrail take?
We suggest you allow 1.5 hours to complete a one-way journey on Skyrail. This includes ample time to explore the two mid-stations.
How long does the Kuranda Train journey take?
The train takes 1.5 hours between Freshwater Connection and Kuranda.
How many hours should I spend in Kuranda?
Most visitors spend three hours in Kuranda. It is possible to opt for no time, up to five hours free time. We suggest three hours. This gives you enough time to have a good look around and have some lunch.
What is there to do in Kuranda?
The main attraction in Kuranda is the Original Kuranda Markets. There are also Heritage Markets, Boutiques, Art Galleries and Cafes. As well as shopping there are wildlife attractions including Birdworld, The Butterfly Sanctuary and Koala Gardens. It is possible to pay for these on entry or pre-purchase a three park pass at a discounted rate. Kuranda also has a river boat cruise, and a pretty river walk. Rainforestation is near Kuranda and a visit is often combined in a Kuranda package. This activity park a 5-minute drive outside Kuranda and is most known for the Army Duck ride among other activities.
Why do most tours include Freshwater Connection railway station?
Freshwater Connection is a 15-minute drive from Cairns City and is a pretty railway station in a semi-rural setting with a small museum and a coffee shop inside a train carriage. This is a much prettier station to start your day. Cairns Central Station is simply a city train station without character. The Kuranda Train sets off from Cairns Central Station, then stops at Freshwater Connection to pick-up passengers before heading up the mountain.
Is it better to take the train up to Kuranda and Skyrail down, or in reverse?
We prefer to recommend the train up to Kuranda in the morning and the Skyrail down the mountain in the afternoon. Freshwater Connection is more lively in the morning with atmosphere, the train is cooler in the morning as it is heritage and not air-conditioned it can get very warm in the afternoon. Skyrail is pretty either way but it is very nice seeing the view of the Coral Sea open up as you come over the mountain. Answer: Train up, Skyrail down
Do the tours including Train and Skyrail include return hotel transfers from all hotels in the Cairns area?
Yes. The only area where transfers are not offered are residential beach suburbs such as Holloways and Machans Beach. Transfers are included from Yorkey's Knob on cruise ship days but not on any other days.
Will the bus pick us up from our Airbnb address?
It depends on the address. If you're staying in a holiday apartment it is likely a pick-up will be offered however if you're staying in a residential area we will locate the closest hotel as your pick up location.
We have our own car. Do we still need a transfer?
Yes, Skyrail Station and Freshwater Connection Railway Station are not in the same location. You will require a one-way transfer. Please book the self-drive option.
We suggest the above option in this listing, where you drive to Skyrail in the morning, park your car free for the day, meet the coach driver who takes you to Freshwater Connection, go up on the train, have free time, come down on the Skyrail and jump in your car and drive back to your hotel. This way, there is no waiting at the end of the day.
Can we do a self-drive tour including the Train and Skyrail from Port Douglas?
Yes, sure. The self-drive tour is the same for guests staying in Cairns or Port Douglas.
Do you have pensioner/senior rates?
Yes, however these rates are not available to book on this instant booking page. Please contact info@travstar.com with your enquiry including preferred date, number of people and if you need transfers and we will respond with a quote. You will need to provide your seniors card on the day of travel.
Is it easy to walk to the main village of Kuranda from the Skyrail and Kuranda Train stations?
Yes, the station is at the bottom of the village. It is an easy walk to the top of the village however there is a courtesy (free) shuttle bus to carry visitors to the top of the village where the markets are located. This shuttle runs every 15 minutes until 2.50pm.
Is it possible to take a pram or wheelchair on this tour?
Yes, prams are no problem. Please let us know when booking if you have a wheelchair as we will need to make arrangements for the correct carriage with the wheelchair lift for the train and advise Skyrail.
We are on a cruise ship and would like to know if it's possible do the Train and Skyrail?
Yes. We access current cruise ship timetables and book many cruise ship passengers on this tour. Please email info@travstar.com with your cruise ship arrival date, number of people travelling and name of ship. We will make sure the timings fit with your cruise ship schedule and send a correct quote. Cruise ships arrive into Cairns Port and Yorkey's Knob by tender.
If we are on a cruise ship and the ship or tender cannot make it into port due to weather will we receive a refund?
Yes, we refund the total when the ship is unable to berth or transfer vessels are unable to provide transfers.
We want to ride in the Army Duck?
Rainforestation is a 5-minute drive outside Kuranda. Army Ducks (amphibious vehicle) from World War II have been restored and guests are offered a ride through the rainforest and then into a small lake. Tours that include the Army Duck will also include the coach to get to Rainforestation. Visitors who prefer an all-inclusive daytrip to Kuranda can also learn about indigenous culture and watch a dance performance, see a number of native animals and have lunch at Rainforestation. Tour packages include the Army Duck and coach transfers right through to all-inclusive day tours.
Can we start the tour in Kuranda?
No. The Kuranda Train departs Kuranda at 2pm and 3.30pm. The 2pm Train from Kuranda would arrive at Freshwater Connection at 3.30pm. Skyrail is a 10 minute drive from here. The last Skyrail departs at 3.45pm. The timing is too tight and this direction does not make sense.
When does Gold Class train run?
The Gold Class carriage is on the 9.50am Freshwater Connection departure. And, the 3.30pm Kuranda departure. If you would like Gold Class please book well in advance as there are limited seats.
How often does Skyrail run the Diamond View gondola?
Diamond view has very limited availability. The Diamond view gondola has a clear floor and is an optional upgrade. The carriage comes every 15 minutes and can seat up to 5 guests.
Are there toilets on the train?
Yes, there are toilets on every carriage.
How many people can fit in the Skyrail gondola?
6 guests can sit in a Skyrail gondola. 5 guests can sit in a Diamond view Skyrail gondola.
---
News By Kuranda Train & Skyrail
Skyrail operating 5 days per week from the 28th of April
By Kuranda Train & Skyrail
19 Apr 2021
Following demand Skyrail has now added an additional day of trade in April and moving forward are now opening 5 days per week outside of School Holidays from Wednesday to Sunday, commencing from the 28th of April.
Skyrail Edge Lookout Now Open
By Kuranda Train & Skyrail
11 Apr 2019
The Edge Lookout over Barron Falls is now open to the the public!

If you are a little scared of heights you may need to push your boundaries to experience Skyrail latest attraction. The Edge gives you the opportunity to stand on a glass panel section of the boardwalk suspended some 160 metres above the Gorge.

The Edge is Skyrail Rainforest Cableway's latest attraction located at Skyrail's Barron Falls Station providing access to unimpeded panoramic views of the ancient landscape spanning across the waterfall, down along the Gorge.

We are expecting to see a lot of selfies appear on Facebook and Instagram featuring the new Edge Lookout.

To access the Edge Lookout stop at Barron Falls station and follow the Rainforest Boardwalk to the Barron Falls Lookout.
---
Kuranda Train & Skyrail Reviews
---
Kuranda Train & Skyrail
The Kuranda Train departs twice daily from Freshwater Station. 8:50am & 9:50am. If you choose the self drive option you will need to drive to Skyrail in Smithfield to meet the shuttle bus that will take you to Freshwater Station. If you require hotel transfers you will be picked up and taken directly to Freshwater station
---