About Mooloolaba Scuba Diving Tours
Sunshine Coast Local Reefs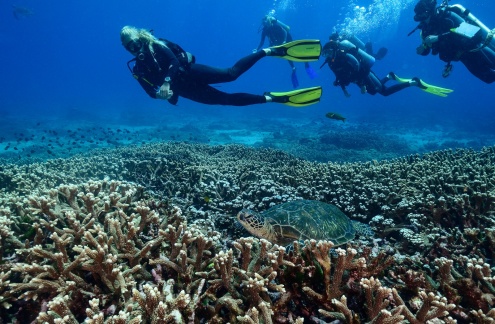 Diving on the Sunshine Coast is great all year round with visibility varying from 10 to 20 meters regularly and sometimes even up to 30 meters. Water temperature varies from 18C in winter to 26C in summer.
Many varieties of marine life and hard and soft corals are to be found in the area, along with turtles, rays, wobbygongs, schools of varied pelagic fish, tropicals of many varieties and the magical nudibranch.
Make sure you bring your camera and/or an underwater torch, the colors are fantastic.
HMAS Brisbane Dive Day Trip from Mooloolaba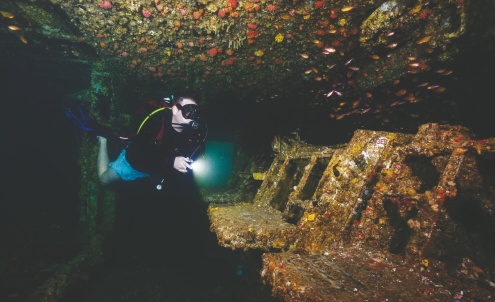 The Ex-HMAS Brisbane is one of the world's best wreck sites, and this decommissioned guided missile destroyer that now serves as a lively artificial reef. During this scuba diving adventure for certified divers you will explore the site of the HMAS Brisbane, located just off the Sunshine Coast, Queensland. While scuba diving you will not only get to explore the impressive ruins of the HMAS Brisbane, you will also see a wonderful range of marine life.
There are two mid-ship moorings on the Ex-HMAS Brisbane that Sunreef has exclusive use of, so divers can enjoy two beautiful dives to see the entire site, comfortably and safely.
Inclusion:
Return boat trip
Light snacks on board, as well as hot snacks on return (available for Double Dive)
Marine Park permits
Guides
HMAS Brisbane Night Dive from Mooloolaba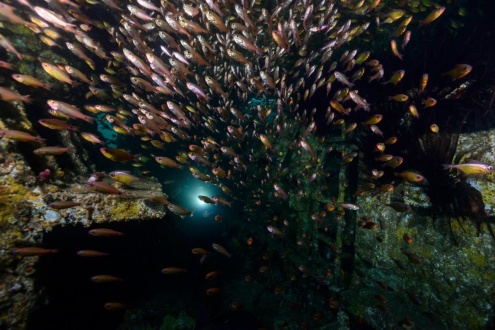 A night dive on the Ex-HMAS Brisbane is entirely different from any in the day. Entering the dark waters is a fascinating blend of both a relaxing and exhilarating feeling. Your torch will allow you to experience animals that are unique to the nocturnal lifestyle.
The Ex-HMAS itself provides protection and hiding places for many creatures in the day, which then come out at night. Many different crustaceans come out, such as crays, decorator crabs, and cleaner shrimps. Eels leave the shelter of their holes as they search for a meal. Octopuses walk the corridors that sailors once did. Nocturnal squirrelfish swim in and around the wreck, while daytime fish slumber, changing their coloration to better blend in with their environment.
Inclusion:
Return boat trip
Marine Park permits
Guides
Full Day Scuba Diving at Flinders Reef with Lunch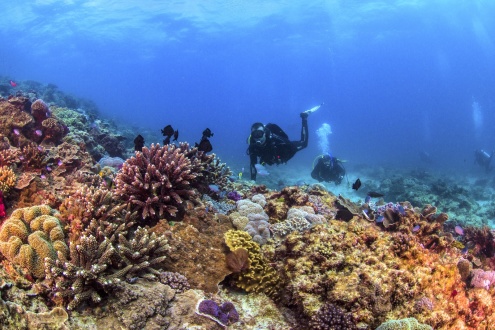 Flinders Reef, a small, isolated reef and one of Queensland's most beautiful dive sites, is a protected marine sanctuary part of the Moreton Bay Marine Park – it's the closest true coral reef to Brisbane and is a 45 minute boat trip from Sunreef Mooloolaba on the Sunshine Coast.
Dives here are ideal for anyone who loves marine life and beautiful underwater landscapes. Explore some amazing, lively underwater landscapes ranging from walls and gutters, caves and pinnacles – all densely packed with so many coral, sponge and plant species.
Inclusion:
Return boat trip
Fun, friendly and professional crew
Lunch and refreshment
Marine Park permits
Mudjimba Island Snorkeling Trip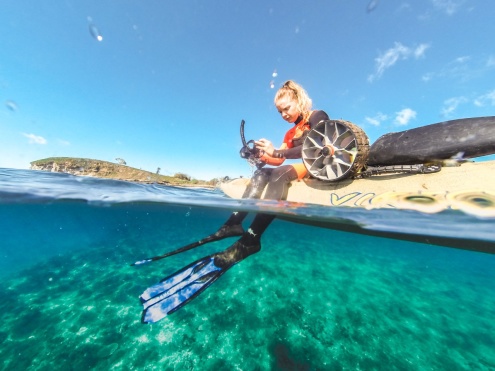 Our trip to the Mudjimba Island reefs will give you the much needed ocean time you have been seeking, right in our own backyard! Snorkelers will have an in-water snorkel guide to both assist you with your snorkeling skills, and to show you some of the reef's residents.
This sheltered reef is perfect for training dives, snorkelers and even the most experienced divers will enjoy the colours this site has to offer. A lovely wall ranging from 16 meters up to 5 meters homes crayfish, wobbygong sharks, loads of nudibranch, cowries shells and even the occasional turtle, along with all the tropical reef fish and corals you would expect from Mooloolaba reefs.
Inclusion:
Return boat trip
Fun, friendly and professional crew
Snacks and water
Marine Park permits
A mask, snorkel, fins and wetsuit are provided
---
Mooloolaba Scuba Diving Tours Reviews
---
Mooloolaba Scuba Diving Tours
Departure Point: 123 Parkyn Parade, Mooloolaba QLD 4557, Australia Departure Time: Check in at Sunreef starts at the time outlined on your confirmation email or text.
---