Cairns is the Gateway to the Great Barrier Reef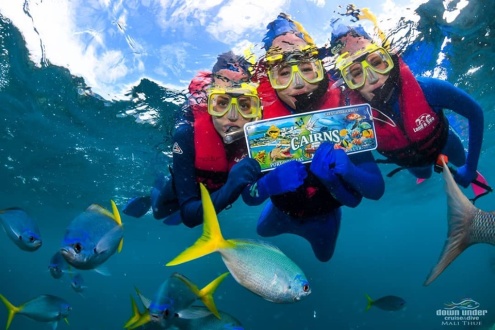 Cairns is the gateway to the Great Barrier Reef. There are many ways to experience the Reef from Cairns, whether you're a swimmer or non-swimmer, diver or beginner snorkeller, travelling with family or looking for that perfect romantic escape, there's an experience to suit all budgets and requirements.
Most outer reef trips from Cairns are a full day experience including all snorkel/dive equipment and lunch plus morning/afternoon tea.
Reef Tour Family Pricing
We offer unique rates for families on all Cairns Great Barrier Reef tour experiences. Family rates are generally based on the following:
Infants (3 Years & Under) travel free
Children (4 - 14 years) Half Price
Family (2 Adults & 2 Children) 1 Child travels free
Family pricing may change slightly depending on the tour options you choose. On Evolution 16 year olds are still considered children. Some dive operators do not have family rates. ​Please check the booking form for up to date family pricing for your group.
The Reef Fleet Terminal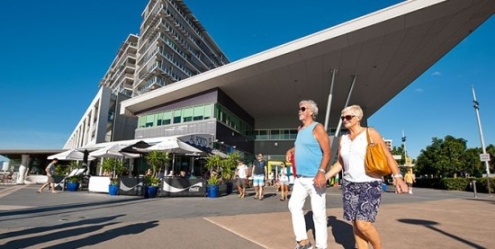 The Reef Fleet Terminal is the main check-in point for all reef trips. Most Reef Operators will have a desk inside the terminal where you will check in and collect your boarding pass. The Terminal is located at 1 Spence Street Cairns, which is next to the Shangri-La Hotel at The Pier Shopping Centre.
Some reef trips board directly onto the vessel, you will be advised details on booking, along with your boarding/check in time.
Coach transfers from your accommodation can be arranged or if you're travelling with 3 or more people we recommend taking a taxi or uber as hotel transfers organised by the operators are charged per person.
Hotel Transfers & Parking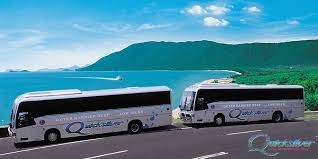 Hotel Transfers
Accommodation Transfers are available for all Reef Tours. When booking you will be given the option to selct Self Drive or Select your property from a list. The prices for the transfers will vary depending on the location of your accommodation.
If you are staying at an Airbnb or private house find the closest holiday apartments or hotel and select it as your pickup point.
Parking for the Day
For self-drivers, Council parking is available at The Pier for about $10 for the day. There is also all day parking at the outdoor carparks located near the Cruise Liner Terminal on Wharf Street, about two blocks away. The price for the day is $4 and it is just a 2 minute walk along the Esplanade to the Reef Fleet Terminal & Marina.
Cairns Reef Tour Times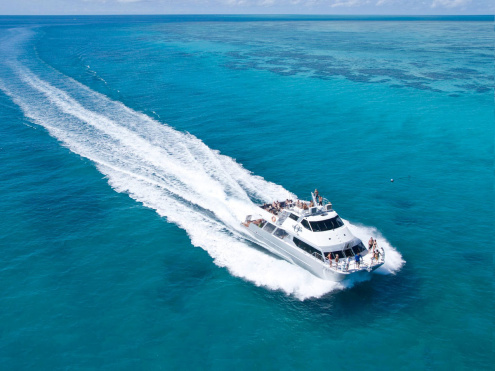 If you would like a later start, the latest departure from Cairns to the Outer Reef is the Great Adventures Pontoon experience departing at 10.30am with check-in at 9.45am. If you have a flight departing on the evening of your reef trip the earliest return into Cairns after an Outer Reef tour is 4.30pm with Evolution.
There is no half day outer Reef Tour option from Cairns as the closest Outer Reef is 90 minutes cruise.
When to Book
Book as early as you can. Pre-booking is essential. Cairns Reef Tours are frequently booked out. Please do not turn up without a booking on the day. Book early for school holidays and through winter as during peak times reef trips can be completely full for the next five days.
Date changes are fine as long as you give us at least 24 hours notice
Checking Availability & Booking
We offer a live connection to all the local Cairns Reef Operators. Your seat is instantly guaranteed when you book here.
Check-in & Mobile Tickets
On the day of the reef tour you will either check in at the Reef Fleet Terminal or make your way directly to the vessel at the Marlin Marina. In most cases you will not need a ticket as your name will be on the days manifest when you check in. If you need to show a ticket you can simply present the e-mail confirmation you received on your mobile device.
Departure and Arrival Times
Evolution
08:00am | Departs Cairns
04:30pm | Arrives Cairns
Sunlover
08:45am | Departs Cairns
05:00pm | Arrives Cairns
Reef Day Tripper
07:30am | Departs Cairns
04:30pm | Arrives Cairns
Great Adventures Island & Reef
08:30am | Departs Cairns
05:30pm | Arrives Cairns
Ocean Freedom
08:00am | Departs Cairns
04:30pm | Arrives Cairns
Reef Magic
09:00am | Departs Cairns
05:00pm | Arrives Cairns
Reef Quest
08:30am | Departs Cairns
04:30pm | Arrives Cairns
Reef Experience
08:00am | Departs Cairns
04:30pm | Arrives Cairns
Dreamtime Dive & Snorkel
09:00am | Departs Cairns
05:00pm | Arrives Cairns
Silverswift
08:30am | Departs Cairns
04:30pm | Arrives Cairns
Great Adventures
10:30am | Departs Cairns
05:30pm | Arrives Cairns
Passions of Paradise
08:00am | Departs Cairns
05:00pm | Arrives Cairns
Ocean Free
08:00am | Departs Cairns
05:00pm | Arrives Cairns
Quicksilver
08:00am | Cairns Pick-up
10:00am | Departs Port Douglas
04:30pm | Arrives Port Douglas
05:30am | Cairns Drop-off
Snorkelling on the Great Barrier Reef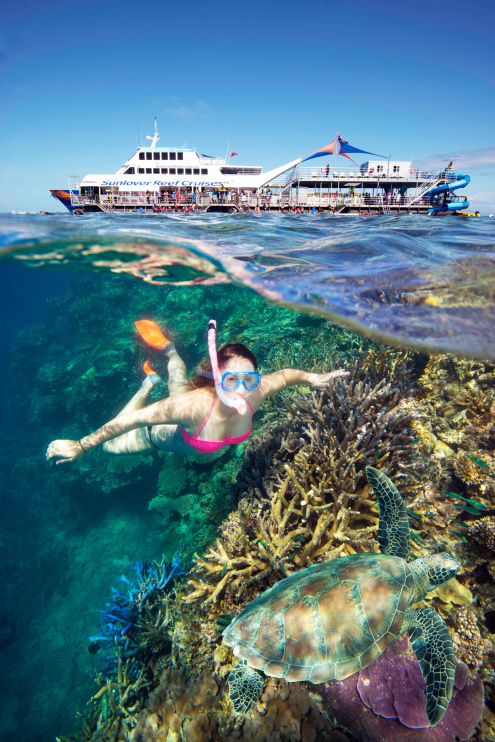 Snorkelling gear is included with all of our Reef Tours. Snorkeling is the best and easiest way to see the reef because 90% of its diversity occurs within 4 metres of the surface.
It doesn't take long to get the hang of it and for beginners a crew member is usually on hand to offer tuition on gear use and snorkel techniques.
Snorkelling offers all swimmers, regardless of their skill level, the opportunity to see this diverse eco-system of the Great Barrier Reef up close.
A selection of buoyancy aids (foam noodles, life jackets and wetsuits) allows you to float effortlessly over rich, colourful coral gardens, and snorkel guides are usually available to guide you through the natural maze of beautiful coral and fish and point out all the 'cool stuff'.
Intro Dives
Introductory diving, also resort diving are dives where people without diver training or certification can experience scuba diving under the guidance of a diving instructor. Intro dives are offered on most reef tour from cairns and available anyone over 12 years. The dive usually has a duration of 20 minutes.
Participants are briefed on the way out to the reef site to ensure both an exciting and safe first dive.
Certified Dives
Divers will love the dramatic drop offs, swim throughs and bommies. Buddy up with a dive partner, or tag along with a dive guide for a grand tour of all the best spots on the reef.
Great Barrier Reef Pontoons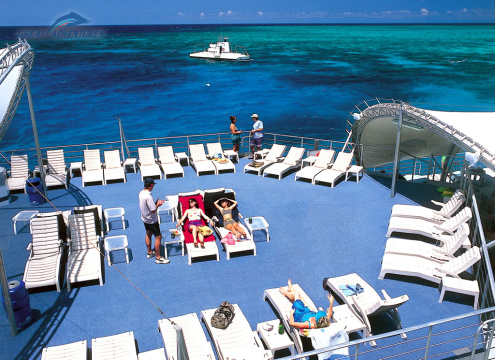 There are 5 Reef Pontoons accessible from Cairns. Pontoons give you space and are suitable for all ages and especially ideal for families.
A pontoon is a spacious floating reef platform located at the outer barrier reef.
Pontoons Generally Feature, sundecks and undercover areas for relaxing and lunch, change rooms and snorkel access platforms. Glass Bottom Boat & Semi-Sub Tour departure points.
Some pontoons have built in under water observatories and special children's enclosed swimming areas. The Sunlover Moore Reef pontoon has a waterslide.
Pontoon Reef Tours offer a range of activities for swimmers and non-swimmers it means that everyone can experience the very best of the Great Barrier Reef.
Glass Bottom Boat Tours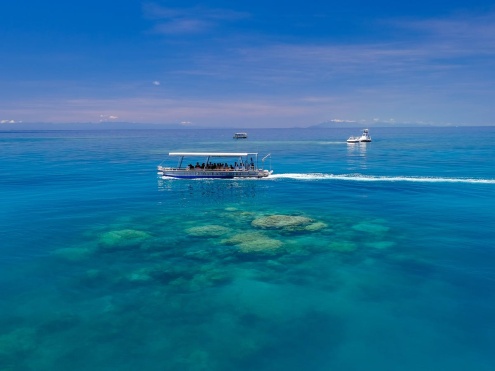 Explore the wonders of the reef from the comfort of a glass bottom boat tour.
Hovering over beautiful coral gardens, giant clams and schools of colourful reef fish, a glass bottom boat is ideal for kids, non-swimmers and for those who are wanting to learn more about the reef.
Tours usually last around 30 minutes with a running commentary by a marine biologist. Most pontoon and island experiences include the option of taking a glass bottom boat tour.
Semi-Submarine Tours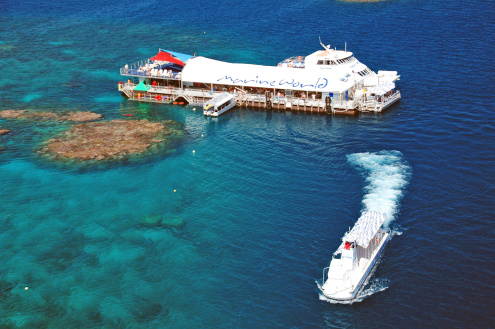 A semi-submersible coral viewing tour treats passengers to a divers view of the coral reef and marine life.
Sitting 1m below the water level, passengers can enjoy gliding through coral gardens and along the edge of coral drop bommies spotting a huge array of colourful reef fish.
With large viewing windows and air conditioning, these semi-submersible tours provide a divers perspective of the reef in comfort and without getting wet!
Tours are usually take around 30 minutes and are fully guided by an on-board marine biologist.
Wheely Friendly Reef Tours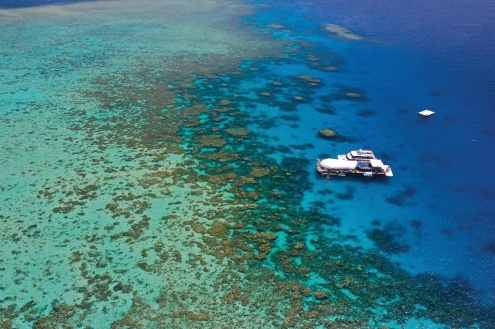 The Great Barrier Reef is wheely friendly from Cairns. Here are a few experiences that offer wheelchair access.
Reef Magic
There is ramp access from the wharf to the vessel and vessel to the Marine World platform. However, passengers are required to negotiate at least one set of stairs on the vessel depending on tides and loading position so assistance may be required. The Reef Magic II catamaran has wide isles and a wheelchair accessible toilet & shower. Access to the water, coral viewing vessels, underwater observatory and sundeck all require stairs to be negotiated and would require a carer to be present if unable to walk unassisted.
Great Adventures Outer Reef
Great Adventures vessel "Reef King" does have a motorised chair lift to enable transfer between the upper and lower decks, however it is recommended that passengers have some mobility or assistance to transfer from their wheelchair. Toilets on the vessel and outer reef are not wheelchair accessible. There are ramp facilities from the vessel to the floating platform. There are no disabled facilities on the platform and the platform does have decking where wheelchair wheels may get stuck. Access to the underwater observatory, swim platforms and semi-submersible is by stairs only.
Quicksilver Cruises
Quicksilver VIII is the most suitable vessel for wheelchair passengers, however there are occasions when this vessel may not operate which is often not known till 24 hours prior to departure, so it is recommended to reconfirm your booking prior to travel. On Quicksilver VIII there is an oversized toilet cubicle suitable for most wheelchair passengers. Quicksilver V also has a wheelchair accessible toilet. At the platform a chair lift enables disabled passengers to be lowered into the water to enjoy snorkelling. There are ramp facilities from the vessel to the floating platform, however access to the underwater observatory, swim platforms and semi-submersible coral viewing vessel is by stairs only.
Sunlover Cruises
Sunlover Cruises is very well set-up to accommodate wheelchairs. They have multiple entrance points onto the vessel, as well as a dedicated wheelchair table on the main deck, wheel chair ramps to get over door jams and very experienced and willing crew. In some circumstances, they may be able to offer glass bottom boat rides and even SCUBA Diving! but cannot guarantee this every time.
---
News By Cairns Reef Tours
Environmental Management Charge (EMC) Explained
By Cairns Reef Tours
06 Jul 2023
When you book a day tour to the Great Barrier Reef, you may notice an additional fee called the environmental management charge (EMC). This fee is a part of most commercial activities, including tours, that operate within the Great Barrier Reef Marine Park under a permit issued by the Great Barrier Reef Marine Park Authority.
When you participate in a tourist activity on the Great Barrier Reef, you are usually responsible for paying this charge to the tour operator. The tour operator then forwards the fee to the Great Barrier Reef Marine Park Authority.
Why do you have to pay the fee?
The environmental management charge plays a crucial role in the day-to-day management and long-term resilience of the Great Barrier Reef Marine Park. The funds collected through this charge are directly used for the management and conservation efforts of the marine park.
Additionally, when you provide visitation information along with the environmental management charge, it greatly helps the Reef Authority and Queensland Parks and Wildlife Service (QPWS) in developing sustainable management plans for the Great Barrier Reef Marine Park.
By paying the environmental management charge, you are contributing to the protection and preservation of this magnificent natural wonder, ensuring that future generations can continue to enjoy its beauty.
Starlink on the Reef
By Cairns Reef Tours
04 May 2023
Reef Magic has introduced Starlink wifi access onboard their pontoon so guests can enjoy uninterrupted digital access to share their day on the Great Barrier Reef. It will also enable the GBR Biology team to conduct live feeds from the pontoon showcasing their work with reef education and sustainability.
---
Cairns Reef Tours Reviews
---
Cairns Reef Tours
The Travstar Office is located in Cairns Australia. Cairns, QLD, 4870 | Australia
---
Direct Contact Info
Hours: 9am - 3pm Monday to Friday | 9am -12pm Weekends
Address:
Travstar.com PTY LTD
ABN: 21 095 692 925
Cairns
Queensland 4870
Austrlaia
---
Australian Institute of Marine Science's Long Term Monitoring Program Annual Summary Report on The Great Barrier Reef Condition 2020 - 2021