About Port Douglas Reef Tours
Port Douglas Info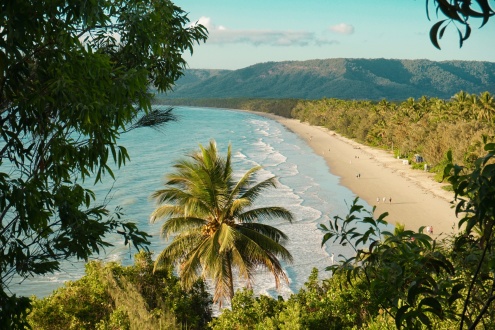 Port Douglas is a spectacular one hour drive north of Cairns along one of the most scenic coastal roads in Australia. Home to some of Tropical North Queensland's most exclusive resorts, award winning restaurants, beautiful galleries and boutique shopping.
For a small village Port Douglas offers visitors many experiences. Port Douglas is located on the coast between the Great Barrie Reef & Daintree Rainforest. and many tours depart Port Douglas to visit these attractions daily.
Port Douglas can simply be a place to getaway, unwind and relax, take Great Barrier Reef Day Tripsadvantage of the boutique shopping, pamper yourself at one of the day spas, enjoy sunset on Four Mile Beach and casually explore the Sunday markets. Port Douglas can also be a family holiday filled with adventure, reef to rainforest activities and resort fun.
Reef trips depart daily from the Reef Marina, with sites visited considered to be amongst the best and most pristine along the Great Barrier Reef. Visit the Low Isles on a stunning sailboat or cruise to the outer reef on a luxury yacht. Dive, snorkel, swim, paddle the choice is yours.
Port Douglas is also in a great location for easily accessing the Daintree National Park area. Mossman Gorge is one of the most visited spots in the Wet Tropics, located just a 20 minute drive north of Port Douglas. Croc Spotting at the Daintree River is a popular activity and the beautiful Cape Tribulation area is not to be missed. The Cape Tribulation ferry crossing is an experience in itself!
Getting to Port Douglas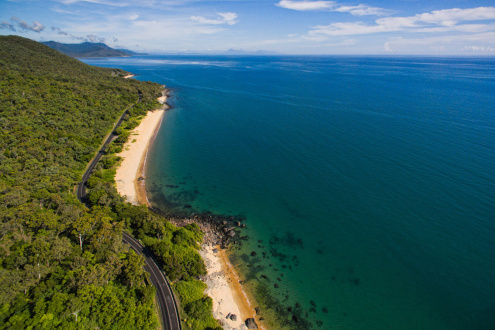 By Air
Travel to Cairns is simple with several domestic and international flights arriving daily. Qantas, Jetstar and Virgin Blue all operate out of Cairns with scheduled services to most Australia state capitals as well as regional locations.Cairns Airport
Cairns also receives international flights from Hong Kong, Singapore, Japan, Papua New Guinea and New Zealand. The airport is conveniently located just 10 minutes from the CBD, 25 minutes from Palm Cove and the Northern Beaches and approx one hour from Port Douglas. Door to door coach transfers meet all flights and provide ease and convenience on your arrival.
By Road
Cairns is approximately 1750km from Brisbane, and if you have time up your sleeve then self driving is a great way to experience the ever changing landscapes of Queensland. The Bruce Highway is Queensland's main route connecting Brisbane to Cairns. Greyhound Australia and Premier bus services also operate regular scheduled departures from Brisbane to Cairns, travel time approx 27 to 29 hours.
By Railto Cairns by train - Spirit of Queensland
Queensland Rail operates services from Brisbane to Cairns twice weekly on the Tilt Train and three departures a week on the Sunlander. Average travel time is 24 hours on the Tilt Train and 31 hours on the Sunlander. Cairns Central Railway Station is located in the heart of the city to the rear of Cairns Central Shopping Centre. Taxis and coach transfers are available from here to transfer you to your accommodation.
Climate & Seasons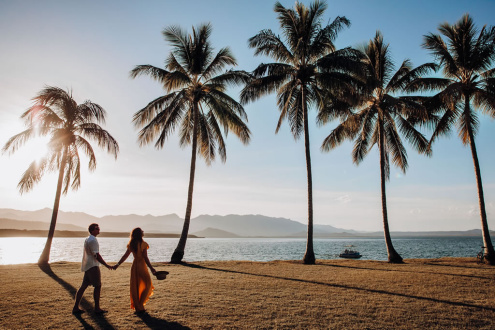 Port Douglas has a tropical climate with hot summers and warm winters. Between the months of November to May our temperatures are warm to hot with high humidity.Perfect Weather at Low Island
Our rainfall peaks in the months of Feb, March and April, with the wettest month of the year typically being February. Although its wet, it brings relief from the humidity and the rainforests are just spectacular with waterfalls in full flow.
Our winter months are generally dry and clear and a popular time for visitors as we are enjoying warmer weather than most other parts of the country.
Port Douglas Tours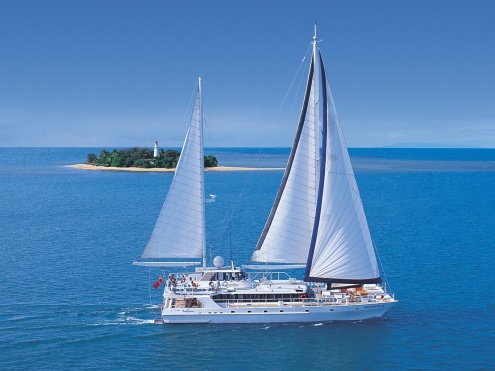 To compliment your stay in Port Douglas we have a wide range of tours on offer so you can really get a feel for this beautiful region. Marvel at the expanse of our ancient tropical rainforests, delight in a kaleidoscope of colour and tropical fish at the Great Barrier Reef, be amazed at a land of contrasts with the outback all within easy reach from your Port Douglas accommodation. We have family friendly tours, tours for the adventurous, scenic day trips, cultural, educational and romantic. Hardest part is choosing what to do!
Port Douglas Attractions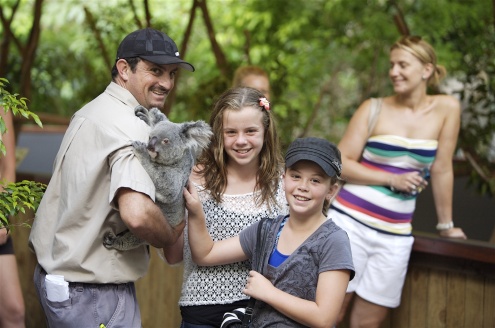 There are also many and varied ways to view the Reef & Rainforest up close. Spend the day on the Great Barrier Reef with one of the local reef operators. Explore the rainforest on elevated walkways at Mossman Gorge, Experience a day trip to Kuranda, Go croc spotting on a Daintree River cruise, meet some local wildlife at Hartley's or Wildlife Habitat. Our attractions are family friendly with most suitable for all ages and abilities. They provide a great introduction to the Port Douglas region.
Daintree Rainforest & Cape Trib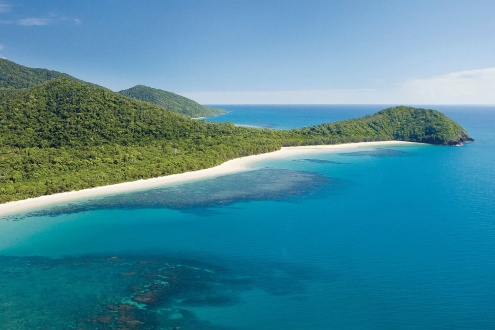 A very beauitful and special part of the world, the Daintree is certainly not to be missed. This remote area is situated north of Port Douglas and has the largest continuous area of tropical rainforest on the Australian continent. Along the coastline north of the Daintree River, the tropical rainforest grows right down to the edge of the sea where fringing reef is met on the shoreline, this is commonly referred to as 'where the Rainforest meets the Reef'.`
Getting there is all part of the adventure. You can either take a fully guided 4WD Safari, or choose to self drive and explore this pretty region at your own leisurely pace. The journey to the Daintree travels along the Cook Highway north of Port Douglas and features beautiful scenery ranging from secluded palm fringed tropical beaches, hidden coves and rugged headlands to the rich green of lush sugar-cane fields and rainforest covered mountains.
The Daintree River ferry is the gateway to the Daintree Coast and Cape Tribulation, and is the only cable ferry operating within tropical Australia.
Once over the river there are many natural attractions to visit including rainforest walks, freshwater swimming holes and remote beaches. There are also plenty of adventure activities that take place such as sea kayaking, horse riding, jungle surfing, snorkelling, night walks and more.
Guided tours depart daily from Port Douglas, and there are plenty of accommodation options should you wish to stay longer and immerse yourself in the rainforest experience. Our consultants would be more than happy to help tailor a unique rainforest package to suit.
Kuranda Train & Skyrail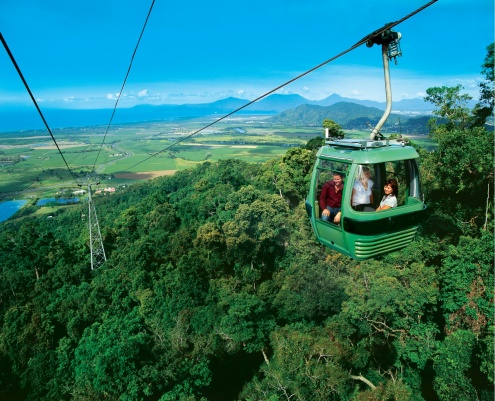 The Kuranda Train & Skyrail is one of the most sought after trips in Far North Queensland. The journey to and from Kuranda Village offers two very different experiences combining, history, heritage, rainforest and environment. Kuranda Village has been operating as a tourist destination since the 1970's with the famous Kuranda Markets being the drawcard, and which are still drawing visitors today.
The first operation of the Kuranda Train commenced in 1936 and the Skyrail Cableway, a world first for viewing the rainforest in a safe and environmentally way, commenced operation in 1995.
Time spent in Kuranda Village will allow you to explore the variety of market stalls inside the Original Markets and Heritage Markets, take a rainforest walk or enter the various wildlife attractions within the village.
There are also options to add on various elements to your day including Tjapukai Aboriginal Cultural Park, Rainforestation, Birdworld, Australian Butterfly Sanctuary, Kuranda Koala Gardens or Hartleys Croc Park.
Rainforest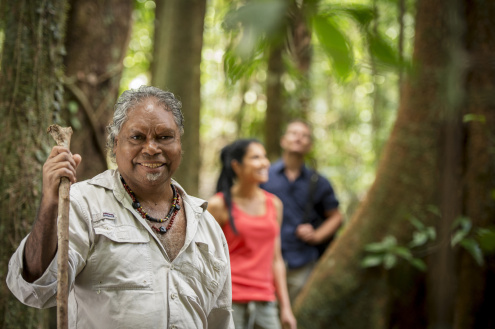 As we are a destination renowned for World Heritage Listed Rainforest, no journey to Cairns would be complete without a rainforest experience. Travelling north up the scenic Cook Highway is the Daintree National Park which comprises of two sections - Mossman Gorge and Cape Tribulation, covering an expanse of more than 1,200 sq km.
Mossman Gorge is renowned for its crystal-clear waters that cascade over granite boulders, Indigenous culture and spectacular rainforest walks. Most tour itineraries include a visit to Mossman Gorge.
Beyond Mossman is the Daintree River, famous for its boat cruises, croc spotting and bird watching. Once across the Daintree River the Cape Tribulation section of Daintree National Park then stretches from Cow Bay to the Bloomfield River, covering 17,000 ha of coastal range.
Cape Trib beach is fringed with the increasingly rare littoral (beachside) rainforest and interesting fringing reefs, and is renowned as the place where where two spectacular World Heritage sites meet - the Daintree Rainforest and the Great Barrier Reef.
This area of rainforest is a hive of activity from bush walking, kayaking and horse riding treks to snorkelling, exotic fruit tastings and 4WD safaris. Accommodation is readily available, and it is highly recommend to spend at least one night in the rainforest to experience the closeness of nature and the wonders of this ancient land.
Self Drive Port Douglas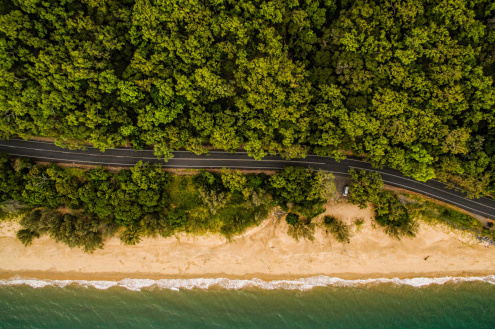 Port Douglas is a spectacular one hour drive north of Cairns along one of the most scenic coastal roads in Australia, featuring amazing views of rainforest covered mountains on one side, and the Coral Sea on the other.
Rex Lookout is one of many highlights along the way with views along the ranges back towards Cairns. Hiring a car gives you the freedom to explore the region at your own pace and go wherever your heart desires.
You can visit all the best attractions at your own leisurely pace, or explore further afield in our surrounding regional areas such as the Atherton Tablelands, Daintree & Cooktown. Most roads are sealed, so unless you are planning to go to Cooktown via the Bloomfield Track, you will not need a 4WD.
If hiring a car it is possible to make your own way to our various attractions around the region. Kuranda is approx a 1 hour drive south from Port Douglas, and up the Kuranda Range, however if you don't want to miss out on the Train & Skyrail experience then we can organise a bus transfer to return you to your vehicle at the end of the day, as the Skyrail Terminal and Kuranda Train Station are in two seperate locations.
Wildlife Habitat at Port Douglas makes for a lovely half day out for the family, especially if you add on the Breakfast with the Birds. Afterwards wander off breakfast around the park, then perhaps enjoy an afternoon of shopping along Macrossan Street.
A visit to Mossman Gorge is a must, and the kids will love Hartleys Crocodile Adventures located just 25 minutes from Port Douglas on the Cook Highway. You can arrive at anytime of the day to the wildlife & national parks.
---
Port Douglas Reef Tours
Port Douglas is a spectacular one hour drive north of Cairns along one of the most scenic coastal roads in Australia.
---