About Cairns Cruise Tours
Experiences for Cruise Passengers Visiting Cairns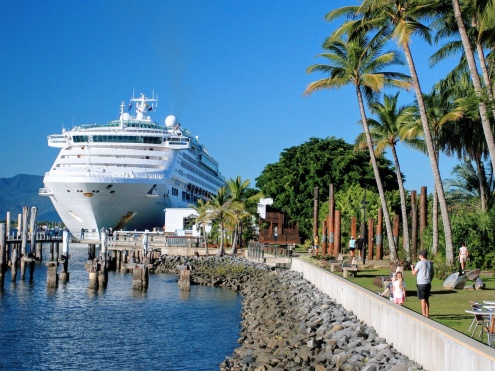 Cairns Cruise Tours is dedicated to Cruise Passengers visiting Cairns. Research and book shore excursions which suite your arrival and departure times in Cairns. We have selected cruise friendly experiences which offer transfers from the Cruise Terminal or are easily accessible.
Cruise Liner passengers visiting Cairns have a wide variety of shore tour options. Many Reef & Rainforest tours depart daily from Cairns with flexible departure times and pricing to suit all budgets Cairns has something to suit your requirements.
With many cruise ships arriving from day to day into Cairns, our professional tour operators are fully aware of your time constraints and will ensure the perfect day, allowing you to fulfill the best of Cairns and returning to your cruise liner on time.
Whether your ship is staying overnight or just for a short window of time, we have numerous half-day tour options to fit with your schedule. Scenic helicopter adventures, rafting, snorkelling on the Great Barrier Reef, island day trips and scenic city tours are just some of the experiences that you can have on your visit to Cairns.
The Cairns Region offers Three arrival points for cruise liners.
Cairns City Cruise Liner Terminal
One is the Cairns City Cruise Liner Terminal. For passengers arriving at Cairns City Cruise Liner Terminal, there are more tour options that are easier to access due to the location being close to the departure point for islands and the ease of disembarking.
Yorkey's Knob
If your ship schedule says you're arriving at Yorkey's Knob, you will need to take a tender to the mainland. For those arriving at Yorkey's Knob the most popular tour option is the Kuranda Train & Skyrail including transfers.
Port Douglas
If you are stopping in Port Douglas, your Cruise Ship will anchor off the coast and a tender will bring you to the Crystalbrook Superyacht Marina.
Cairns Cruise Liner Terminal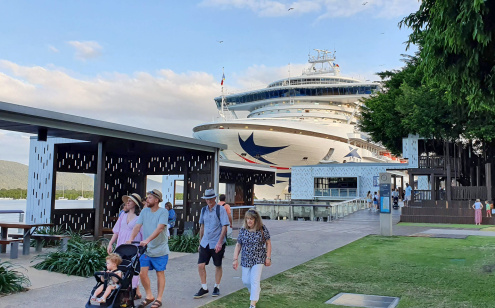 Cairns is one of the Australia's busiest cruise destinations with major international cruise ships scheduled annually.
The Cruise Liner Terminal is situated in the City Centre within walking distance to all restaurants, cafes and shopping.
The terminal is fast and efficient in moving passengers through its customs clearance.
Parking Options
Ports North offers long term cruise car parking at the Cairns Cruise Liner Terminal for a cost of $10/day. The ticket machines can take payment via Credit Card or Cash and issue a long-term parking permit up to 10 days.
Kuranda Scenic Rail Journey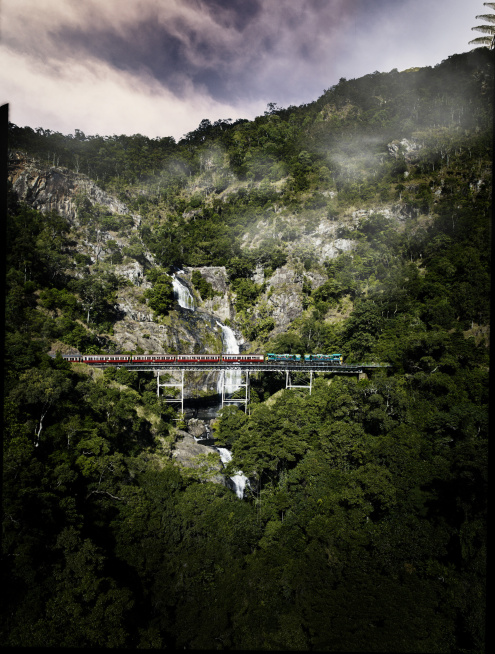 The Kuranda Scenic Railway is a spectacular journey comprising unsurpassed views of dense rainforest, steep ravines, and picturesque waterfalls.
Morning Train options are best suited to ships that have docked for an overnight stay to get a bright and early start, or to arrivals before 7:30am.
Scenic Rail to Kuranda
The Kuranda Scenic Railway can be joined at Cairns Central Railway Station for an 8:30am or 9:30am departure, or Freshwater Connection for the morning 8:50am or 9:50am departures to Kuranda.
Walking to Cairns Central Station
It will take around 20 minutes to walk to Cairns Central from the Cruise Liner Terminal.
Packages with Transfers
If you are booking a package including transfers your pick-up time for the 9:50am Train will be from 8:25am from the Cairns Cruise Terminal bus stop.
Kuranda Scenic Rail Duration
The journey to Kuranda takes 2 hours from Cairns Central Railway Station and 1.5 hours from Freshwater Connection.
Return Journey from Kuranda to Cairns
Journeys from Kuranda Station to Cairns run in the afternoon at 2:00pm or 3:30pm. The 2pm Train from Kuranda is best for ships departing by 5pm. The 3:30pm departure can be upgraded to the premium gold class experience and is best suited to those staying overnight or departing after 6pm.
Skyrail Rainforest Cableway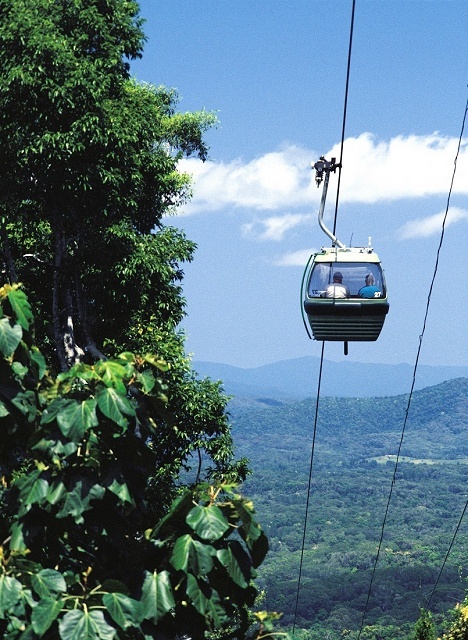 The Skyrail Rainforest Cableway up to Kuranda Village in the morning is the best option for arrivals into Cairns Port after 9am.
You'll glide just metres above the rainforest canopy before descending through the canopy layers and deep into the heart of the forest at Skyrail's two rainforest mid-stations (Red Peak & Barron Falls) for the ultimate tropical rainforest experience.
Traveling on the Skyrail, Plan to spend 20-30 minutes at the two Rainforest mid-stations. It is recommended to travel on the Skyrail no later than 2pm if your cruise ship is departing at 5pm.
You can book a return journey on the Skyrail or package the experience with the Kuranda Scenic Rail.
Skyrail departs from Smithfield which is 20 minute's drive North of Cairns City.
---
Cairns Cruise Tours
The Cairns Cruise Liner Terminal is situated in the City Centre within walking distance to all restaurants, cafes and shopping.
---
Cairns Yorkey's & Port Douglas Cruise Arrivals 2023